Advertiser Disclosure: Rich Niches earns commissions from qualifying purchases.
How to Find a Niche Market: Niche Better Have My Money!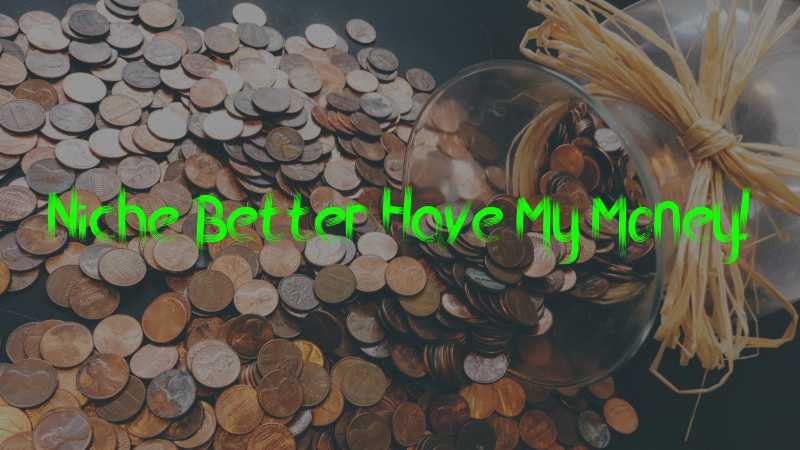 Niche better have my money!

Y'all should know them keywords well…

Niche better have my money!

Please don't let them backlinks fail…

Niche, Pay me what you owe me!

Ads gettin' lots of clicks…

Niche, Give me your money!

Who y'all think you frontin' wit?

Like, blah blah blah!
Are you choosing a niche market that can actually make money for your website? The popular phrase "measure twice, cut once" doesn't just make sense for construction. It makes sense in a lot of industries and tasks including building websites and writing posts for SEO.
If you're looking to build or buy a website that gets search engine traffic (google) and makes money you'll need to do plenty of research before jumping off the deep end. Trust me. I've made the mistake of working on projects with no knowledge of whether anyone on this planet was even searching for anything to do with that niche market. Most of the time they weren't. Oops!
My loss is your gain. Learn from my mistakes and do keyword research before buying that shiny new domain name. You need to know that there are people looking for the stuff you're wanting to hand out. If you pick the wrong niche and don't have a huge audience that you can send your content out to, your posts may as well be floating around in outer space. And let's be honest, most people don't have an email list of thousands of "interested" subscribers. I know I don't (join my email list here).
POG: Passions or Gains… Maybe Both?
Do you love that Passion Orange Guava? (I miss Hawaii) Maybe you should make a website about it… Well, only if there are other people just as passionate as you are, and they're searching for it online. When looking for a niche to focus your website on you'll want it to fall into one of two categories. The niche should be a passion of yours or it should have the potential to earn enough gains that you can become passionate'ish about it. When you build your niche website you're going to be writing about that specific topic A LOT! You're going to want it to be something that's at least bearable for you to focus your work around. Even if you hire writers, you're going to have to read and edit your posts over and over.
To find topic ideas for your niche website think about things you are interested in or things that many other people are interested in. If you're having trouble coming up with niche ideas, you can scroll through this list of hobbies for some inspiration. You can even look around your house to see things that you've bought and what hobby or niche they fall into. Your final niche is also going to need products or services that go along with it. There needs to be money made in that industry. For instance, if your niche is basketball, there are a lot of products being sold to enthusiasts. Basketball players buy things like shoes, balls, clothing, training equipment, and even training information.
Example Niche Market Ideas
If you're struggling to think of niche markets, here's a niche market list that I've has compiled, using popular hobbies. This should help you get started finding a niche. Do you have any hobbies of your own that might make for a good niche market? It helps if you understand the niche at least a little bit.
Reading
Watching TV
Family Time
Going to Movies
Fishing
Computer
Gardening
Renting Movies
Walking
Exercise
Listening to Music
Entertaining
Hunting
Team Sports
Shopping
Traveling
Sleeping
Socializing
Sewing
Golf
Church Activities
Relaxing
Playing Music
Housework
Crafts
Watching Sports
Bicycling
Playing Cards
Hiking
Cooking
Eating Out
Dating Online
Swimming
Camping
Skiing
Working on Cars
Writing
Boating
Motorcycling
Animal Care
Bowling
Painting
Running
Dancing
Horseback Riding
Tennis
Theater
Billiards
Beach
Volunteer Work
Finding a Niche Market that has Already Worked for Someone Else
Flippa and Empire Flippers aren't just places to buy websites that already make money. They're a place where information about those websites is readily available including their niche market topic. You'll have to research and do your due diligence to see if they're actually getting traffic. But, after you do, you may find a few gem niche markets.
This research on Flippa and Empire Flippers will help determine the difficulty of the niche and also get a ballpark of how much money can be made and about how much traffic is needed. You can also do similar research simply by searching niche market topics on Google to see what comes up. In the results, look for websites that are built with content. Then go research those websites with a keyword research tool to see a more in-depth analysis.
Doing Keyword Research to Validate Your Niche Market
Once you have a few ideas, you'll want to do keyword research to find out whether the topics have any potential online. Using a keyword research tool like AHREFS or SEMRUSH can help you find keywords that are being searched for. You can analyze keywords that your potential competitors write about. You can also look up broad keywords and focus your search into related longtail keywords.
The main factors you'll want to pay attention to are search volume and keyword difficulty. Search volume estimates how many people are searching for that exact keyword or phrase each month. Keyword difficulty estimates how hard it will be to rank highly for that keyword. Each tool has its own keyword difficulty system, but they all usually range from 0-100 (0 being the easiest, 100 being the hardest). You'll be looking for keywords that have high volume and low keyword difficulty.
Once you've narrowed your search for the perfect niche market down, you'll have to decide on just one. I suggest only starting out with one project. Humans aren't good at multi-tasking. In fact, most people think it's highly ineffective to try to do more than one thing at a time. Start with just one project and see it through. It's going to be easy to give up but don't. Once you make it past the beginning stages, you'll see some money roll in, which will, in turn, make it easier to keep going.
Get Started Building Your Asset (aka Affiliate Website)
Now that you have your niche market selected, you'll need to do all the setup. You'll need to find and buy a domain name, get a hosting package, install WordPress, and design your website structure. Designing will include choosing a theme (free or paid), installing any plugins you want or need, buying or designing a logo, choosing a color scheme, and making a home page.
After you have your website all set up, you'll want to sign up for the affiliate programs that fit your niche market. Whether that's Amazon Associates or another program, you should probably do some research to make sure you find the best option. I recently started an affiliate website project and found that an affiliate program on ShareASale pays more than double what Amazon Associates does. As a side note, you should think about whether Amazon or the other program is really better. With Amazon Associates, you'll earn money on ANYTHING purchased there, while with most other programs you'll only earn from the products and services you're marketing.
Once you've completed the above tasks, it's time to get that content going. This will consist of more keyword research to find high-volume/low-difficulty keywords to target. After you find some good keywords, start writing! Either write the content yourself or use a content service that will write about topics for a fee. I've found that you can get decent content written for about 2.5 cents per word. If you have the money to pay for writing, you'll be able to save a lot of time.
The initial goal should be to write 50 articles that are each focused on one of the keywords you've found in your keyword research. This will take time. Especially if you're writing the content yourself. Stick with it. That niche better have your money, but it won't have it right away.