In the world of e-commerce, Amazon store automation has become a hot topic. Many are enticed by the promise of earning passive income and enjoying six-figure profits without ever having to touch a product. Online agencies claim they can handle everything for you, in exchange for a percentage of your profits and a substantial upfront investment. But is it truly worth it, or is it just another scam?
Navigating the world of Amazon automation can be tricky. With various risks and potential pitfalls, you need to be aware of what these services entail and the dangers they may pose. Whether you're considering partnering with an Amazon store automation agency or setting up automation for your own Amazon store, it's essential to separate fact from fiction and protect yourself and your investment.
Key Takeaways
Amazon automation scams prey on individuals looking for passive income, but identifying potential scams is critical for protecting your investment.
While some automation courses or services may be legitimate, being cautious and researching thoroughly is necessary.
The best way to automate your Amazon business is by exploring Amazon FBA, hiring a virtual assistant, or using software for automating repetitive tasks.
Understanding Amazon Store Automation
1 – Working with an Amazon Store Automation Agency
Amazon Store Automation can involve hiring an agency that specializes in setting up and running your entire Amazon store. In this scenario, you fund the necessary costs for the store setup. Once the store is operational, you compensate the agency with a portion of your revenue or profit from the store.
Relying on an agency might result in high expenses, and the control over the store remains partially with the third party involved. The expected profitability might not always be realistic, and your investment could be at risk if the store doesn't perform as projected.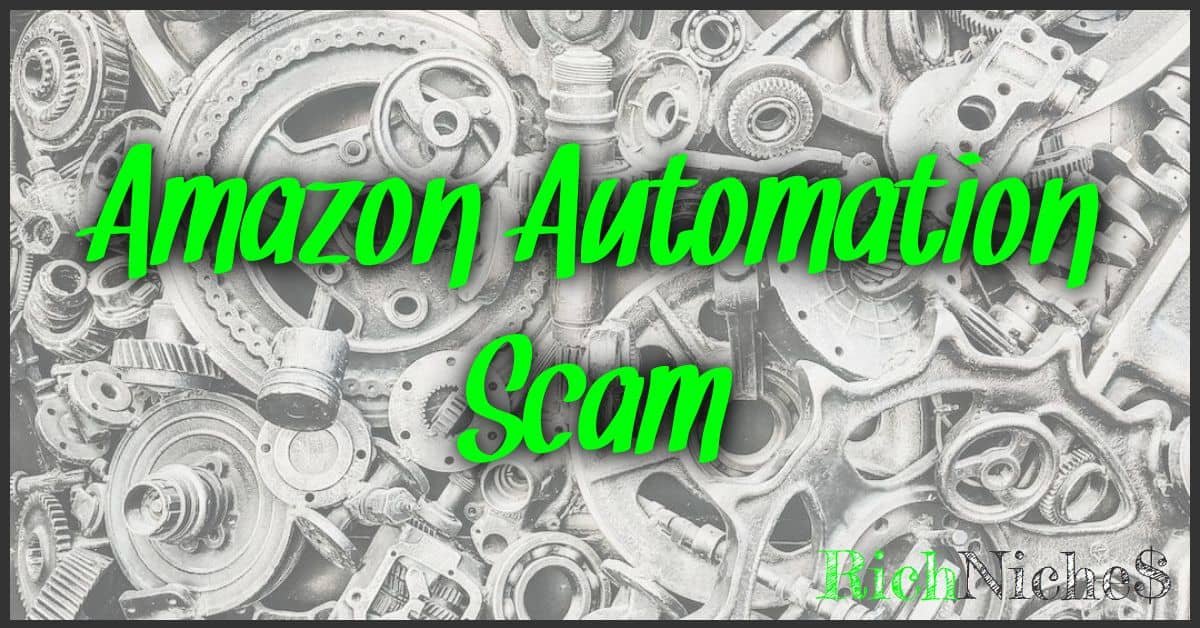 2 – Implementing Automation in Your Own Amazon Store
Another approach to Amazon Store Automation is incorporating various techniques within your existing or newly established Amazon business. This method helps streamline operations, reduce manual efforts, and allows for business scaling.
Opting for this individualized approach can be beneficial for store owners who want to enhance their efficiency and grow their Amazon enterprise. Remember to carefully choose tools and solutions that suit the specific needs of your store.
What is the Amazon Automation Scam?
The Amazon Automation Scam revolves around investing your money in a so-called "done-for-you" Amazon store, hoping to make significant profits. However, many people have found themselves losing money once they realize their store isn't as profitable as they were promised.
The downside is that the agency running your store will still charge you monthly fees regardless of whether the store generates profit or not. Additionally, if your Amazon account gets suspended due to suspicious activities related to the store, the agency operating it won't take responsibility either. In these scenarios, the agency ends up being the only party that is guaranteed to make money.
This doesn't imply that all Amazon Automation store services are fraudulent. Nevertheless, it's crucial to keep in mind that success isn't guaranteed, and you're entrusting a third party with your investment. Your reliance on their ability to build and maintain a profitable Amazon store could lead to disappointment.
Social media platforms like Twitter are full of stories from people who have had negative experiences with Amazon Automation scams. To have a successful venture, the earnings must not only cover the initial setup costs but also meet the ongoing monetary obligations to the automation agency.
Furthermore, maintaining a good standing with Amazon is essential, which may not always be an easy task. There are instances where the system operates as intended, resulting in both parties making a profit. However, it's crucial to exercise caution and understand the risks involved before investing in an Amazon Automation store.
The Dangers of Using Amazon Automation Services
3.1 – Risks with Your Money
While setting up any business requires an initial financial investment, it is essential to consider the potentially high upfront costs that Amazon Automation services involve. These upfront costs include investing in their platform, using their services, and purchasing the stock they will sell for you. Carefully assess the risks involved in these high upfront costs before diving in.
3.2 – Agency Benefits Regardless of Your Profit
Different agencies have unique ways of ensuring their profits. While they usually take a percentage of any sales you make, contracts often require you to pay fees even if you aren't making a profit. Considering your potential outgoings and long-term business effects is crucial.
3.3 – Unintentional Breach of Amazon's Terms of Service
Dropshipping on Amazon carries the risk of violating Amazon's terms and conditions unintentionally. When opting to sell via an Amazon Automation Agency, you might inadvertently breach these terms, leading to your store's closure.
3.4 – Potential Store Suspension
If your store breaches Amazon's terms and conditions, they can send you a warning, demand to remove products, automatically remove product listings, or even suspend your store. A suspended store limits your ability to sell products, and recovering your store might be a long and complicated process.
3.5 – Difficulty Winning the Buy Box with FBM
Amazon's Buy Box offers increased product visibility, leading to more sales. However, acquiring placement in the Buy Box is more challenging for Merchant-fulfilled orders compared to Amazon-fulfilled orders.
3.6 – Lower Profit Margins in comparison to FBA
Using Amazon Automation Services might result in lower profit margins due to the agency fees and costs in comparison to using Amazon's Fulfilled by Amazon (FBA) service.
3.7 – Understanding Your Business Before Hiring Help
Hiring help for your business is acceptable, but it is essential to comprehend the workings of your business before allowing someone to take control. A "Done For You" service means that you might lack a firm understanding of your Amazon store's functioning. If you face a situation where you need to step up, this knowledge gap can cause difficulties.
How to Spot an Amazon Automation Scam
Analyzing Their Experience
One aspect to consider when assessing Amazon automation services is their operating history and experience. Automation for Amazon sales is a relatively new concept, but you can still find companies with some experience under their belts.
Be Skeptical of Testimonials
When researching how to establish an Amazon storefront for your business, remember that not all testimonials accurately represent the quality of a company's products or services. Testimonials might inherently be biased; even Amazon automation scam companies would never show negative feedback about themselves. Look for unbiased opinions by checking forums such as Reddit and Twitter to learn about real users' experiences.
Examine Facebook Reviews
Facebook reviews are more likely to provide an accurate portrayal of a company's products or services. Sponsored reviews may exist, but the semi-public nature of Facebook gives other users the ability to challenge scams and false reviews. Hence, this platform offers more genuine experiences and opinions regarding a company's performance.
Signing a Non-Disclosure Agreement (NDA)
While some companies might have legitimate reasons for using NDAs—such as protecting intellectual property—they can also be a red flag. Amazon automation agencies may ask you to sign an NDA to prevent discussing your agreement with anyone. Be cautious and investigate further before committing to work with them, as in the past, some scam companies have used NDAs to silence dissatisfied customers.
Are Amazon Automation Courses a Scam too?
There are various Amazon Automation courses out there, offering different opportunities. Some courses focus on teaching you essential strategies to grow and scale your FBA business, which can be quite beneficial for your ongoing journey on Amazon.
On the other hand, some courses primarily guide you towards hiring an agency to build and manage your Amazon business. Opting for a fully outsourced agency comes with risks and the need for significant profits to remain operational. Be cautious while considering such courses, as they might not make the best use of your time or money.
What You Should Be Doing Instead
Getting into eCommerce can be rewarding, and starting your own FBA business is an excellent path to take. While it requires some initial work and investment, all the profits will ultimately belong to you. As an Amazon FBA seller, you'll be able to scale your business without worrying about inventory storage or product shipping and fulfillment management.
Using Amazon's FBA services benefits both you and Amazon, as well as making your items eligible for Amazon Prime. When you sell through FBA, your products experience better placement, thanks to Amazon's reliable systems. This leads to effortless inventory management, fewer customer returns, and higher feedback ratings for both your products and your store—it's a win-win situation.
Embrace this friendly approach to eCommerce and start your FBA journey today, reaping the benefits for your business and customers alike.
What are the Best Ways to Automate Your Own Amazon Business?
1 – Utilize Amazon FBA
By choosing Amazon FBA (Fulfilled by Amazon) as an option, you can delegate tasks such as picking, packing, and shipping your orders to Amazon itself. This reduces the need for your own warehouse space and makes inventory management more straightforward. Although there are some additional fees, the improved product visibility offered by FBA makes it a worthwhile investment.
2 – Employ a Virtual Assistant
To save time and focus on other aspects of your business, consider hiring a virtual assistant (VA). VAs can provide support in various tasks, including:
Product research
Product sourcing
Customer service
Inventory management
Responding to Amazon reviews
Optimizing listings
Keyword research
Graphic design
Social media management
Managing Amazon PPC campaigns
Having a VA as a contractor allows flexibility in working hours and payment options, which can be more suitable for new Amazon sellers than hiring a full-time employee.
3 – Implement Software for Automating Tasks
Leverage proper software to automate repetitive tasks in your Amazon business. Some excellent tools that can streamline your processes include:
JungleScout: This tool not only assists in finding profitable products to sell but also provides review automation, ensuring maximum feedback from satisfied customers.
Accounting software: Integrate your Amazon store with accounting platforms like Quickbooks or Xero using tools like A2X accounting software.
FeedbackWhiz: A valuable tool for automating feedback, monitoring listings, and analyzing profit and accounting data.
By embracing these methods, you can automate various aspects of your Amazon business, giving you more time to focus on growing and expanding your online presence.
Can You Get Rich by Selling on Amazon?
While selling on Amazon isn't a magic ticket to wealth, it's true that many people have become millionaires or started successful businesses this way. But achieving success requires dedication and effort, as well as the knowledge that earnings potential has no ceiling.
As an entrepreneur exploring eCommerce, you might find that an Amazon FBA business is an excellent starting point. By selling on the Amazon marketplace, you gain access to hundreds of millions of users worldwide who already trust the platform – an ideal environment to launch a new product.
More and more individuals are choosing platforms like Amazon to sell their products, and it's undoubtedly an opportunity to make money. When you pick the right products to sell in a strategic manner, you could potentially build a fortune.
However, it's important to be cautious when starting your Amazon journey. Partnering with an Amazon automation agency for a percentage of your sales before getting started may not be the wisest move. Ultimately, success in this endeavor depends on your commitment, strategy, and a bit of luck – but the potential rewards are truly limitless.