In the age of technology, students often grapple with the demands of submitting top-quality assignments on time. Fear not, for artificial intelligence (AI) has made noteworthy strides in essay writing, offering intelligent tools equipped with algorithms that create unique, plagiarism-free, grammatically sound essays on various topics. With so many AI essay writing tools available to lend you a hand, making an informed choice is essential for success.
AI writing tools have garnered significant attention in recent times, with many students turning to them for assistance in creating content for school assignments or professional work. In this article, we will explore the different AI essay writers available in the market, discussing their features, advantages, disadvantages, and pricing to help you make the best decision tailored to your needs.
Key Takeaways
Essay writing challenges can be effectively addressed by AI writing tools
Various AI essay writers are available, each with unique features and pricing
Make an informed decision by understanding the pros and cons of each AI essay writer
Jasper AI – The Top Choice for AI Essay Writing
What Sets Jasper Apart as the Premier AI Essay Writer
Jasper AI excels in generating long-form content automatically, making it an ideal tool for essay writing. With just a sentence or paragraph input, you can let the software generate the rest of your essay. All you need to do is offer guidance or editing to ensure the content stays on topic.
The long-form assistant lets you start with a blank document for more personalized content or use an existing workflow by importing pre-written text as a foundation. With Boss Mode, Jasper can see three or five times as much context, enhancing its effectiveness.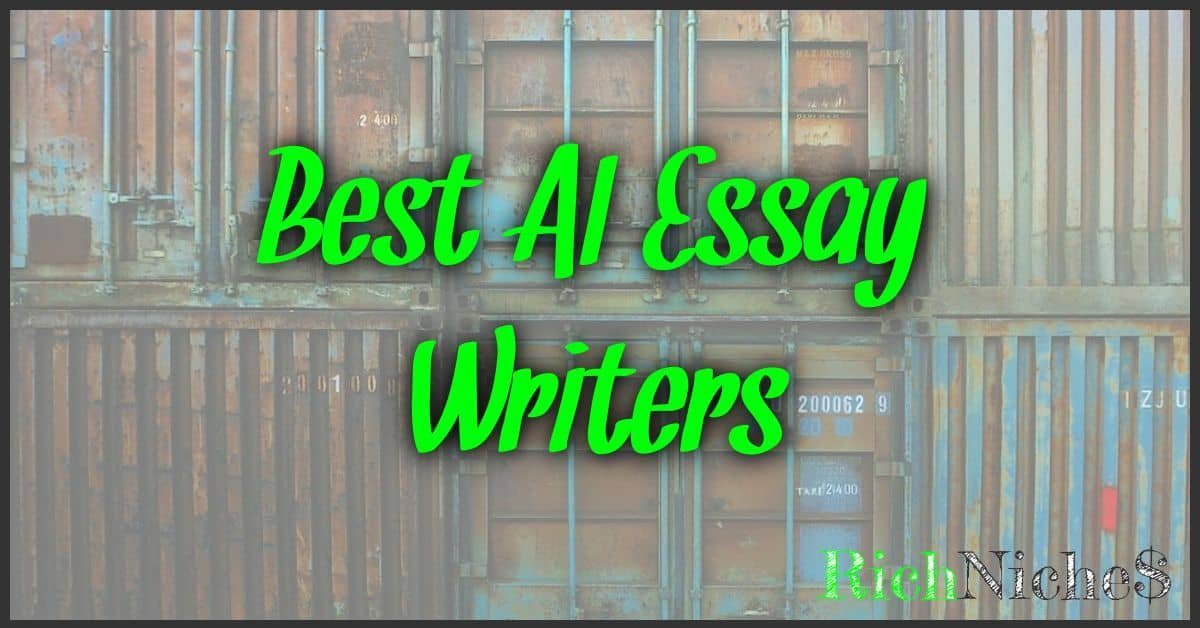 Additionally, it accommodates your writing needs for any paragraph directly within the editor without any coding, making the writing process even faster.
Advantages and Disadvantages of Employing Jasper
When using Jasper as an AI essay writer, consider the following:
Pros
Unlimited output word count
99% original content generation
Integration with Grammarly and Copyscape
Understands context with minimal input
Cons
Learning curve involved
Editing and human input required
Fact-checking needed, impacting research papers
High cost if used solely for essay writing
Pricing Information for Jasper
Jasper offers a Starter package at $29/month and a Boss Mode package at $59/month. Opt for the yearly plan to receive two months free. Jasper also provides an unconditional 5-day money-back guarantee.
ContentBot – A Top AI Essay Writer Choice
Outstanding Features of ContentBot's AI Writing Tool
ContentBot offers an impressive AI writing tool that can generate ideas for various content types, from sales and marketing copy to long-form blog posts and essays. It provides you with two AI engine options: Open AI GPT-3 for high-quality and fast content creation while Tinyseed offers a larger output quantity, albeit at a lower quality and slower pace. With Tinyseed, extra care is required for fact-checking and editing the generated text.
Using the long-form editor, you can enjoy a guided process to create a title, outline, introduction, and paragraphs. ContentBot allows you to edit the generated output and provides several editing options, making it an interactive experience. Additionally, the "trends" tool brings you the latest news on your selected topic, perfect for essays on current affairs.
The Advantages and Disadvantages of ContentBot
When using ContentBot as an AI essay writer, consider these pros and cons:
Pros:
Built-in plagiarism checker
High-quality AI-generated content
Cons:
Smaller knowledge base with TinySeed
Slightly challenging user interface
Costly if only used for essay writing
ContentBot Pricing Structure
ContentBot offers a free plan that includes 250 short-form content pieces and two long-form blog posts (or essays) per month. The Premium plan, which costs $59/month, provides unlimited short-form content creation and 40,000 long-form content words monthly. For $99/month, the Premium Plus plan grants unlimited short-form content credits and permits you to generate about 150,000 long-form words monthly.
Article Forge – Crafting Unique Essays through Research
Special Features of Article Forge
Article Forge boasts state-of-the-art AI and deep learning technology, allowing it to craft unique, well-researched essays from given keywords and sub-keywords. By scanning millions of articles on the chosen topic, it generates each essay using proprietary AI algorithms, ensuring original, plagiarism-free content for your needs.
Advantages and Disadvantages of Using Article Forge
In selecting Article Forge as your AI essay writer tool, it's important to consider some pros and cons:
Pros:
Effortless to use
Conducts the research on your behalf
Can produce a limitless number of essays
Cons:
Article length restricted to 750 words
Generated content may require proofreading and editing
Essays might lack a coherent structure with engaging introduction, body, and conclusion
Pricing for Article Forge
Article Forge offers multiple pricing options: $57/month or $27/month when billed annually. Additionally, they provide a 5-day free trial, allowing for a test run before committing. If you generate less than ten articles and find the software unsatisfactory, they also offer a risk-free 30-day money-back guarantee.
Rytr – A Handy Essay Generator Tool
Remarkable Features of Rytr Content Creator
Variety of templates: Rytr offers Blog Article Idea and Outline templates for essay writing, allowing you to input keywords and generate multiple variations of ideas, titles, and outlines.
Flexible text generation: With Rytr, you can create paragraphs for each section of your outline by using the "write operation" feature. You can also guide Rytr by providing your own text to start with.
Text editing options: Rytr offers text editing functions like "expand," "shorten," "rephrase," "append," and "write operation" to help you customize your essay as needed.
Advantages and Disadvantages of Rytr
Utilizing Rytr for essay writing:
Pros:
Affordable solution
User-friendly interface
Email and chat support available
Cons:
When editing, only highlighted text is used, which may lead to unexpected outcomes.
Pricing for Rytr
Rytr offers a free plan that allows you to generate up to 5,000 characters per month. For unlimited character generation, their premium plan is available at $29 per month.
Writesonic – AI Writing Software
Reasons to Choose Writesonic AI Tool
Writesonic can efficiently create high-quality content for articles within a short time. By providing just a few introductory lines, it can generate engaging titles that capture your audience's attention. Moreover, it helps you create a well-structured essay with its ability to generate introductions, outlines, and summaries, simplifying your writing process.
Advantages and Disadvantages of Writesonic
When crafting an essay, consider these aspects:
Pros:
Built-in readability checker
Generates high-quality content
Cons:
Potentially costly for large quantities of content
Long-form writing assistant may deviate from the topic
Pricing of Writesonic
The primary distinction between plans is the number of monthly usage credits and priority support. The credits deducted depend on the type of content you generate. With Writesonic, you can ensure quality content creation tailored to your needs.
FlackedAI – Essay Summarizing and Writing Software
Enjoyable Key Features of FlackedAI
Flacked Canvas: A free-flow writing assistant ideal for crafting essays. Enabled with DaVinci Mode, it offers better context comprehension.
Flacked Summarizer: Insert a URL and obtain a concise summary of the webpage's content.
Flacked Writer: A versatile tool for various purposes, including long-form blog post creation.
Flacked Communication: Excellent choice for email composition.
Pros and Cons of Utilizing FlackedAI
Pros:
Flacked Canvas for smooth essay writing.
7-day free trial without requiring credit card information.
Cons:
The interface can be challenging to navigate.
FlackedAI Pricing Structure
FlackedAI offers monthly and annual pricing plans:
Silver Plan: $27/month for 50,000 writing characters.
Gold Plan: $59.99/month for unlimited writing characters.
Additionally, you can try FlackedAI with a 7-day free trial without inputting your credit card details.
AI Writer – Your AI Writing Assistant
Distinct Attributes of AI Writer Software
AI Writer is an outstanding tool with essential capabilities:
Content generation
Custom text creation
Rewording pre-existing material
Publishing
Provide a subject or headline, and AI Writer will gather pertinent information from the web and rewrite it into a comprehensive essay, including sources for reference.
The text editor allows you to compose your content with a straightforward interface, focusing on writing without distractions.
For those looking to refresh existing content, the rewording feature assists in creating an updated version.
Advantages and Disadvantages of AI Writer
Utilizing AI Writer for essays comes with its pros and cons:
Pros
User-friendly, minimalistic interface
Cons
No long-form editing capabilities
Pricing for AI Writer
The Basic plan is priced at $29/month for a single user and includes up to 40 articles monthly. The Standard plan costs $59/month, allowing for 150 articles. Annual subscriptions offer two months free. The Custom plan accommodates any number of users and offers unlimited articles. All plans include full functionality, and a free trial option exists as well.
Dr Essay – Receive Assistance with Essay Writing
How Dr Essay Functions
Dr Essay is the ultimate AI-powered essay writer, crafted to support your academic writing needs with capabilities such as researching, writing, referencing assignments, and many other writing tasks.
Article Generator: You input keywords, the desired word count, research depth, and other writing preferences. Dr Essay's AI generator handles the rest, creating your entire essay.
Research Assistant: The AI-driven search engine and text recognition system make gathering information a breeze, providing an extensive range of data on any subject.
Article Rewriter: The comprehensive Dr Essay thesaurus database can automatically transform essays by substituting words with synonyms.
Sentence Shuffler: Add uniqueness and authenticity to your writing by rearranging your sentences.
Reference Generator: Enhance the professionalism and credibility of your essay using this tool, which automatically produces a bibliography and references based on your chosen topics.
Pros and Cons of Utilizing Dr Essay
Pros
Tailored specifically for academic writing
Optimal for technical subjects
User-friendly
Economical
Cons
Limitations on the free version
Pricing for Dr Essay
Two pricing plans are available with Dr Essay. The Basic plan is $8.95/month, providing 100 actions per day, while the Pro plan is $19.95/month and grants unlimited access.
EssaySoft – A Comprehensive Online Essay Writing Solution
Discover What EssaySoft Has to Offer
EssaySoft is a suite of AI-driven essay writing tools designed to make your essay writing journey smooth and efficient. These tools work together harmoniously or individually, allowing you to customize your writing process. Just provide some information and EssaySoft will create your essay within minutes.
Essay Master: From research to writing to revisions, Essay Master takes care of every aspect of your essay, ensuring a top-quality piece complete with references.
Essay Generator: Simply input your essay topic keywords, word count, research depth, and other preferences, and let this advanced tool do the rest.
Essay Rewriter: Breathe life into lackluster essays with the Essay Rewriter, which enhances and refines your writing.
Essay Researcher: Save time with Essay Researcher, streamlining the process of gathering information for your essays.
Easy Bibliography: Compile high-quality bibliographic references easily and efficiently.
Essay Shuffler: Optimize your sentence structure with the Essay Shuffler, refining your writing until it's just right.
Weighing the Pros and Cons of EssaySoft
Pros
Tailored for essay writing
Affordable pricing
Unlimited use on premium plans
Cons
Restricted content in the free version
Understanding EssaySoft Pricing
EssaySoft offers three subscription plans to suit your needs. The monthly plan is priced at $9.95 per month, while the annual plan comes in at $69.95 per year. For a one-time payment of $99.95, you can gain lifetime access to EssaySoft's features. All plans include a 7-day refund guarantee for peace of mind.
Articoolo – Essay Writing Software
Exceptional Articoolo Features for Essay Writing
Articoolo is a remarkable AI-driven essay generator that can create original text by focusing on concepts instead of keywords. With a straightforward entry of 2-5 word topics, Articoolo generates unique articles of approximately 500 words. Additionally, it can swiftly rewrite existing texts and provide summaries and headlines as well.
Evaluating the Advantages and Disadvantages of Articoolo
As you work with Articoolo for essays, consider the following pros and cons:
Pros:
Cons:
Limited to a maximum of 500 words per article
Articles generated by AI may require further editing
Content quality may be inconsistent depending on the topic
Articoolo's Flexible Pricing Options
Articoolo employs a pay-per-use pricing model, giving you the convenience of previewing parts of the generated essay before deciding to purchase the full article. This ensures you have a good understanding of the content quality before committing to the payment.
Thundercontent: AI-Assisted Essay Creation
Key Advantages of Thundercontent
AI-powered writing companion for top-notch blog articles
Versatility in covering various topics
Guaranteed unique output
User-friendly smart WYSIWYG text editor
Compatibility with 13+ languages
Multiple export format options
Automatic generation of blog post titles, introductions, and outlines
Long-form content writing with AI
SEO optimization
Customizable AI assistance: control creativity and article length
Weighing the Pros and Cons of Thundercontent
For essay writing purposes:
Pros:
Ability to create essays of any desired length
Cons:
Restricted word count on Starter package
Thundercontent's Pricing Structure
Thundercontent offers three pricing tiers:
Starter AI Writer package: Priced at $9/month, it includes all features with a monthly 5,000-word limit.
Pro package: Priced at $39/month, it provides a 50,000-word limit.
Unlimited package: Priced at $78/month, offering limitless word count access.
Qopywriter.ai – AI-Based Essay Creation Tool
Crafting College Essays with Qopywriter.ai
To compose a college essay, first input a title and briefly describe your essay's topic. Next, let Qopywriter.ai generate your essay using advanced natural language processing algorithms. Finally, edit and format your essay as needed. Qopywriter.ai ranks highly among AI essay writer applications.
Benefits and Drawbacks of Utilizing Qopywriter.ai
Pros:
Specifically designed for essay writing
Cons:
Lacks interactive writing features
Pricing Plans for Qopywriter.ai
Lite package: $9/month (30 credits, equivalent to $0.03 per essay)
Starter package: $19/month (100 credits)
Business package: $49/month (500 credits)
Yearly package: $420/year (6,000 credits)
Each package offers a free trial option.
Essay Genie – Crafting Admission Essays
How Essay Genie Composes Outstanding Admission Essays
Essay Genie employs six persuasion principles to create your standout admission essay.
Advantages and Disadvantages of Utilizing Essay Genie
Pros:
Expert editing of AI-written essay
Cons:
Limited to admission essays
Not entirely AI-generated
Essay Genie's Pricing Structure
Undergraduate and graduate essays:
$159 for Admissions essay edit and feedback
$299 for a Personalized sample admissions essay
What's The Best AI Essay Writer?
When it comes to AI essay writers, one of the top choices is Jasper.ai. This powerful tool, particularly when utilizing Boss Mode, enables you to have control over the content generation process and customize the essay to your liking. Jasper has proven to be a reliable choice for generating high-quality, original essays.
However, if you're specifically looking for an AI tool tailored for essay writing and at a lower cost, consider Dr Essay. This AI writing assistant focuses on creating essays for various academic needs, including technical topics. Key features of Dr Essay include the Article Generator, Research Assistant, Article Rewriter, Sentence Shuffler, and Reference Generator. Its user-friendly interface and affordability make it a strong contender among AI essay writers.
Another option to consider is EasySoft, a tool comparable to Dr Essay. EasySoft provides various features that work together or independently to create essays within minutes, based on your input.
In today's fast-paced world, AI essay writers like Jasper.ai, Dr Essay, and EasySoft have transformed the writing process, making it easier and more efficient to produce plagiarism-free, high-quality content for various purposes. With these advanced writing tools at your disposal, crafting essays manually is no longer necessary.