Beta testing plays a crucial role in software development, offering an opportunity to fine-tune the product before it reaches the end user. As a beta tester, you have the responsibility to test the software in a real-world setting, uncovering any potential issues or defects that may have gone unnoticed during earlier development stages. This process is not only essential for ensuring the software's quality but also presents a unique way for individuals to earn money from the comfort of their homes, armed with only an internet connection, a computer, and a basic grasp of testing techniques.
This article serves as a guide for those interested in beta tester jobs, highlighting five notable companies in the field and providing tips on how to hone your skills and secure a position. As you explore this exciting career path, remember that determination and practice can lead to success in the world of beta testing.
Key Takeaways
Beta testing offers opportunities to work from home and earn money while contributing to software development.
Top companies in the beta testing field are actively seeking skilled testers to help enhance their products.
Becoming a successful beta tester requires dedication, skill development, and leveraging various resources to find job opportunities.
What Is the Job of a Beta Tester?
As a beta tester, your responsibility is to evaluate and assess products, such as games and apps, in their production environment before they are released to the public. By doing so, you identify lapses or errors in the design, usability, and overall appeal of the product. You are part of a group of real users, testing the product in a controlled setting.
Your beta testing duties require you to maintain confidentiality and work within a specific timeframe. It is essential that you provide a thorough report on any defects you encounter. In return for your time and efforts, you may receive compensation in the form of cash, gift cards, or discounted products.
5 Companies Offering Beta Tester Jobs
1. Tester Work
Tester Work is a large community of over 70,000 testers across the globe established in 2013. This platform gives you a chance to earn money by testing websites and apps in your free time. You must register and pass an assessment that determines your skills before receiving test invitations. Payments for approved bug reports are made in USD through PayPal or Upwork.
2. Beta Family
Beta Family is a crowd-testing platform with more than 35,200 tests created globally. This platform assists developers in obtaining feedback on new apps. As a tester, you can browse and apply for tests based on specific criteria. Test owners will rate your performance, and higher ratings will result in more test invitations. Beta Family offers both rewarded and non-rewarded tests, with payments ranging from $5 to $20 per test. Payouts through PayPal are available when your account reaches $50.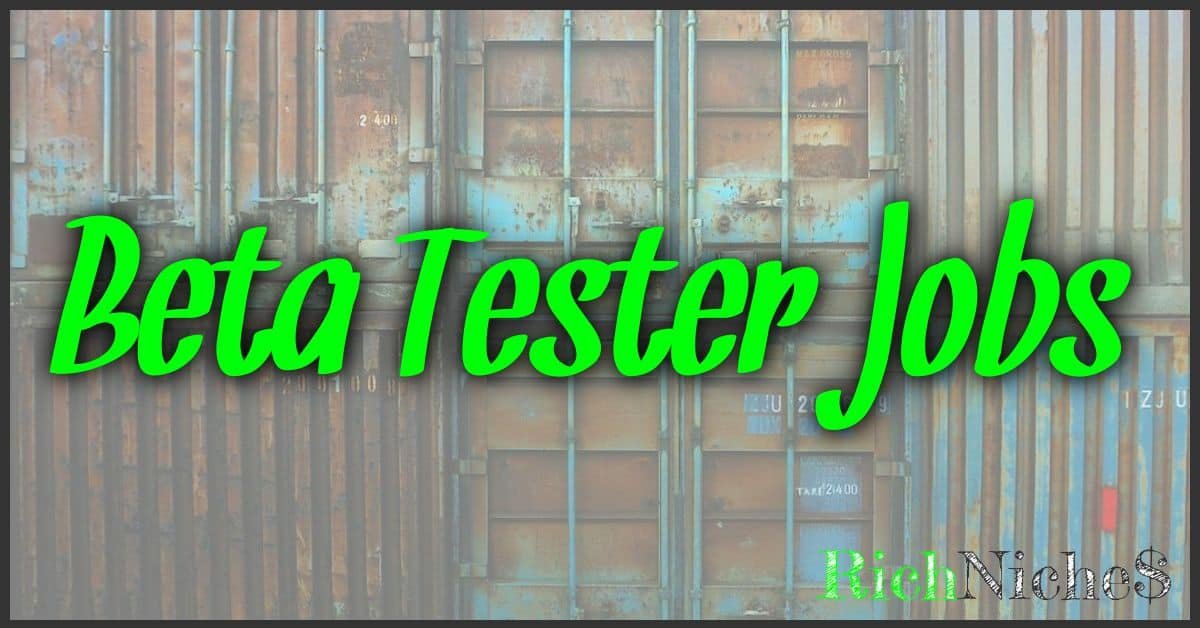 3. Test IO
Test IO is a freelance testing community designed to support both startups and established companies in developing high-performance apps. This platform provides resources to help testers conduct tests and create detailed bug reports. Test invitations are based on skills and interests, with testers receiving up to 5 tests per day on average. Payment depends on the bug's quality and the type of test, with high-priority bugs earning around $50. Test IO issues payments on a monthly basis.
4. Betabound
Betabound, formerly known as OnlineBeta, is a free online platform that connects testers and developers worldwide to create efficient tech products. Register as a member to be matched with appropriate beta testing opportunities. Betabound members can access two categories of tests: private Betabound exclusive and public Betabound exclusive. While testers on this platform are volunteers without monetary incentives, some companies offer rewards for high-quality feedback in the form of Amazon gift cards or free products.
5. Totem Arts
Totem Arts is the creator of the popular video game Renegade X. This platform is ideal for game testers passionate about providing input for game development. Totem Arts provides training sessions to improve your skills and is currently seeking beta testers for the game "Firestorm." Prior experience in game testing or bug reporting is considered valuable for joining this community.
How Do You Become a Beta Tester?
1. Explore Developers
Investigate game, app, and software developers that hold your interest. Some developers have open beta testing positions, while others may be searching for testers with particular expertise.
Once you find a suitable developer, either complete an online application or reach out via email to offer your services.
2. Begin with Voluntary Testing
Consider offering your services for free initially to build experience and diversify your knowledge as a game and QA tester. By providing voluntary testing, you can establish contacts within the industry.
These connections may lead to paid opportunities as companies search for beta testers in the future.
3. Create Job Alerts for Beta Tester Positions
Stay updated on beta tester opportunities by subscribing to developer newsletters, as they often share news regarding upcoming game launches.
Another method for receiving job alerts is to sign up on various job boards, set your preferences for beta testing roles, and receive email notifications when new positions become available.
4. Participate in Beta Testing Communities
Join beta testing groups on social media and other community networks to enhance your learning and networking opportunities.
Company representatives frequently post details about product releases and relevant information within these groups. Furthermore, you can gather insights from the experiences and feedback of other testers.
5. Test Thoroughly and Optimize Your Approach
Make a name for yourself as a successful beta tester by examining software or games based on the given guidelines, focusing on functionality and usability.
Provide honest feedback, keeping an eye out for any additional issues that may contribute to product improvement.
Discovering Beta Tester Job Opportunities
1. Exploring Job Boards
Numerous job boards, such as Glassdoor, Indeed, and LinkedIn, frequently post beta tester job opportunities under various titles like Games Tester, Actuarial Tester, Application Tester, and Business Operations Analyst. Carefully read the job descriptions to see if the roles align with your skills before applying.
2. Utilizing Social Media
Joining groups on social media platforms like Facebook can connect you with other beta testers and industry professionals. Company representatives often use these groups to promote and share information about upcoming products. If you're passionate about video games or software testing, these forums can help you network with developers and land potential job opportunities.
3. Contacting Companies Directly
When companies release pre-launch teasers for their products, such as games, apps, or software, you can seize the opportunity to contact the developers directly and express your interest in beta testing. Your dedication to providing high-quality feedback and demonstrating an eye for detail may lead to more testing opportunities with the development team in the future.
The Bottom Line: Beta Tester Jobs
As a beta tester, you'll be immersed in exciting new products while having the chance to make some extra cash. Salaries often vary depending on your experience and the projects you take on. Consistently providing detailed, honest, and timely feedback to companies can enhance your reputation in this field. By doing so, you increase your chances of being sought out for future testing opportunities.
In addition to earning money, beta tester jobs offer the benefit of reading user reviews, allowing a deeper understanding of product functionality and improvement areas. As you hone your skills, the career possibilities expand, and you become a valuable asset for companies seeking reliable testers. So, immerse yourself in beta tester jobs and explore an engaging way to make a profit while enjoying your passion for product evaluation.