In the world of social media, Facebook groups have gained tremendous popularity as online communities catering to diverse topics and niches. These groups not only serve as a platform for like-minded individuals to connect and share their interests, but they also offer an opportunity for group owners and members to generate revenue. While the path to monetizing a Facebook group might not be straightforward, with the right approach, you can transform your group into a valuable source of income and leads.
This article intends to provide you with an understanding of how Facebook groups can make money and explore 15 different ways you can monetize your group effectively. As you read through these insights, consider your group's purpose, membership size, and the goals you wish to accomplish, and you'll be well on your way to building a profitable online community.
Key Takeaways
Facebook groups can be monetized in various ways, such as affiliate marketing, product sales, and coaching services.
The number of members required for a group to generate revenue varies, but a focused and engaged community contributes to your success.
Implementing the right strategies can help your Facebook group serve as an essential source of leads and income.
Do Facebook Groups Generate Income?
Understanding the Role of Facebook Groups
Facebook groups serve as online communities, with the potential to generate income for many group owners. These groups cater to a wide range of topics and niches and contribute to Facebook's status as one of the largest social media platforms. With billions of monthly active users, 1.8 billion people participate actively in Facebook groups. Many of these users engage in five or more groups, emphasizing the popularity and potential reach of these communities.
These groups create a virtual space for users with shared interests, enabling opportunities for teaching, networking, and more. As a Facebook user, you can establish a group for various purposes, such as fostering a communal atmosphere, sharing memes, teaching, or marketing your products and services. In essence, Facebook groups elevate the typical social media interaction to a more engaging, collaborative experience.
Not only do Facebook groups gather like-minded individuals for discussions and advice-sharing, but they also allow entrepreneurs and online business owners to leverage the platform for potential profits. Expanding and monetizing your Facebook group is an excellent opportunity to showcase your products or services. The beauty of it is that even if your group isn't specifically focused on selling products, it can still generate income. By understanding the importance of Facebook groups and employing effective strategies, you can transform your group into a profitable venture and boost engagement among members.
How Many Members Does a Facebook Group Need to Make Money?
There isn't a specific number of members required to monetize a Facebook group. Success largely depends on the level of engagement between you and the group members. Of course, a group with over 10,000 members may make money more easily than one with fewer than 1,000 members. However, even a smaller group with a few hundred highly engaged members can generate income.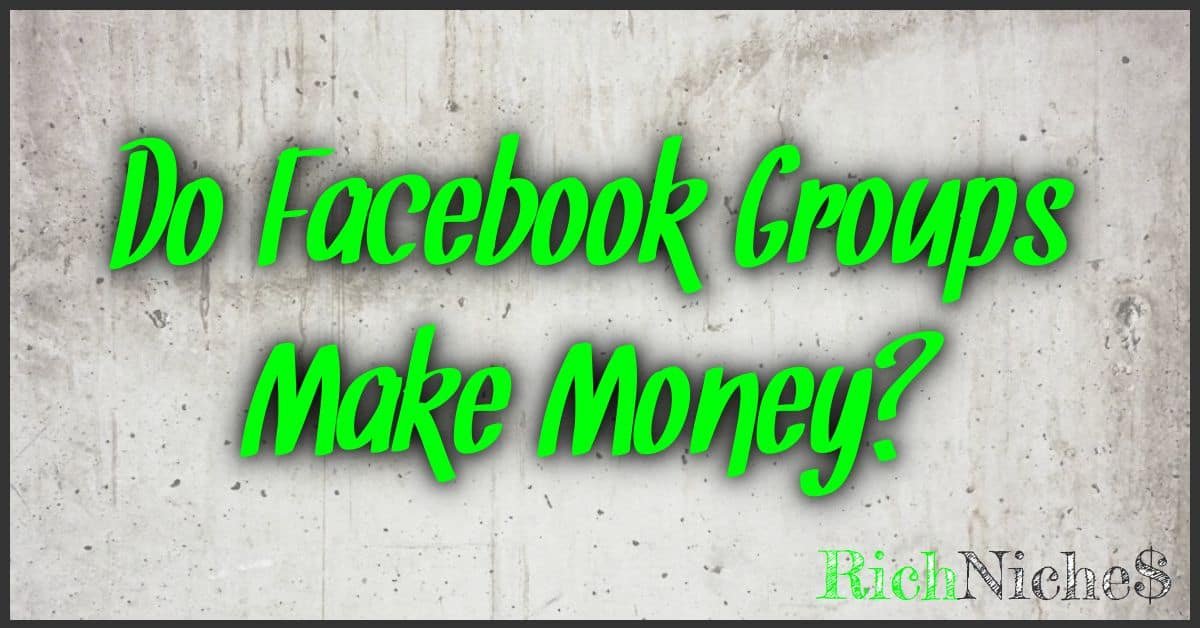 To boost your earnings, establish yourself as an authority in your niche, interact regularly with your group, and offer relevant products and services tailored to their needs. For smaller groups, consider focusing on affiliate marketing, coaching, consulting, and selling your own products or services.
As your group gains more members and subscribers, you'll unlock additional monetization opportunities to explore. Always maintain a friendly tone while targeting your audience's interests for optimal results.
15 Ways to Monetize Your Facebook Group
1. Affiliate Marketing
Promote relevant products within your Facebook group by participating in affiliate marketing programs. Share your personal experiences and recommendations in an authentic way, and consider creating resources or lists within your group for members to explore.
2. Sell Products
Use your Facebook group to sell your physical or digital products. Create a community around your niche and provide value to members while promoting your items. Keep a healthy balance between promotional content and engaging posts to maintain member interest.
3. Offer Coaching and Consulting
Capitalize on your expertise within your group's topic by offering paid coaching or consulting sessions. Use tools like Calendly for scheduling and billing to streamline the process and maintain your professional boundaries.
4. Drive Traffic to Your Website
Utilize your Facebook group to increase traffic to your website. Share blog articles, updates, products, and more with your group members to grow your audience and boost engagement.
5. Get Leads for Your Email List
Collect email leads from your Facebook group to build your mailing list. Consider offering incentives for members to subscribe and create a seamless sign-up process.
6. Sell a Digital Course
Develop an online course related to your group's topic and promote it within your community. Share your expertise and offer exclusive content that adds value to your members.
7. Sell Advertising Space
Offer advertising opportunities within your Facebook group to relevant businesses or services. Ensure that promoted content aligns with your group's purpose and values.
8. Create a Subscription-Based Private Group
Establish a premium, members-only Facebook group offering exclusive content and additional perks. Charge a subscription fee for access, adding value and fostering a sense of exclusivity.
9. Sell Services
Promote your services within your Facebook group, whether online or locally. Consider targeting a local community or specific niche to attract potential clients.
10. Brand Partnerships and/or Sponsorships
Collaborate with brands or secure sponsorships relevant to your group's interests. Ensure a natural fit with your group's values and promote products and services that benefit your members.
11. Collect Donations
Request donations from your group members to support the growth or upkeep of your Facebook group. Be transparent about the purpose of the funds and consider offering special perks or recognition in exchange for donations.
12. Connect Buyers and Sellers
Facilitate connections between buyers and sellers within your group. Organize dedicated threads or resources to make the process efficient and organized for all members.
13. Create, Grow, and Sell
Build your Facebook group with the potential to sell it in the future. Focus on growth, engagement, and value to ensure a profitable return when the time comes to sell.
14. Get Paid to Admin
Offer your administrative services to other Facebook group owners. Your knowledge and experience within your own group can serve as a valuable asset to others looking for support.
15. Host Paid Events
Organize paid events, either online or in-person, for your Facebook group members. Workshops, webinars, or meetups can provide an opportunity for group members to learn, network, and contribute to the monetization of your group.
Wrapping Up: Making Money with Facebook Groups
Yes, Facebook groups can indeed generate revenue. By monetizing your group, you can create a supplementary income flow with minimal hassle. If you're already running a Facebook group, tailor these ideas to enhance your current monetization strategy.
In case you don't have a Facebook group but possess a website, products to promote, online courses, or services to sell, consider launching a group as an extra income source and to attract more leads for your business.
Keep in mind that expanding and managing a group requires time and effort. However, when executed correctly, it can serve as an excellent resource for boosting leads and income.
There are numerous methods to earn extra money online, such as making money on Facebook $500 every day. Remember to maintain a friendly approach while guiding your group members on this lucrative journey.