Are you looking to get more traffic and make more money for your content website? Once you've started to get some decent traffic and added monetization to your content-based site, it can be easy to get stuck and hit a plateau with traffic and earnings.
Thankfully, when I hit this plateau, I came across Easywins.io, which allowed me to see opportunities to optimize my sites for both traffic and earnings. This post will be reviewing EasyWins.io.
Our EasyWins.io Review
EasyWins.io may be just the tool you've been looking for. After using Easy Wins for a while now, I decided that it's time to share my findings with you. In this post, I'm going to do an in-depth EasyWins.io review, so that you can figure out if it would benefit your niche site and your business.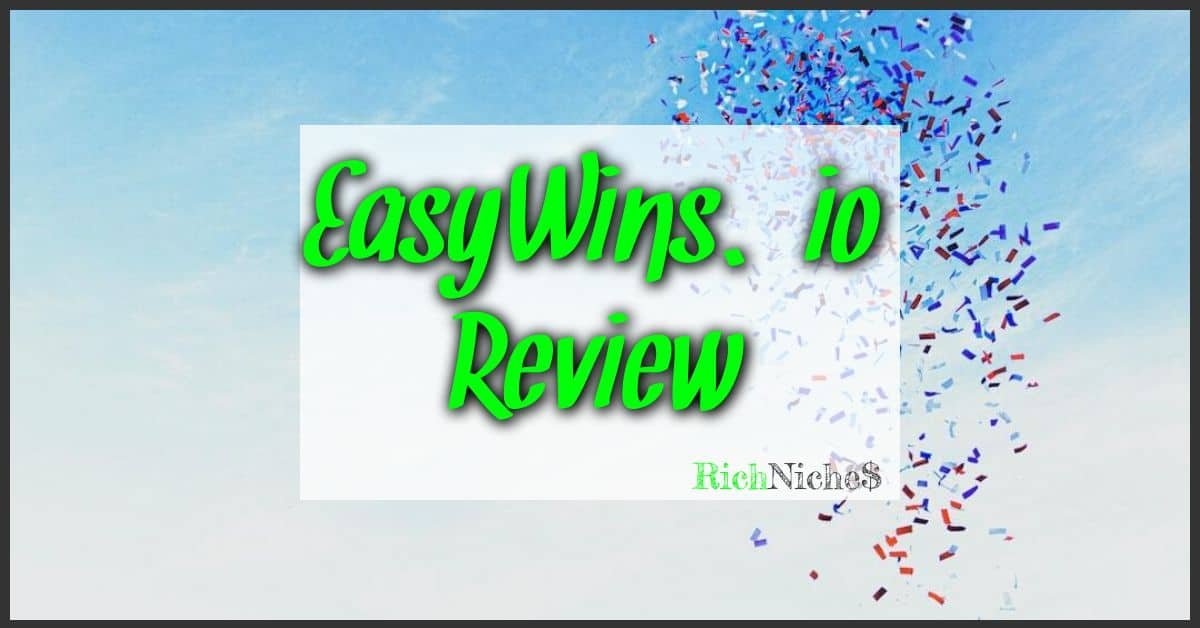 EasyWins.io Price: $50 OFF (Limited Time Offer) 120+ battle-tested strategies applied to 175 websites over 12 years to increase website valuations. We may earn a commission if you make a purchase, at no additional cost to you.
What is EasyWins.io?
EasyWins.io is a database in the form of a spreadsheet that shows easy opportunities to optimize a content website for growth. While there are a few categories of growth wins within the EasyWins spreadsheet, two of them stand out to me. There are many easy wins for both traffic, and for revenue.
In all, there are over 120 methods covered in the EasyWins.io database, including tactics for revenue, traffic, off-page SEO, on-page SEO, basics, and structure. Trust me, there are some gems that you likely haven't thought of that will boost your site in a hurry.
After purchasing access to EasyWins.io, I quickly found about 10 tactics that I could pretty easily implement to improve my niche sites. The easy wins that I chose first were the low-hanging fruits. Since beginning to implement these Easy Wins, my niche website business has nearly doubled. I'm not saying that the growth is completely due to these tactics, because I've done other things like adding new content, but they've definitely contributed to it.
Writing this review of EasyWins.io is a good reminder to myself that I need to go back and look for more easy wins to implement. I know that there are numerous other tactics that will help my sites grow even more.
Features & Benefits of Easy Wins
The EasyWins database is quite simple, but it's so effective. I'll lay out some of the features and benefits of EasyWins.io.
Filter the Easy Wins Spreadsheet in Multiple Ways
It's easy to find what you're looking for as you can filter the tactics by the potential impact that they will have, the effort level that the tactic will take, the type of tactic, and even by content type. I typically filter the spreadsheet by either win impact, or by effort. At least to start with, I'm looking for the highest impact tasks and the lowest effort tasks to get the easiest and best wins.
See the Best Tools that Make Tasks Easier
Some of the Easy Win tactics found in the database are simplified with certain software or plugins. There is a tab that shows which tools can be used best to complete the task on your site.
Written Details Explaining the Tactics
Each Easy Win has written details that clearly explain how to implement the tactic. Many of the Easy Win details also include results from case studies, tools to help with the task, and examples from real sites.
Visual Examples of Easy Wins
Many of the Easy Wins also include screenshots that can be enlarged, which help demonstrate what the details of the tactic mean.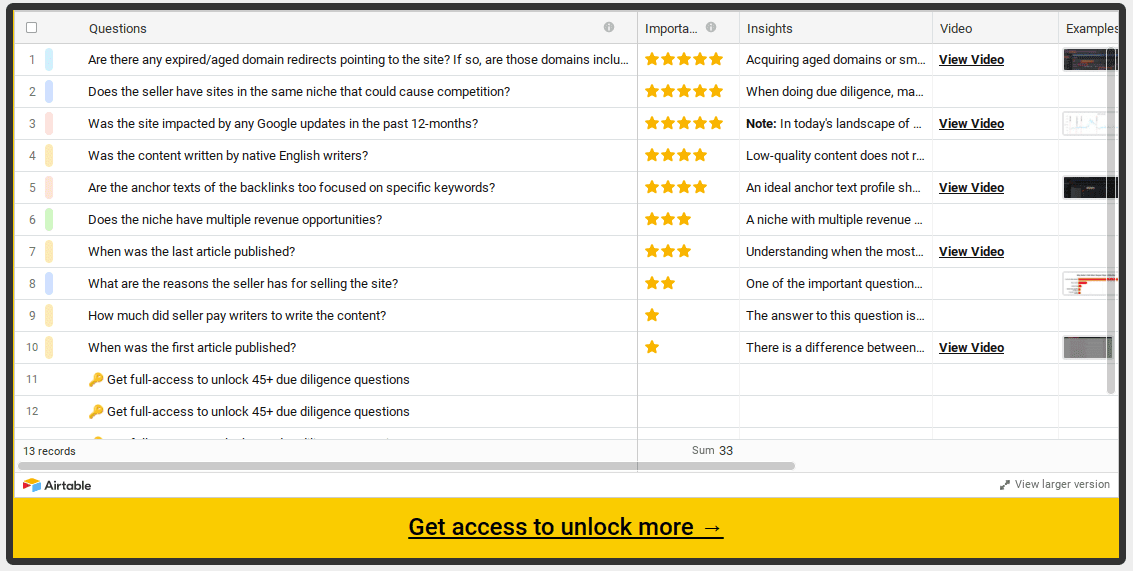 Who is EasyWins.io For?
I'd say that EasyWins.io is for a somewhat experienced content site owner and beyond. If you're just getting started, it's probably not for you… yet. It will be later on. You'll need to begin by focusing on getting your site up, getting a good amount of content published, and getting to a point where your site has consistent traffic. Then, EasyWins is worth getting so that you can optimize your site.
Pros and Cons of EasyWins.io
Like any product or service, EasyWins.io has its pros and cons. Personally, I find that the EasyWins database has pros that far outweigh the cons. Let's take a look at them.
EasyWins.io has so many tactics that you can continue to improve your sites for years.
Implementing just one tactic can easily pay for the price of access.
Save time by learning from a seasoned vet in the content website space.
Valuable for everyone except an absolute beginner.
Buy once, use forever. I regularly come back to the EasyWins database.
EasyWins.io is not for everyone. It isn't for a beginner. As mentioned before you need to have an established site before you should move on to these tactics.
How To Use EasyWins.io to Grow Your Niche Site
Because there are so many useful easy-win tactics within the spreadsheet, I suggest tackling them in chunks. What I've done is select 5 or so tactics that I believe will help me grow the quickest, then implement them. After those tasks have been completed, I go back to the spreadsheet and find the next batch of tactics that I want to implement. Then, I rinse and repeat.
EasyWins.io Pricing: Worth It?
As of Q4: 2021, EasyWins.io currently has two purchasing options.
One comes with lifetime access to the Easy Wins database, and the other also includes a one-time custom website teardown. In the teardown, Mushfiq will make a video review to help you find the best easy wins to start with for high impact and website growth. The two options are priced at $279 and $379.
Both pricing options come with lifetime updates to the spreadsheet and a moneyback guarantee if you don't see results.
Frequently Asked Questions
Do you still have questions about EasyWins.io? I've answered all the questions that I could think of when it comes to EasyWins.
Who developed EasyWins.io?
The cool thing about EasyWins.io is that it's built by someone who has a ton of website experience. The founder, Mushfiq, has sold somewhere near 200 websites! Yes, Two-Zero-Zero… Two hundred content sites. It's amazing that he's achieved that, and it's even more amazing that he's willing to share his best tactics that have proven to quickly improve a site.
Mushfiq also has a blog, newsletter, and a few other products in this space. I've linked to them below. He's been growing his business like crazy lately. I swear, I see him acquiring a new feature or website every week!
Is EasyWins guaranteed to increase website earnings?
Well, it's not technically guaranteed to increase website earnings, because you actually have to go do the work. But, if you actually work to implement some of the easy wins, you'll likely see results. Remember, many SEO tactics take time to work, so be patient. Also, EasyWins.io comes with a money-back guarantee, so if you're unhappy for whatever reason, you can get a refund. The only reason I can see this happening is if you don't implement anything after purchasing.
Can beginners use EasyWins?
I don't think an absolute beginner should start with this. But, after a beginner has their site established and is getting some traffic and results, EasyWins.io is perfect. I like to emphasize keeping it as simple as possible at the very beginning. Make a site. Write SEO-focused content. That's it. After that, go get Easy Wins and implement the tasks.
Is the Price of EasyWins.io for Lifetime Access or a Recurring Fee?
Currently, the price of the EasyWins.io database is for lifetime access as well as lifetime updates.
Can advanced niche website builders benefit from EasyWins?
I believe that EasyWins is beneficial to nearly every level of website builders once you're up and going with a site. I know that I regularly go back to see what else I can optimize on my sites, and I'm not even near done with everything. I can see myself regularly using this resource for the rest of my content site career.
Will EasyWins be updated in the future?
The EasyWins spreadsheet is regularly updated. Since I purchased access, there have been more tactics added. If there are new easy win tactics that Mushfiq comes across he will add them to the database monthly.
Where can I get EasyWins.io?
Well, that's a pretty simple question. Of course, you can get it at EasyWins.io We may earn a commission if you make a purchase, at no additional cost to you.
EasyWins.io Price: $50 OFF (Limited Time Offer) 120+ battle-tested strategies applied to 175 websites over 12 years to increase website valuations. We may earn a commission if you make a purchase, at no additional cost to you.
What's the refund policy for EasyWins.io?
There is a 100%, no questions asked, refund policy for EasyWins.io. I don't see you being unhappy with your purchase, but in that event, you can get your money back.
My Final Thoughts on EasyWins.io
When I first purchased EasyWins.io, I was a bit nervous about paying that much. Looking back at my purchase now, it's a no-brainer. Access to EasyWins paid for itself just by using a few of the tactics.
Hopefully, you found my EasyWins.io review helpful. If you're looking for opportunities to optimize your site to gain traffic and earnings, I highly suggest getting Easy Wins. It's absolutely worth it.
EasyWins.io Price: $50 OFF (Limited Time Offer) 120+ battle-tested strategies applied to 175 websites over 12 years to increase website valuations. We may earn a commission if you make a purchase, at no additional cost to you.
Other Helpful Products from Mushfiq
As I mentioned, Mushfiq is extremely busy growing his business by expanding his assets. I'm actually not quite sure how he gets so much done all the time… Here are a few of his other projects and products.
The Website Flip Blog
TheWebsiteFlip.com is Mushfiq's home base, where he writes about content websites. It's an excellent resource that includes case studies, interviews, and guides relating to building, buying, selling, and flipping content websites. Also, be sure to follow Mushfiq on Twitter, where he is quite active.
EasyDiligence.io
Mushfiq also has a framework for buying sites. EasyDiligence.io is his database of things to look at when doing due diligence for a content website purchase. As of now, there are over 45 questions he has used to make good website purchases. Remember, he has done around 200 deals, so he has an immense amount of experience buying and selling niche sites. EasyDiligence is also available with a dashboard to use during the due diligence process.
EasyDiligence.io Price: $50 OFF (Limited Time Offer) Get the battle-tested Due Diligence Dashboard and 45+ Questions Database for intelligently buying content websites with high potential. We may earn a commission if you make a purchase, at no additional cost to you.
DealFeed
As of writing this, Mushfiq's most recent project is The DealFeed Tool. It collects sites that are listed for sale from multiple marketplaces including Empire Flippers, Investors Club, Flippa, Motion Invest, and Quiet Light.
Consultations
If you're looking for some one-on-one help with your niche site, Mushfiq also offers consulting services. He'll do website teardowns, website due diligence, aged domain strategy, or whatever you need help with. Note that consultations are included in some of the packages for EasyWins.io and EasyDiligence.io.