Are you a 14-year-old looking for ways to earn some money? While you might not be eligible for traditional employment, there's no need to worry. Countless opportunities are available for young individuals like yourself to make some extra cash, whether it's with a company or through a side business. This article will explore various money-making ideas suitable for 14-year-olds.
From engaging in outdoor tasks to venturing into the digital world, we'll walk you through 13 different methods that can help you start earning. By the end of this article, you'll have a better understanding of how to make money as a 14-year-old, both online and offline. So, without further ado, let's dive in.
Key Takeaways
Explore 13 effective ways to earn money as a 14-year-old, even without a traditional job.
Discover various online opportunities and side hustles that can help you make money at your age.
Learn how teens can earn a significant amount, like $1,000, with the right approach and dedication.
13 Ways How to Make Money as a 14 Year Old
Here's a list of ways for you to make money as a 14-year-old:
Yard work (e.g. cutting grass, trimming bushes)
Babysitting
Selling clothes online
Tutoring
Taking online surveys (e.g. Swagbucks)
Helping out at home with chores
Starting a blog
Washing cars
Selling old clothing online
Freelance writing
Making and selling crafts
Creating digital art
Starting your own small business
These opportunities offer a mix of jobs, creative paths, and independence tailored for teenagers eager to earn.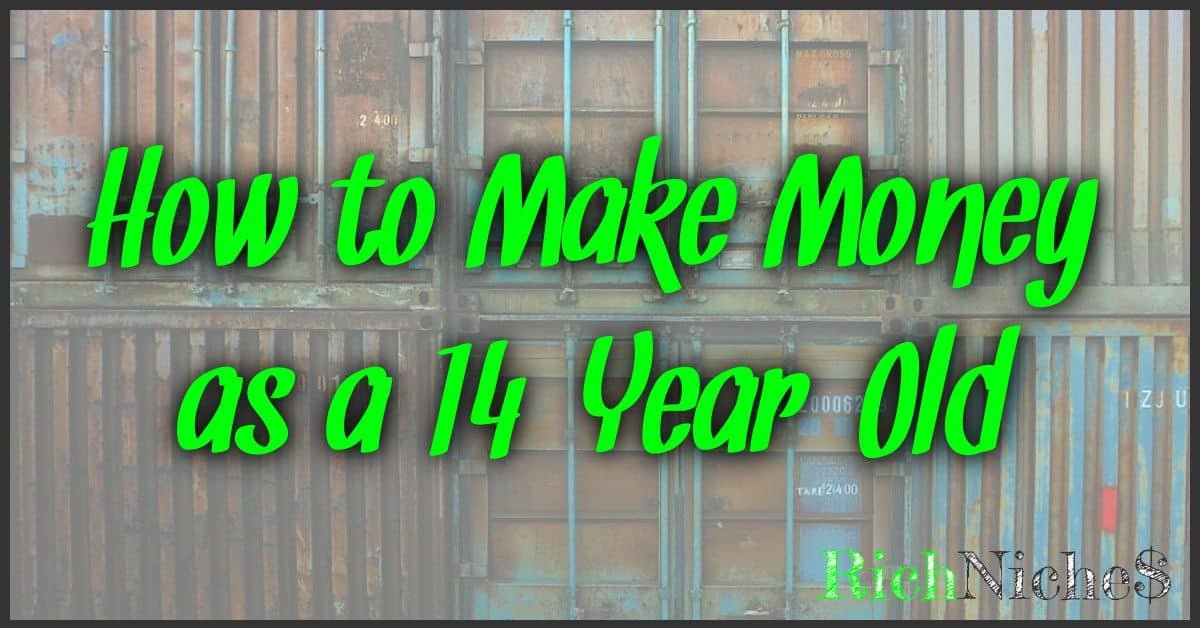 1. Yard Work
When it comes to yard work, you can engage in activities such as cutting grass, trimming bushes, planting, pruning, watering, and weeding. Apart from these tasks, there might be additional yard work opportunities like raking leaves, spreading mulch, and picking up debris. Yard work is an ideal option for those who enjoy outdoor work, take pride in maintaining a neat lawn and garden, and don't mind getting their hands dirty.
Not only does yard work offer an excellent form of exercise, but it is also a rewarding job for individuals who want hands-on experience. To find yard work jobs, you can either start your own business or look for postings online and locally from landscaping companies that may have openings.
2. Car Washing
Car washing is a popular outdoor job for young individuals who enjoy working outdoors and don't mind getting a bit wet or dirty. This job is particularly in demand during the summer months.
For decades, teens have been making money by offering car washing and detailing services. Opportunities in this field are abundant, and to be successful, consider reading guides on starting a car detailing business. Coming up with a catchy name will also help you stand out, so consider browsing through car wash name ideas for inspiration.
As a car washer, you will focus on hand washing, drying, and waxing vehicles. Including detailing services, such as cleaning and deodorizing the interior, can provide added value to your customers.
To find work as a car washer, you can follow a similar approach to yard work:
Apply for jobs at local car washing or detailing companies
Start your own car washing and detailing business
By following these steps and applying a confident, knowledgeable, and clear approach, you'll be on your way to turning car washing into a rewarding and enjoyable job.
3. Pet Walking
As a 14-year-old, you can enjoy a rewarding and active job in pet walking. This career allows you to work flexibly, either daily or just a few times a week, walking one or multiple pets at once. Not only is it a fun job, but it also serves as a great way to stay fit.
Although well-known companies like Wag and Rover require walkers to be at least 18, your local area may have pet walking businesses that hire younger individuals. Alternatively, you can tap into your entrepreneurial spirit and establish your own pet walking or pet sitting venture, using your neighborhood as a starting point to build your clientele.
4. Babysitting
Babysitting allows you to develop essential skills such as responsibility and time management while providing a steady income. As a babysitter, you will find that your services are frequently sought after, since parents often need support due to hectic work schedules and various activities. If you're attentive, responsible, and enjoy overseeing children while their guardians are away, babysitting may be an excellent fit for you. To set yourself apart from competitors, consider obtaining a Red Cross certification, further demonstrating your expertise and dedication to the field.
5. Social Media Influencer
As a social media influencer, you have the opportunity to make a considerable income while expressing your unique personality and connecting with your audience. To begin, consider joining popular platforms like YouTube, Snapchat, TikTok, and Instagram. Focus on sharing content in a niche that genuinely interests you, such as cooking, gardening, or creating art. Alternatively, you could share your daily experiences through vlogging or lifestyle posts.
The social media influencer industry is booming, with projections to exceed $200 million by 2024. Even young influencers, like Charli D'Amelio, who started on TikTok at 15, can achieve great success in this field – she earned $17.5 million within two years! Embrace your passions and engage with your online community to potentially build a lucrative career as a social media influencer.
6. YouTuber
Becoming a YouTuber allows you to create and share video content on the YouTube platform while earning money. Here are some ways to monetize your YouTube channel:
Advertisements: Join the YouTube Partner Program to place ads on your videos and generate revenue.
Sponsored content: Collaborate with brands that pay you to showcase their products or services in your videos.
Affiliate marketing: Promote products or services to your audience, earning a commission when they make a purchase.
Offering your products/services: Sell your own products or services directly to your viewers.
The potential for income as a YouTuber is substantial. Some creators, like Eric Worral, make up to $40,000/month through affiliate marketing on YouTube.
7. Personal Assistant
As a personal assistant, you'll support your client(s) by handling various tasks for them. These may involve managing their email inbox, scheduling appointments, and taking notes during meetings. You can offer your services to a parent or work for others during weekends or summers. This role is ideal if you enjoy helping others and prefer an office or work-from-home setting.
8. Grocery Store Worker
Grocery stores offer excellent job opportunities for 14-year-olds, such as positions in bagging, cashiering, and various departments. To find such a job, apply to your local grocery stores, including popular ones like H-E-B, Kroger, and Aldi, which generally hire workers aged 16 and above. However, several grocery store chains are known to hire younger workers aged 14 to 15.
For instance, Publix provides entry-level positions for those as young as 14, including trainee or apprentice roles. Similarly, Wegmans has positions available for 15-year-olds, expanding your employment possibilities. By working at a grocery store, you can gain valuable experience while earning money at a young age.
9. Restaurant Worker
Working in a restaurant can be an accessible job option for teens, especially at 14 years old. Depending on your location and the establishment, some restaurants that may hire at this age include KFC, Burger King, Dairy Queen, Culver's, and Pizza Hut. As a restaurant worker, you could take on roles such as food preparation, serving, cashier duties, or maintaining the cleanliness of the premises. If the foodservice industry captures your interest, this might be a suitable job opportunity for you.
10. Movie Theater Attendant
As a movie theater attendant, you have the opportunity to work in a fun environment while assisting guests and maintaining the cleanliness of the theater and lobby. An added bonus of this job includes perks such as free or discounted movie snacks and admission. Enjoy being surrounded by the excitement of the latest films while earning money at the age of 14.
11. Tutoring
Tutoring allows you to share your expertise in subjects like math or science, helping students succeed while earning extra income. With both in-person and online tutoring jobs available, you have various opportunities to utilize your teaching skills. So, grab the chance to make a difference in someone's education and boost your earnings by becoming a tutor in your area of expertise.
12. Virtual Assistant
As a virtual assistant, you'll provide support to clients remotely, offering flexibility and numerous benefits. You can enjoy working in comfortable clothing, listening to music or podcasts, and eliminating commute time, as you'll be working from home.
Tasks will vary based on your client's needs and may include similar duties as a traditional personal assistant. Most importantly, working as a virtual assistant often allows you to set your own schedule, as long as deadlines are met. To explore more opportunities in this field, consider browsing available resources on virtual assistant jobs for beginners.
13. Golf Caddy
As a golf caddy, you'll assist the golfer by carrying their bag, maintaining the cleanliness of golf clubs, and cleaning golf balls. Since there's plenty of walking involved, it's an excellent opportunity to get some exercise. This job is ideal for teens who enjoy staying active and working outdoors.
How to Earn Money Online as a 14-Year-Old
Online Opportunities to Avoid
When searching for ways to make money online, it's important to steer clear of scams and red flags. Here are some guidelines to follow:
1. No upfront payments required
You should not be required to invest money or handle any financial transactions in order to secure a job opportunity. If a job offer asks for upfront payments or financial transactions, it could be a scam or a pyramid scheme.
2. Protect your personal information
Be cautious about sharing personal information that is not necessary for the job. Legitimate employers may require certain details for official purposes. However, sensitive information like your social security number should not be shared on job applications.
3. Choose opportunities with valuable returns for your time
Select job opportunities that offer a reasonable return on the time you invest in them. For example, paid online surveys may not provide a substantial income for the time spent. Consider focusing on more profitable opportunities.
4. Be skeptical of offers that seem too good to be true
If an opportunity appears too good to be true, it probably is. Maintain a healthy skepticism and watch out for potential scams.
Online Jobs to Consider for 14-Year-Olds
Here are some online opportunities for 14-year-olds that are legitimate and can provide income:
Editing and proofreading: Check documents for grammar, spelling, and punctuation errors.
Virtual assistance: Offer online support as a personal assistant to one or more clients, helping with various tasks.
Social media content creation and influence: Use your social media presence to connect with your audience and create monetized content.
Online tutoring: Teach and help others in subjects you excel at.
Selling handmade items on platforms like Etsy: Create and market your own products online.
Starting your own business: Pursue a passion by launching a business in a field of your interest, such as marketing services or game development. Some activities may require adult support or supervision.
Remember to stay vigilant in your search for online job opportunities and always prioritize your safety and well-being while earning money online.
Earning Money as a 14-Year-Old Without a Job
Passive Income Opportunities
Passive income is an excellent option for making money as a 14-year-old without having to work continuously. With passive income, you'll initially put in effort to establish the income source, but it will continue generating revenue with minimal upkeep.
For instance, you can self-publish a book on Amazon. Initially, you must write, edit, design the cover, and market the book. Once published, it can provide you with income without additional effort.
Other passive income ideas include:
Developing an online course
Participating in affiliate marketing
Creating digital products such as printables or templates
Business Ideas for Earning Money Without a Job
Starting a small business is another way to make money without having a job. Select an interest or hobby and build a business around it.
For example, if you enjoy gardening, you could create and sell landscaping templates for homeowners' garden designs. This approach allows you to tap into your passions while earning money.
Here are some business ideas for teens to consider:
Lemonade stand
Tutoring
Babysitting
Dog walking
Selling handmade crafts
By exploring passive income opportunities and starting a small business, you can earn money as a 14-year-old without having a traditional job.
How Can a Teenager Reach $1,000?
To achieve the milestone of earning $1,000, teenagers should consider selecting a reliable and well-paying job or side hustle. Stable income from various job options can be a steady method to reach your goal relatively quickly.
Meanwhile, venturing into businesses like social media influencing, managing a YouTube channel, or reselling shoes can lead to substantial earnings over time, although they may not yield profits right away. It's essential to find the path that aligns with your individual needs and preferences, as this will be the gateway to reaching your target of $1,000 smoothly and efficiently.
A Quick Recap on Earning Money at 14
In your journey to make money as a 14-year-old, you've come across numerous options. From part-time jobs at local stores to launching your own small enterprise or exploring online opportunities through YouTube or other creative outlets, the possibilities are vast. It's essential to give various methods a try to find the one that suits your interests and skills best. Don't hesitate to discover more side hustles tailored for teens to maximize your income potential and continue building your financial independence.