Selling digital products on Etsy has become increasingly popular as creatives worldwide generate income by offering their unique designs and creations to millions of buyers. If you've ever considered selling digital downloads on Etsy, this article will provide insights and guidance to ensure a smooth start to your venture.
With digital downloads being highly sought after and easy to produce, the Etsy platform offers an excellent opportunity to turn your digital creations into a profitable business. All you need to do is craft your product, list it on Etsy, and let the automatic delivery process take care of the rest.
Key Takeaways
Digital downloads on Etsy offer a lucrative and convenient way for creatives to generate income.
There are various types of digital products available on the platform, catering to a diverse range of customer needs.
Successful selling on Etsy involves choosing a profitable niche, effectively marketing your digital downloads, and maintaining excellent customer service.
Why Sell Digital Downloads on Etsy?
Selling digital downloads on Etsy is a profitable way to generate income with minimal effort. Once you create digital products, you can sell them repeatedly without the need for storage, fulfillment, shipping, or handling returns.
Etsy, being an established and trusted online marketplace, has a vast audience ready to purchase, making it an excellent platform for selling digital downloads. When you choose Etsy to sell your digital products, you benefit from its massive customer base, which had over 80 million customers in 2020.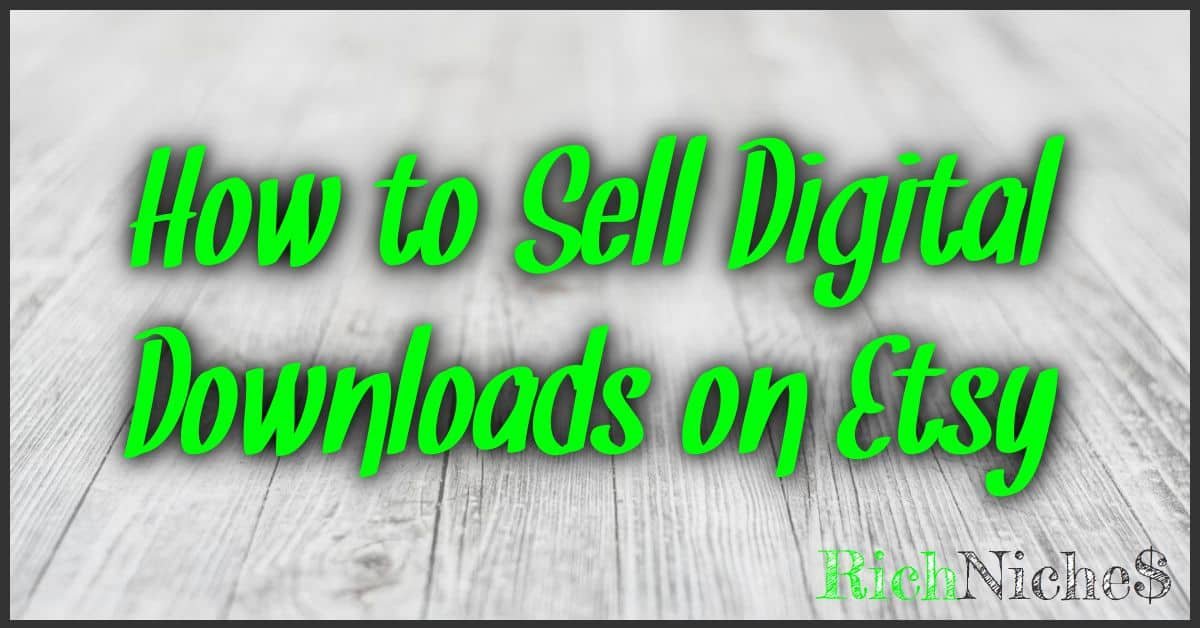 Additionally, setting up a shop on Etsy is incredibly easy, even for beginners. You can start selling quickly and tap into this large, engaged audience, increasing your chances of success. So, consider expanding your business with digital downloads on Etsy and reap the benefits of this thriving platform.
What Kind of Digital Downloads Can You Sell on Etsy?
As an aspiring Etsy seller, you can offer a wide range of digital items to your customers. Your digital download options are virtually endless, ranging from digital planners and custom website themes to unique fonts and logos. Moreover, you can create eye-catching graphics, spreadsheet templates, and digital art. Social media templates, ebooks, and stock photography are also popular choices for your Etsy digital download shop. With so many creative opportunities, you can tailor your offerings to meet diverse customer needs.
Best Selling Digital Products on Etsy
From printable artwork and coloring pages to more utilitarian items, Etsy offers various digital products for sale. Here are some popular options you can find on the platform:
Artwork: Choose from a wide range of printable art, perfect for decorating your space.
Coloring Pages: Unleash your creativity with various designs and illustrations ready for you to color.
Graphics and Clip Art: Find unique graphics and clip art for your projects or business.
Worksheets and Planners: Stay organized with various worksheet and planner templates.
Journals and Ebooks: Discover digital journals and ebooks for personal growth and entertainment.
Logos and Business cards: Establish your brand identity with custom logos and business card designs.
Social Media Templates: Enhance your online presence with creative social media templates.
WordPress Themes and Fonts: Customize your website with unique themes and fonts.
Craft Patterns: Enjoy fun and creative craft patterns for projects like knitting, crochet, or sewing.
Photography Presets: Improve your photography with preset filters for Lightroom.
How Much Can You Make Selling Digital Downloads on Etsy?
The income you can generate from selling digital downloads on Etsy depends on various factors, such as your niche, product quality, and pricing strategy. Many sellers experience diverse levels of success, with some making hundreds, while others earn thousands per month.
If you want to maximize your profits, it's crucial to select a profitable niche and product idea from the beginning. This solid foundation can set you up for success in the long run. For example, Alissa Rose managed to grow her new Etsy store, where she sold digital downloads, to $1,000 per month in just four months. She achieved this without leveraging an existing audience or social media presence.
To effectively earn money, you should also consider the following:
Utilizing Etsy SEO to increase visibility
Choosing an attractive main product listing photo
Crafting an irresistible offer
Focusing on selling digital downloads that interest you
Remember, the financial potential varies for every seller, so proper research and a well-planned strategy can play a significant role in your overall success.
Creating and Selling Digital Downloads on Etsy
Crafting Your Digital Downloads with Canva
Canva is a user-friendly online graphic design tool that makes it simple for anyone to create a variety of digital products like planner templates, ebooks, and graphics. With a vast library of templates to choose from, Canva allows you to easily design digital downloads to sell on Etsy.
Canva offers both free and paid versions, with the paid version providing access to premium graphics and file types (such as PNG). To begin designing your digital product, visit the Canva website and select the appropriate size for your project.
For example, if you want to create digital planners, you can search for "planner" on the Canva homepage. This will display a range of customizable templates. Once you've chosen a template, you can modify every element, including text, colors, and placement. Canva enables you to create professional-looking designs for your Etsy store, even if you're not a designer.
Collaborating with Designers via Fiverr or UpWork
If you're not confident in your design abilities or don't have the time to learn a new design tool, consider hiring a designer from platforms like Fiverr or UpWork. These websites connect you with skilled designers who can create custom digital products tailored to your needs.
By outsourcing your design projects, you can obtain high-quality digital downloads to sell on Etsy, such as editable logo packs, planner templates, stock photo or graphic packs, social media templates, and more. You can even hire a designer to create Canva templates if you prefer to sell those.
In conclusion, whether you choose to use a design tool like Canva or hire a professional designer through platforms like Fiverr or UpWork, you can create appealing digital downloads to sell on Etsy. With the right tools and partnerships, you'll soon be on your way to success in the world of digital products.
How to Sell Digital Downloads on Etsy
Pick Your Specialty
Before jumping into the world of digital products on Etsy, it's essential to identify your niche. Start by conducting market research on Etsy itself. Look for existing competition in your chosen category, which indicates a demand for your digital products. Utilize Etsy's search bar to explore customer interests, sales and reviews of similar products, and overall shop performance. You can also use Etsy keyword research tools to expand your niche options.
Establish Your Etsy Shop
Creating an Etsy shop is simple and user-friendly. Register a new account or sign in to an existing one, then navigate to "Sell on Etsy." Follow the prompts, input the necessary information, and name your shop. Also, set up your payment methods. Create a well-rounded "About" section and complete your seller profile, focusing on forming a cohesive brand for your digital products. A professional-looking profile will foster trust and interest from potential customers.
Craft Attractive Listings
With your shop ready, it's time to create listings for your digital products. Be aware that Etsy charges a $0.20 fee per listing and a 5% selling fee per transaction. However, as your digital products gain traction, these fees will become less significant.
Make sure to use relevant keywords in your product titles and descriptions, as Etsy SEO plays a significant role in customer visibility. Choose high-quality photos, offering multiple angles, that convey the essence of your digital product. If needed, provide video walkthroughs to enhance your presentation.
Promote Your Digital Downloads on Etsy
Listing your digital products on Etsy is just the beginning. To drive sales and increase visibility, promote your products on various platforms – including running Etsy ads and showcasing your work on social media platforms like Facebook, Pinterest, Instagram, YouTube, and TikTok.
For enhanced marketing, consider creating a lead magnet and building an email list to continually engage potential customers and promote your digital downloads.
Tips for Selling Digital Downloads on Etsy
Picking a Profitable Niche with Market Research
Invest time in market research before deciding on your niche. Explore Etsy to see what types of products are already popular in your niche. Utilize the Etsy search bar and consider tools like Sale Samurai for more advanced keyword research.
Enroll in an Online Etsy Course
Get off to a strong start by taking an Etsy course, especially if you're new to selling on the platform. Courses like Sergey Kasimov's Etsy Masterclass or Sergey Kasimov & Tatiana Ambrose's Etsy Digital Products Blueprint provide valuable insights.
Optimize Titles and Descriptions with Keywords
SEO plays a vital role in driving organic sales on Etsy. Use free and paid keyword research tools to compile a list of relevant keywords for your product titles and descriptions.
Promote Your Digital Downloads
Market your products on various platforms, including social media channels like Facebook, Instagram, Pinterest, and TikTok. Consider building an email list to engage customers regularly and encourage them to make purchases.
Marketing Ideas for Your Etsy Shop
Create a brand around your Etsy shop and employ various marketing techniques. Some ideas include:
Building a niche website with SEO-optimized content
Establishing branded social media pages
Launching a Pinterest Business Account
Growing an email list with exclusive offers for subscribers
Provide Top-notch Customer Service for Great Reviews
Good reviews can dramatically impact your Etsy search rankings. Make sure to:
Respond quickly to customer inquiries
Fix mistakes promptly
Offer additional value, like complimentary downloads
Follow up with customers to assist them and kindly request reviews
Use Discounts and Coupon Codes
Attract bargain shoppers by offering sales and unique coupon codes. Provide exclusive discounts for email subscribers and social media followers to encourage repeat purchases.
Offer Product Bundles
Create bundles of related products and sell them at a discounted price compared to individual purchases. This strategy can potentially boost your sales.
Boost Sales with Etsy Ads
Consider using Etsy ads to promote your digital downloads. Learn how to run profitable campaigns by taking an online course on Etsy advertising.
Is Selling Digital Downloads on Etsy Actually Worth It?
When considering a side hustle, setting up a digital download shop on Etsy might be a great option. While it takes time and effort at the beginning, once your products are created, you'll just need to focus on promotion. With minimal upfront costs, selling digital downloads on Etsy may be a worthwhile venture for you. So, if you're seeking a side hustle idea requiring little initial investment, why not give selling digital downloads on Etsy a try? Remember, a successful shop can begin with just one captivating product or story that speaks to buyers. Start your journey in the world of digital sales today!