Navigating the world of eBay can be a daunting task, especially when it comes to payment options like PayPal. As a seller, you might be wondering if you need PayPal and how you can sell on eBay without it. Recently, eBay has been making changes to their payment systems, opening the door for more convenient and secure alternatives to PayPal. In this article, we'll explore the options available to you and share valuable insights on how to make the most of your eBay experience.
Say goodbye to the old days of relying solely on PayPal for your eBay transactions. With the introduction of eBay's Managed Payment System, sellers now have more options for receiving payments from buyers. Let's dive into the world of selling on eBay without PayPal and explore the various benefits and drawbacks it offers.
Key Takeaways
There's no need for a PayPal account to sell on eBay, thanks to the Managed Payment System.
Money transfer time and bank account access are important aspects to consider.
Alternatives, like Facebook Marketplace, Etsy, and Amazon FBA, provide additional opportunities for sellers.
Do You Need PayPal to Sell on eBay?
Good news! You don't need a PayPal account to sell on eBay. In fact, eBay has moved away from using PayPal and introduced their own Managed Payments System to facilitate transactions on their platform.
Before this change, eBay sellers required a PayPal account to make transactions. However, eBay and PayPal decided to part ways after an extended partnership. This marked the beginning of a new era for managing your finances as an eBay seller.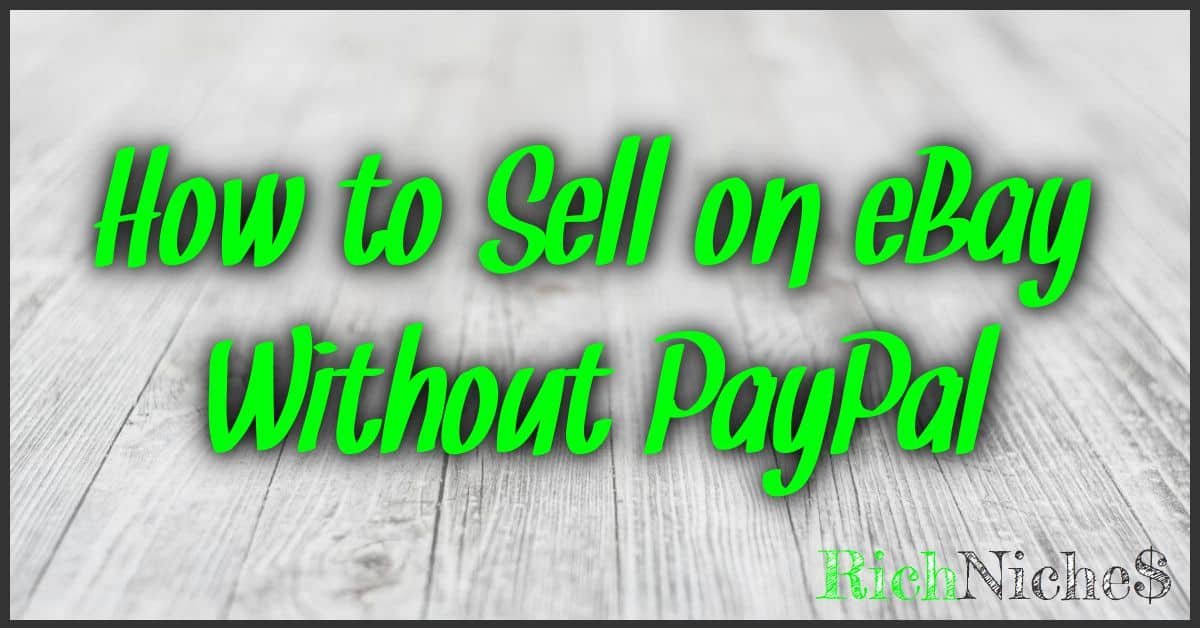 Now, instead of linking your PayPal account when setting up your eBay seller account, you have the option to join eBay's Managed Payments System. This system handles payments internally, eliminating the need for a middleman like PayPal.
By opting for the Managed Payments System, selling on eBay becomes much simpler and more streamlined, ensuring an efficient and hassle-free experience. So, don't worry about the absence of PayPal – eBay has got you covered with their in-house solution!
How Can You Get Paid on eBay Without PayPal?
To receive payments for your eBay transactions, simply opt into the Managed Payment System. You'll need to provide your bank card information and Social Security Number for tax purposes. If this information isn't supplied, your account may face limitations.
After linking your bank account and submitting the required details, payments from buyers will be directly deposited into your account, minus eBay's fees. This allows you to sell on eBay without PayPal and still enjoy a variety of payment options, including credit cards, debit cards, Apple Pay, Google Pay, and more through the Adyen payment gateway platform.
How Does eBay's Managed Payment System Work?
eBay's Managed Payment System is designed to streamline your payment process, making it more efficient and cost-effective. Instead of using PayPal and facing both PayPal transaction fees and eBay selling fees, now you can handle all your payments in one place with just one set of fees.
Before listing any items, you need to opt-in to eBay Managed Payments. To do this, simply provide some personal details, such as:
Your full name and address
Bank account or debit card details
Your Social Security Number
Once you complete this process, every time you sell an item, the buyer's payment will appear in your available payout section after it clears their bank account. In certain situations, funds might be held, but generally, you will receive payment based on the schedule you set up.
You have the flexibility to choose from daily, weekly, fortnightly, or monthly deposit schedules. eBay will automatically transfer the funds to your bank according to your chosen schedule, saving you the hassle of logging in to withdraw your money. This way, your eBay selling experience is hassle-free and efficient, ensuring a friendly and seamless process.
How Long Does it Take for Money to Be Transferred Into Your Bank Account?
When you receive a payment, the funds may take up to two days to process. After the payment clears and any hold period ends, the money will be marked as available. You'll then receive the funds in your bank account according to the payout schedule you've set up. Keep in mind that it can take up to four business days for the transfer to appear in your account. Factors such as shipping, payment processing time, payout schedule, and shipping labels may affect the money transfer time.
Should You Give eBay Access to Your Bank Account?
When signing up as a seller on eBay, you may wonder if it's safe to provide eBay with access to your bank account. Rest assured that eBay prioritizes security, especially when it comes to handling your bank account information and your social security number. They've partnered with Adyen Payments, a reputable payment gateway platform that powers payment systems for major companies such as Booking.com, Uber, and Spotify. Adyen Payments is known for its strong encryption and bank-level security measures.
However, it's important to remember that eBay will directly deduct fees from your account. To ensure accuracy, always double-check the charges and don't hesitate to contact Customer Service if you find any discrepancies. Maintaining awareness of your account activity is a crucial aspect of keeping your seller account secure.
The Pros and Cons of Using eBay's Managed Payment System
When it comes to eBay's Managed Payment System, there are several advantages and disadvantages to consider. Here's a brief overview:
Pros:
Lower total transaction fees compared to PayPal
Streamlined management of all aspects within a single platform
A variety of payment options for buyers, including debit cards, credit cards, Google Pay, Apple Pay, and more
Automatic payments, eliminating the need for manual transfers after each sale
Customers experience smoother checkouts, reducing cart abandonment
Enhanced protection for sellers
Streamlined dispute handling through one platform for better clarity
Cons:
Difficulty in determining the specific cost breakdown due to combined fees
Potential delays in receiving funds due to longer processing times
Mandatory enrollment in the managed payment system in order to sell on eBay
No PayPal credit option for buyers, requiring usage of their own credit cards
Considering these pros and cons can help you make an informed decision about whether eBay's Managed Payment System is the right fit for your online selling needs. Be sure to consider factors like fees, dispute handling, and payment options for your customers.
3 Fantastic Options for Selling Besides eBay
Facebook Marketplace
An incredible alternative for sellers is Facebook Marketplace. Although it's commonly known for local sales, you can now use the delivery option to expand your reach nationwide. It's completely free to list your items, and there are no selling fees. However, the selling process is done through Messenger, and it could lead to some flaky buyers. The platform caters well to dropshipping and is an ideal choice when selling items from a household clear-out.
Etsy for Handcrafted and Vintage Items
For those involved in selling vintage or handmade products, Etsy offers a specialized marketplace. It has a dedicated customer base, and transactions are securely managed through the Etsy platform. Although fees might go up to 6%, this platform offers a more curated selection, allowing you to potentially make more profit. Etsy is the best choice for handmade products or unique thrifted items.
Amazon FBA for Scalable Business
Amazon FBA (Fulfilled by Amazon) is perfect if you're looking to build a scalable business. After sending your stock to Amazon's warehouse, the company takes care of storage, packing, and shipping directly to the customer. While you'll need to monitor your inventory and market your products, this hands-off model makes scaling your business much easier. Some fees to consider include seller fees, fulfillment costs, and monthly storage fees. Even though they may seem high compared to eBay, it's important to remember that Amazon is handling storage and shipping, saving you time and effort.
How to Sell on eBay Without PayPal: Key Takeaways
Many eBay users have expressed frustration following the removal of PayPal as a payment option, which they see as affecting their cash flow support and trust in the platform. Despite this, eBay's Managed Payments System also provides several advantages, particularly for frequent sellers. This system simplifies payment for buyers, offering multiple options such as credit or debit cards, Google Pay, and Apple Pay.
If you're considering alternative platforms to eBay, there are several options available depending on your needs. Etsy focuses on handmade products, Facebook Marketplace is ideal for secondhand items, and Amazon works well for selling in bulk. However, eBay remains unique in its ability to cater to various types of sellers.
One aspect to remember is that eBay's elimination of PayPal aligns its payment system with other similar platforms. So, when choosing a selling platform, consider what each offers in terms of features and services rather than the method of payment.
In this digital selling journey, remember to stay attentive to customer feedback and maintain open communication channels with your team. A strong customer service focus and the ability to adapt based on customer opinions will help your business thrive on any platform. Keep an eye on new features and developments on eBay and other platforms, and stay engaged with seller meetings and online communities for valuable insights and support from fellow sellers.