Starting a blog can be an exciting journey, and you've chosen Facebook as your platform to share your thoughts and ideas with the world. In this guide, we will delve into the process of creating a blog on Facebook and explore various ways to monetize your content. As you continue reading, you'll discover the ease of blogging on this user-friendly platform with a vast audience base.
Of course, every platform has its pros and cons, and Facebook is no exception. While it offers a free and accessible platform for bloggers, there are limitations in formatting and control over SEO. Nevertheless, by implementing a range of blog post styles and marketing strategies, you're well on your way to staking your claim in the world of Facebook blogging.
Key Takeaways
Learn how to create and optimize a Facebook blog using Facebook Posts and Pages
Discover various monetization strategies for a successful Facebook blog
Understand the benefits and limitations of blogging on Facebook
How to Begin a Blog on Facebook
In this section, we will explore the process of starting a blog on Facebook, complete with subsections for each important step.
Starting a Blog Using Facebook Posts
Follow these simple instructions to create a blog using Facebook posts: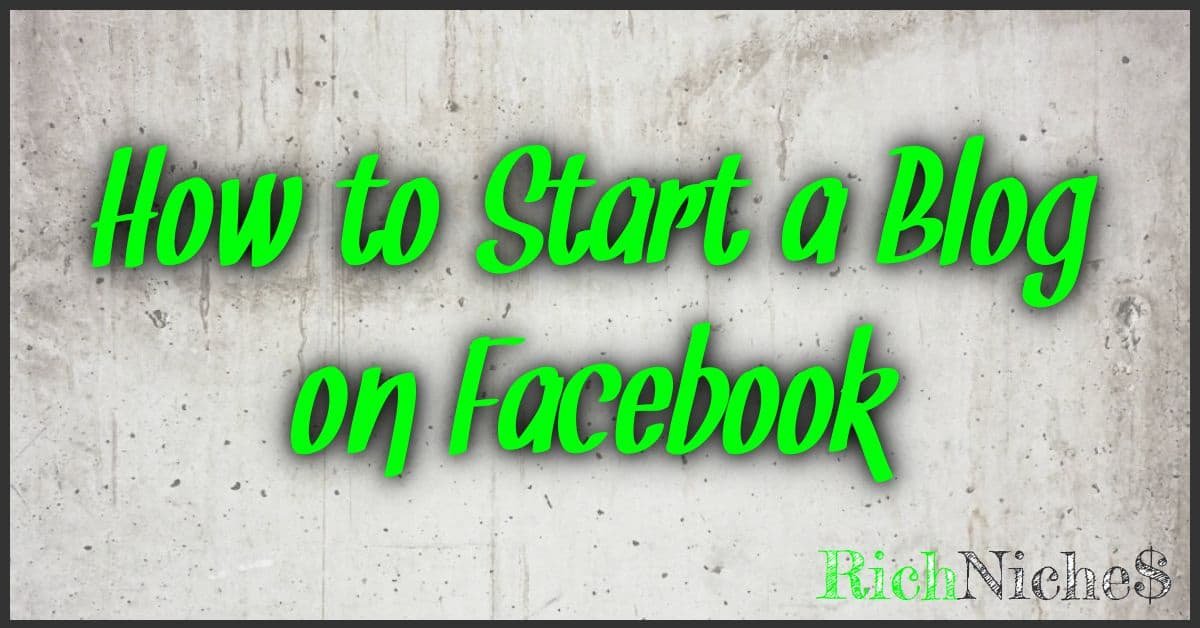 Set up a dedicated Facebook Page for your blog or business.
Add profile and cover pictures, a description, and complete the "About" section.
Update your Facebook Page URL to match your brand name.
Compose and share your first blog entry.
Promote your new Facebook blog to reach your target audience.
Let's dive deeper into each step.
Establish a Facebook Page
Start by building a Facebook Page for your blog. Log in to your Facebook account (or sign up for one), click the "Pages" tab on the left side, and then hit "Create New Page." This separate Page ensures your blog posts don't mix with your personal content, maintaining a clear and consistent narrative for your audience.
Fill Out Your Profile with Images and Details
Next, complete your Facebook Page profile by adding critical details such as the page name, category, and description. Subsequently, click "Create Page." Populate your Page with a profile picture, cover photo, and other relevant information. Don't rush; these initial images and details are crucial for forming first impressions with your audience.
Modify the Facebook Page URL
Now that your Page is set up, update the URL to reflect your brand. Head to your Facebook Page admin screen, click "Edit Page Info," and modify your username. The change will automatically update your URL, boosting name recognition and giving your blog a polished appearance.
Share Your First Blog Post
It's time to start blogging on Facebook! Go to your Page, click "Create Post," and craft your content. Once satisfied, click "Post" to share immediately or schedule it using Facebook's publishing instruments.
Market Your Facebook Blog
With your Facebook Page active and your inaugural blog post published, focus on promoting your Page. Connect with potential readers by joining relevant Facebook groups, sharing your content with friends and family, posting on other social media channels, or utilizing Facebook ads. Experiment with various strategies to establish a following and set your blog up for success.
How to Make Money Blogging on Facebook
Integrating Affiliate Links
Utilizing affiliate links within your blog posts on Facebook is a popular method for monetizing content. By directing readers with a link to purchase a product, you can earn a commission from each sale. It's like a more advanced, digital version of working as a salesperson. Amazon Affiliates is a popular choice among bloggers to jumpstart their affiliate marketing efforts due to the wide range of products available.
Keep in mind that payouts from affiliate links can vary depending on the platform, and it's crucial to disclose your use of affiliate links to your audience.
Setting Up a Facebook Store
Creating a Facebook store for your blog offers another income stream. Based on your content, you can offer relevant products that resonate with your audience. For instance, if you post about coffee, it makes sense to sell coffee mugs, whereas a DIY-focused page could offer craft supplies and handmade items.
Becoming a Facebook Influencer
Similar to other social media platforms, becoming a Facebook influencer can help you earn money from paid brand partnerships. This entails collaborating with brands that align with your content, values, and audience, and setting a rate based on the reach and engagement your page offers. Strive for mutually beneficial relationships with brands while benefiting your readers and earning income as an influencer.
Engaging with Facebook Live Videos
Streaming videos on Facebook Live opens up another avenue for income. Content creators can make money by inserting ads into their livestreams. However, to be eligible for ads, your livestream should have at least 2,000 followers and a live audience of 300 or more. After four minutes of streaming, Facebook will notify you if you're eligible for an ad break. If you have a large enough audience, running ads during livestreams is an easy way to boost revenue.
Types of Blog Posts to Write on Facebook
19 Inspiring Ideas for Your Facebook Page
When writing blog posts on your Facebook page, it's crucial to know your audience and create content that engages and interests them. Here's a list of 19 diverse blog post ideas to spark inspiration and help you cater to your audience while enjoying the content creation process:
Local happenings: Share updates and insights about events and news in your community.
Educational infographics: Create visual representations of data or information for easy understanding.
Current affairs: Discuss global events, news, or political happenings.
How-to guides: Offer step-by-step instructions on various topics.
Travel diaries: Share your travel experiences and tips.
Memes: Entertain your audience with relatable and humorous visuals.
Industry case studies: Analyze and share findings from specific fields.
Listicles: Curate lists of helpful information, product recommendations, or inspirational ideas.
Pop culture updates: Discuss the latest celebrity news or entertainment events.
Surveys, polls, and quizzes: Engage your audience with interactive tools and gather valuable insights.
Vlogs: Share your thoughts and experiences through video content.
Product critiques: Review and rate various products or services.
Expert interviews: Share conversations with renowned personalities or thought leaders.
Video podcasts: Host discussions or share segments from your audio podcasts in video format.
Inspirational personal stories: Offer relatable narratives that can motivate others.
Thought-provoking questions: Initiate meaningful conversations on diverse subjects.
Summaries of key events: Provide condensed versions of historical, local, or pop culture happenings.
Impromptu thoughts: Share your spontaneous opinions or insights on a topic.
Heated debates: Engage your audience by discussing critical or controversial issues.
Remember, it's not necessary to explore every idea on this list. Choose a few types of content that align with your interests and expertise while maintaining a consistent theme for your Facebook page's audience.
Advantages of Blogging on Facebook
Cost-Free Platform
One of the key benefits of blogging on Facebook is that it's a free platform. Unlike other blogging platforms that might require a monthly fee, creating a Facebook page and posting content won't cost you anything. This can be especially important for new businesses, as it helps you save money and avoid extensive start-up costs that can hinder initial growth.
Easy-to-Use Interface
Facebook's user-friendly interface makes it simple and straightforward to publish blog posts compared to more complex platforms like WordPress. With just a few clicks, you can easily create and share content on Facebook. This ease of use means you can quickly set up your blog page and start posting without much hassle.
Extensive Facebook Audience
One significant advantage of blogging on Facebook is the large user base it offers. By being on this platform, you have direct access to a vast audience, allowing you to promote your business, share products, and grow your following. Thus, Facebook serves as an excellent place for businesses and websites to connect and build brand awareness.
Minimal Barriers to Entry
Launching a blog on Facebook has a very low barrier to entry, making it a convenient choice for budding bloggers. Chances are, you already have a personal account on Facebook, which means creating a new page for your blog is just a few steps away. This accessibility stands in stark contrast to other blogging options, such as launching your own website, which involves choosing a domain name, finding hosting, designing the site, partnering with ad providers, and more.
In conclusion, Facebook's free, user-friendly platform combined with its extensive user base and minimal barriers to entry make it an attractive choice for bloggers looking to establish their presence online.
Exploring the Drawbacks of Blogging on Facebook
Limited Choices for Formatting
One prominent downside to blogging on your Facebook page is the lack of versatile formatting and organization options. Facebook posts come in a standard format, with restrictions on font and colors. Consequently, creative bloggers may find Facebook's constraints somewhat limiting compared to other platforms, such as personal websites, that offer endless customization possibilities.
Minimal Control over SEO
When you blog directly on a Facebook page, you have no control over SEO. Even though you can incorporate keywords into your content, it won't influence how your posts appear in users' feeds or search results. Comparatively, publishing on your website enables you to optimize keyword use and directly influence SEO on Google and other platforms.
Sub-optimal for Long-form Content
Facebook isn't the ideal platform for long-form content. While the maximum character limit for a single Facebook post is 63,206, readers might be deterred by excessively lengthy posts. Social media users typically have shorter attention spans and prefer pictures, short captions, and videos.
Limited Monetization Opportunities
Finally, blogging on your Facebook page offers fewer monetization options compared to running your own website. Although you can generate income from affiliate marketing, influencer marketing, and Facebook marketplace, a website provides more opportunities, such as running ads through Google Adsense, which isn't possible on Facebook.
A New Adventure: Embracing the Pros of Blogging on Facebook
As you take your blogging to the next level, consider harnessing the power of Facebook. With various monetization options, Facebook blogging caters to diverse content styles, be it long posts or catchy memes. By starting a blog on Facebook, you're opening new doors for revenue generation and social media exposure.