When planning a trip, finding the best deal on accommodations can be a top priority. You may have stumbled upon Agoda, a website that offers low prices for hotels around the globe. Although Agoda is indeed a legitimate website, it's essential to consider various factors before deciding to use it.
In this article, we will examine Agoda closely to help you determine whether it's the right booking site for your needs.
Key Takeaways
Agoda is a legitimate and popular booking site for accommodations worldwide
It's essential to consider various factors, such as reliability and cost, before using Agoda
Alternatives to Agoda include Booking.com, Trip.com, and Airbnb.
About Agoda
Agoda, an online travel agency established in 2005, is based in Singapore with over 5,000 employees worldwide. Catering to diverse travel needs, Agoda offers accommodation bookings, flights, airport transfers, and activities across global destinations.
Their extensive selection of accommodations ranges from hotels and apartments to villas and hostels, presenting travelers with in-depth booking information for each property. In addition to providing lodgings, Agoda extends services like car rentals and activities in various destinations.
You can conveniently book your travel arrangements through Agoda's website or mobile app, ensuring that you receive the best prices due to their Best Price Guarantee. In essence, Agoda is your go-to platform for organizing every aspect of your vacation, be it finding a place to stay in Bangkok or exploring activities in Bali.
Is Agoda Legit?
In today's world of abundant hotel booking options, you might be wondering whether Agoda is a trustworthy platform. It is indeed a legitimate company known for providing reliable and user-friendly services in hotel bookings worldwide. Agoda is not only safe but also offers attractive deals, including its "Secret Deals," which can help you secure even better prices. So, feel confident in considering Agoda for your next hotel reservation.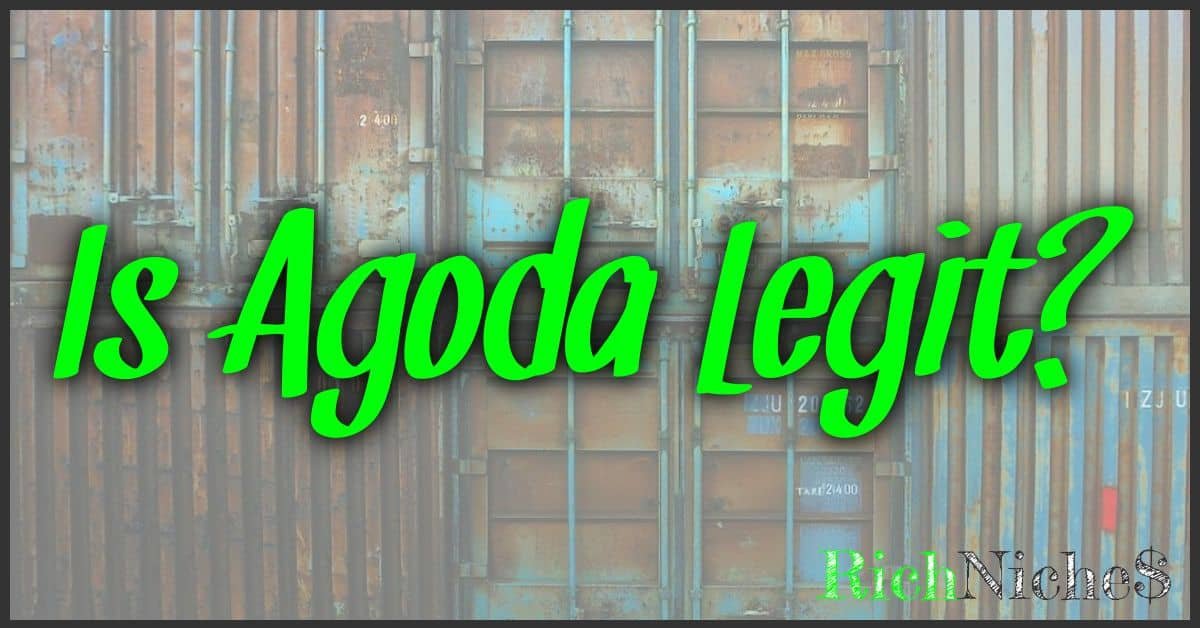 Is Agoda Reliable?
When planning your vacation and choosing a booking website, you want a convenient, trustworthy, and user-friendly experience. Agoda meets these criteria as a reliable travel website, providing great deals for hotels, flights, and more. With an easy-to-use website design, finding the perfect accommodation for your trip is only a few clicks away.
Agoda takes their reliability a step further by offering a "Best Price Guarantee." If you find a lower price for the same room elsewhere, they promise to refund the difference. This gives you confidence in your reservation without worrying about overpaying.
Moreover, Agoda's 24/7 customer service is available to assist you with any issues that may arise, including payment, confirmation, and cancellations. Their commitment to addressing concerns promptly and helping travelers with their reservations and refunds highlights their focus on reliability.
However, it is essential to read reviews and be cautious of potential overbooking or booking scams. While Agoda is generally recognized as a legitimate platform, always stay vigilant in protecting yourself during the reservation process.
When considering Agoda, trust in their user-friendly booking process, competitive prices, and attentive customer service for a confident and practical choice for your travel accommodations.
Why is Agoda so affordable?
As a thrifty traveler, you might wonder what allows Agoda to offer such competitive prices for various accommodations, including hotels, villas, hostels, and resorts. Their secret lies in their business model and strong relationships within the hotel industry.
Being a subsidiary of Booking.com, Agoda utilizes its negotiating power from the high volume of business it provides to accommodation hosts. This enables them to offer discounts and better deals for you. Also, by receiving commissions from direct bookings, Agoda can pass on part of those earnings as reduced rates for your stays.
Another reason for Agoda's cheaper prices is its online-only presence, which eliminates the need for physical stores and their accompanying overhead costs. So, when you book through Agoda, you enjoy great deals on various accommodation options around the world.
How to Use Agoda
When utilizing Agoda for your travel and accommodation needs, consider these steps to enhance your experience:
Account setup: Create your account swiftly, using your Facebook login if desired. Complete your profile to receive personalized recommendations from Agoda.
Hotel search: Input your destination and travel dates in the search bar, applying filters as needed to refine results based on price, location, amenities, and more. Review the hotels that fit your preferences and read user reviews to gain insights into the quality of your potential stay.
Room booking: Click "Book Now" and enter payment details when you're ready to secure your reservation. Confirm travel dates and guest numbers before finalizing.
Watch for deals: Agoda frequently offers promo codes and discounts. Scout for these deals before finalizing your booking for added savings.
Download the app: Agoda's mobile app, available for iOS and Android, simplifies the booking process and ensures all your reservations are in one place, eliminating the need to search your email inbox during travel.
Price comparison: Agoda provides a "Best Price Guarantee." If you find a lower price for an identical room on another site, they will refund the difference. Comparing prices before booking can save you money.
With these guidelines, you'll be ready to plan your adventures while making the most of Agoda's platform.
What are people saying about Agoda?
Should you be concerned about Agoda complaints?
As an informed traveler, it's normal to spend ample time researching trips, reading reviews, comparing prices, and examining photos to find the ideal hotel rooms. However, some travelers have reported various issues when booking with Agoda, one of the largest online travel agencies. While there have been complaints about hidden fees, misinformation, and unresponsive customer support, it's crucial to remember that every company has its share of unhappy customers.
The key is to carefully read reviews and identify any patterns or recurring issues. If there are multiple complaints about the same problem, it's worth taking note. But if particular complaints seem isolated, it's less likely that they'll impact your experience. Make sure to take every information into account and look for trends in recent reviews before using Agoda.
How is their customer service?
Agoda offers a comprehensive help section on its website, including FAQs, contact information, and live chat support. They also have a 24/7 customer service team to assist with bookings or inquiries. However, user experiences with their customer service show mixed opinions.
While some people had positive experiences and found the support helpful, others experienced long wait times, unhelpful staff, and inadequate responses to inquiries. If you face any issues with your reservation, remember that Agoda is a middleman and may not be responsible for resolving problems related to the properties themselves. In such cases, it might be more effective to contact the hotel directly.
Is Agoda legitimate? Are there fake hotel reviews on Agoda?
Like with any online travel agency, the possibility of fake reviews exists. This is why it's crucial to maintain a critical view of reviews you read. To determine if Agoda reviews are genuine, watch for overly positive or negative feedback without specific details, reviews posted within a short timeframe, or large gaps between review dates, which may indicate fake or manipulated content.
Cross-check reviews against other platforms such as TripAdvisor, Facebook, or Google to determine if the reviewer appears legitimate. In conclusion, ensure you read multiple reviews from various sources instead of relying solely on Agoda's reviews.
Alternative Options to Agoda
Booking.com
Booking.com is a prevalent travel website, renowned for its user-friendly interface and vast selection of hotels, apartments, and hostels. You can also find attractive deals on car rentals and activities. Keep in mind that Booking.com and Agoda are owned by the same parent company, Booking Holdings Inc, which means their business practices might be similar. For more information about Booking.com, you can check out our article discussing its legitimacy.
Trip.com
Trip.com is yet another well-known travel website that features an extensive variety of hotels and other accommodations. Additionally, they offer flight and train tickets, along with various tours and activities. Trip.com is owned by Chinese travel company Ctrip, and although it has a decent Trustpilot rating, some users have reported issues with hidden fees, cancellation problems, and unresponsive customer service. You can explore our article on Trip.com's legitimacy for more information.
Airbnb
Airbnb serves as a popular alternative to conventional hotels. This platform connects renters, providing them with unique accommodation options that range from apartments and houses to treehouses and even castles. Though Airbnb listings can offer one-of-a-kind experiences, it's essential to remember that they may not always be cheaper than a hotel, and in some cases, might cost more. Therefore, thoroughly read the reviews and ensure you understand what you are booking before making any commitments.
Is Agoda Legit? Final Thoughts…
When it comes to using Agoda, it is indeed a legitimate company that provides a vast array of accommodation and travel options. However, be conscious of potential hidden fees, as well as unresponsive customer service and booking issues that some users have reported.
Before making a decision, carefully weigh all elements, including AgodaCash and AgodaVIP programs, personal information security, credit card payment systems, and best price guarantees. Keep in mind that sometimes it's ideal to search for deals on travel platforms and then book directly through hotels or airlines for more control over your reservations. Remember, it's all about striking the right balance and finding the best-suited solution for your travel needs.