If you're an aspiring jewelry artist with a talent for crafting beautiful pieces, you might be considering starting your own jewelry business. One of the essential steps in this process is choosing the perfect name that reflects your brand and vision. This article will guide you through a variety of creative jewelry business name ideas and help you make an informed decision.
Selecting the ideal name for your jewelry business can be a daunting task, but with some ingenuity and research, you'll soon have a list of unique and meaningful names that perfectly encapsulate your vision. To help you get started, we've included tips and techniques for brainstorming names that suit various jewelry business styles and themes.
Key Takeaways
Explore various categories of jewelry business name ideas to find the perfect fit for your brand
Use a jewelry business name generator for additional suggestions and inspiration
Consider the factors that make a successful and memorable jewelry business name while brainstorming
Find the Best Jewelry Business Name Ideas To Fit Your Brand
Classic and Timeless Jewelry Business Names
Elegant by Design: Present your chic designs with a sophisticated name.
Heartfelt Jewelry: Emphasize the emotional connection between you and your customers.
Custom Jewels: Showcase the craftsmanship and personalization your business offers.
Artisan's Touch: Reflect the creativity and attention to detail in your jewelry pieces.
Luxurious Distinctions: Show off your lavish and exquisite jewelry creations.
Enchanted Jewelbox: Invoke the mystery and charm in your unique designs.
Trendy Jewelry Business Names
Glamorous Galaxy: Imbue your brand with an energetic and stylish vibe.
Hip Edge Bling: Appeal to fashion-forward customers with a catchy name.
Diamond Hideaway: Offer a fresh spin on the classic jewelry store theme.
Sophisticated Sparkle: Evoke style and luxury in your business name.
Glimmering Glam: Appeal to trendsetters with a striking and fashionable name.
Stylish Amulets: Perfect for businesses specializing in fashionable charms.
Unique and Inventive Jewelry Business Names
Silver Linings Boutique: Create an uplifting and inspirational atmosphere for your customers.
Glittering Gadgets: Diverge from traditional jewelry branding with a unique twist.
Rock-Steady Jewels: Cleverly emphasize the quality and durability of your items.
Audacious Adornments: Display the vibrancy and boldness of your jewelry designs.
Eccentric Trinkets: Captivate customers with an unconventional and whimsical name.
Spiritual Jewelry Business Names
Tranquil Treasures: Elicit feelings of serenity through your spiritually-inspired pieces.
Celestial Keepsakes: Offer jewelry that embodies heavenly designs and themes.
Holy Symbols: Highlight the spiritual significance of your jewelry creations.
Karma Creations: Present the deeper meaning and connection behind your jewelry.
Divine Craftsmanship: Show off your work's spiritual and inspired flair.
Soulful Accessories: Convey the heartfelt essence of your jewelry pieces.
Vintage Jewelry Business Names
Timeless Tones: Perfect for businesses inspired by the elegance of vintage items.
Enduring Gems: Emphasize the high-quality craftsmanship of your jewelry.
Classic Creations: Create a sense of nostalgia for the elegance of bygone eras.
Retro Revelry: Attract customers with a special fondness for retro jewelry designs.
Quintessential Classics: Exude sophisticated taste with a timeless brand name.
Antique Attic: Emphasize the charms and trustworthiness of your vintage pieces.
Heirloom Elegance: Cater to customers with a penchant for antique designs.
Legacy Adornments: Represent the enduring appeal of your timeless creations.
Astrology-Inspired Jewelry Business Names
Stargazer Charms: Perfect for businesses focusing on celestial designs.
Dazzling Constellations: Showcase the sparkle of astrology-themed jewelry.
Zodiac Boutique: Appeal to astrology enthusiasts and fashionable clientele.
Moonlight Mementos: Capture the magic and enchantment of lunar-themed pieces.
Starry Styles: Offer a unique spin on celestial-inspired jewelry.
Astral Accessories: Entice customers with your otherworldly designs.
Enchanting Jewelry Business Names
Charmed Boutique: Imbue your brand with a sense of enchantment and wonder.
Mystical Gems: Convey the magical essence of your unique creations.
Enigmatic Trinkets: Entice customers with the allure of your mystical pieces.
Wondrous Wonders: Offer jewelry that transports customers to magical realms.
Fanciful Flourishes: Cater to clients who appreciate whimsical and fairy-tale designs.
Enchanting Elegance: Emphasize the bewitching qualities of your jewelry.
Dream-Inspired Designs: Connect with the imaginative side of your customers.
Meaningful Jewelry Business Names
Art with Purpose: Showcase the deeper meaning and connection within your creations.
Mirror of the Soul: Reflect the spiritual essence and inspiration behind your items.
Telltale Stones: Emphasize the memories, stories, and emotions behind each piece.
Jewelry Narratives: Offer creations that hold a powerful and personal message.
Cherished Words: Remember the significance and unique story within every item.
Contemporary Jewelry Business Names
Vanguard Jewels: Perfect for businesses that create innovative, modern designs.
Present-Day Wonders: Offer unique and contemporary pieces for trendsetters.
Future Sophistication: Create an ultra-modern and forward-thinking brand identity.
Cutting-Edge Ornamentation: Emphasize the innovation and creativity within your designs.
Gemstone Innovations: Present your jewelry as groundbreaking and contemporary.
Jewelry Business Name Generator
Don't worry if you're finding it tough to come up with the perfect name for your jewelry business; that's where jewelry business name generators can be of great help! These handy tools cleverly construct name ideas by combining jewelry-related words with your provided keywords, resulting in creatively crafted name suggestions. While they might not give you the ideal name, they can definitely spark some inspiration.
To get started with your jewelry business name brainstorming, consider trying out some renowned generators like Shopify Business Name Generator, Wordlab, and Namelix. Happy naming!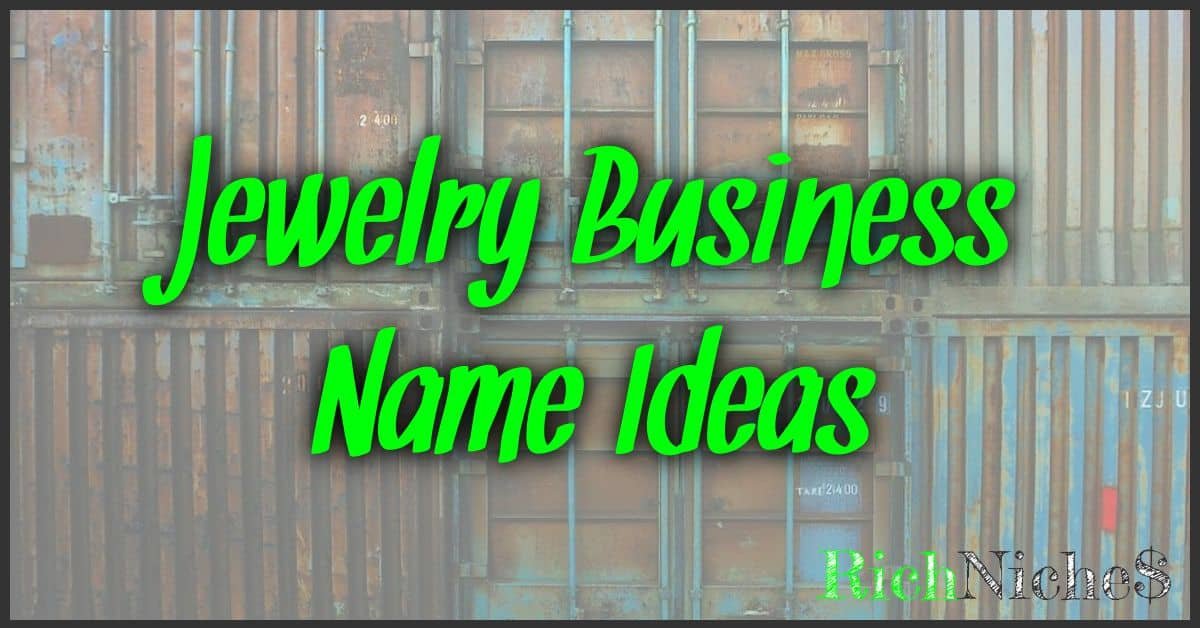 Brainstorming Jewelry Business Names
When coming up with a name for your jewelry business, concentrate on the type of jewelry you specialize in. For instance, if your focus is on dainty pieces, consider a name like "Delicate Designs," or if your jewelry is handmade, try "Handcrafted Happiness."
Ensure the chosen name effectively represents your business and is memorable. Reflect on the names of brands you admire to understand how they convey their essence.
Puns and wordplay can make your name stand out and be more memorable. Be creative and unique to differentiate yourself from the competition in the jewelry industry.
Keep your jewelry business name simple – a complex name may be challenging for potential customers to recall or spell accurately. Utilize formatting tools such as tables, bullet points, and bold text when it helps convey information effectively and concisely.
How do I name my Jewellery business?
Selecting an ideal name for your jewelry business can be simplified by considering the following aspects:
Think about the emotional response you want your business name to evoke. Is your preference professional and polished, fun and approachable, or creative and unique?
Keep your company's tone in mind when picking a name. Consider whether your target market is upscale and luxurious or more casual and laid-back.
Say your potential names out loud. Ensure that there are no pronunciation or spelling confusions.
Reflect on whether your chosen name accurately represents your identity as a jeweler. It's crucial that it captures your style and business essence.
Kick off the naming process by creating a list of potential jewelry business names. Trust your instincts and select the one that resonates with you the most. This choice will likely be well-received by your clients and customers.
Starting Your Jewelry Business
To increase your chances of success when launching a jewelry business, consider the following tips:
Thoroughly research the market, competition, and customers' preferences before venturing into the business.
Develop a unique selling proposition that sets your jewelry apart. Make this quality clear in your branding, pricing, and promotional strategy.
Create a plan covering every aspect of setting up and operating the business, from finding suppliers to developing marketing materials and outlining sales strategies. This will keep you organized and demonstrate professionalism to potential investors.
Seek help from professionals, such as accountants or lawyers, to manage finances and legal aspects. Partnering with professionals can help you navigate the process more effectively.
Prioritize the purchase of high-quality materials, whether they are precious metals or other materials. Inexpensive materials can lead to inferior products that may not withstand wear over time.
Establish an online presence with a website, social media accounts, and other marketing strategies to boost exposure. For guidance on website costs and traffic generation, explore online resources that offer more information.
Remember, when starting a jewelry business, it's crucial to take your time and set the foundation for a successful venture.
Jewellery Business Name Ideas – Summary
Choosing a name for your jewelry business is a crucial step in the process. To come up with the perfect name, start by brainstorming creative ideas that embody your personal style and reflect your artistic vision. This is an opportunity to have fun and let your imagination run wild.
Ensure that the name you choose for your jewelry business is something you genuinely love and feel excited about every time you see or hear it. Your passion for your work will be contagious, and this excitement will be passed on to your customers.
To help find the perfect name, gather a group of trusted individuals and share your ideas with them. They may provide valuable feedback and suggestions that lead you to the optimal name for your business venture.
Remember, finding the right name is just the beginning of your jewelry business journey. Stay confident, knowledgeable, and focused on your goals as you navigate this exciting new venture.