Exploring the job market can be overwhelming, especially when searching for roles that not only match your skills but also provide a sense of financial security. Today, we'll discuss various jobs that pay at least $15 an hour, available across different companies and work formats. Understanding these opportunities will help you make informed decisions as you navigate your career path.
As you may know, the subject of a $15 minimum wage has been widely debated in recent years. The proposed increase aims to support millions of employees, promote economic equality, drive growth, and alleviate the struggles that accompany financial instability. With this in mind, let's dive into the world of jobs that offer $15 an hour or more.
Key Takeaways
Numerous jobs are available that pay at least $15 an hour across various industries and companies.
Remote job opportunities also exist, offering flexibility and work-life balance.
The $15 an hour minimum wage aims to improve economic equality and reduce hardship for workers and their families.
Types of Jobs That Pay $15 an Hour
Cashier Positions
As a cashier, you'll be responsible for handling payments, issuing receipts, gift-wrapping items, and managing cash and credit transactions. Cashier jobs typically require some customer service experience and knowledge of cash register operations.
Home Health Aide Roles
If you become a home health aide, you'll help take care of individuals who cannot perform everyday tasks such as cooking, cleaning, dressing, and bathing on their own.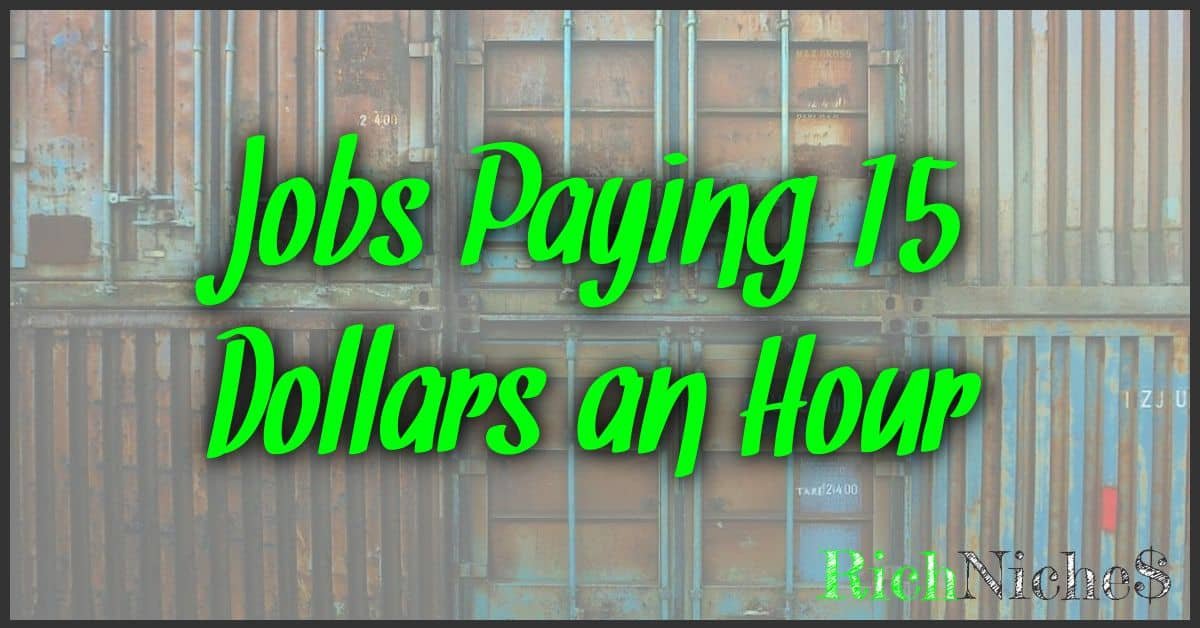 Jobs in Fast Food
The fast food industry in the United States employs over 5 million people in various roles, including prep and grill cooks, dishwashers, counter assistants, delivery drivers, and customer service representatives.
Administrative Assistant Opportunities
As an administrative assistant, your duties will involve managing files, preparing messages, scheduling appointments, supporting other team members, and providing exceptional customer service.
Construction Worker Positions
In the role of a construction worker or day laborer, you'll be involved in tasks like setting up scaffolding, transporting construction materials, and operating heavy machinery for tasks such as pouring concrete and demolishing buildings.
Which Companies Offer Jobs Paying $15 an Hour?
Aetna
Aetna, a leading health insurer in the US, increased its minimum wage to $16 per hour in April 2015, benefiting all its employees with an average hourly salary increase of 11%.
Aldi
Aldi, a popular low-priced grocery store, offers jobs with an average starting pay of $15 an hour for store positions and $19 for warehouse positions.
Amazon
Amazon raised its minimum wage to $15 per hour in 2018 for all full-time, part-time, temporary, and seasonal employees across the US.
Bank of America
Since June 2022, Bank of America has been offering a starting wage of $25 an hour, which is a $13 per hour increase since 2010.
Best Buy
Best Buy, a well-known electronics store, raised its minimum starting wage to $15 in August 2020, with the typical employee earning $17.67 per hour.
Boomers Parks
Since June 2021, Boomers Parks amusement park chain pays its employees $15 per hour minimum wage.
Charter Communications
Since 2018, Charter Communications, a broadband connectivity provider, implemented a $15 minimum starting wage, increasing to $18 per hour as of March 2021.
Chipotle
Facing hiring challenges in 2021, Chipotle raised its average hourly salary to $15 to hire at least 20,000 new employees.
Cigna
Cigna, an American health insurance giant, pledged in January 2018 to pay its employees a minimum wage of $16 an hour.
Costco
In March 2021, Costco increased its starting wage for employees to at least $16 per hour, with over half of its hourly employees now making $25 or more.
Disney World
Disney World and its main US union agreed to raise employee wages to $15 an hour from a starting wage of $10 an hour in August 2018.
Facebook
Facebook raised its minimum wage to $15 per hour in 2015, and even higher in 2019 in cities like Seattle, San Francisco, New York, and Washington DC.
Google
Not until 2019, Google began paying its temporary and third-party workers at least $15 an hour, in response to increasing complaints.
Hobby Lobby
Hobby Lobby, a craft retailer, increased its minimum wage for all full-time hourly employees to at least $18.50 per hour in 2021.
Ikea
Ikea announced that starting 2022, new US employees, including full-time, part-time, temporary, and seasonal workers, will enjoy a starting wage of $15 to $16 or more, depending on geography.
Jimmy John's Sandwiches
Jimmy John's offers pay rates ranging from $8 to $15 per hour for cashiers and sandwich makers, while drivers can earn up to $30 per hour, depending on location and other factors.
JPMorgan Chase
JPMorgan Chase increased its minimum wage depending on the office location, with employees in Chicago, Detroit, and Wilmington earning between $15 and $16.50 per hour, and those in New York City and San Francisco earning at least $18 per hour.
McDonald's
McDonald's announced a 10% wage increase for company-owned restaurants, resulting in starting wages of $11 to $17 per hour for crew workers and $15 to $20 per hour for shift supervisors.
Sam's Club
Sam's Club implemented a $15 per hour minimum wage for all employees since September 2021, with the average hourly salary being over $17.
Santander Bank
In 2018, Santander Bank raised its minimum wage for employees to $15 per hour.
Signet Jewelers
Signet Jewelers, parent company of Kay Jewelers, Zales, and other brands, announced in February that it would raise its minimum wage to $15, with the process expected to be completed by spring 2022.
Southwest Airlines
Southwest Airlines increased its minimum starting wage to $15 per hour for around 7,000 employees starting August 1, 2021.
Starbucks
Starbucks plans to increase its hourly wages to between $15 and $17 in summer 2022, with workers with at least 2 years of tenure receiving up to a 5% increase since January.
TJ Maxx
TJ Maxx's hourly wage varies by job title, ranging from $9.72 to $16.98 per hour, with store managers earning the highest average at $20 per hour.
Target
In June 2020, Target committed to raising the starting hourly wage for all US employees to $15 per hour.
Under Armour
Under Armour raised its minimum hourly wage from $10 to $15 in June 2021, which amounts to a 50% increase for hourly workers.
Walgreens
Walgreens committed to raising its minimum hourly wage to $15 starting from October, with the raise expected to be completed by November 2022.
Walmart
Walmart announced in February that it plans to increase its minimum wage to $15, but so far has only increased it to $12 from the previous $11 hourly base set in 2018.
Wayfair
Since January, all US employees at Wayfair enjoy a starting wage of at least $15, with the minimum wage raised by $1.50.
What About Remote Jobs Paying $15 an Hour?
While working from home, you can enjoy the flexibility and create your own schedule. The remote job market offers numerous online opportunities that pay around $15 an hour.
Why is $15 an Hour the Minimum Wage?
Earning a minimum of $15 per hour is crucial for increasing your purchasing power and reaching a living wage, particularly when transitioning out of low-income jobs. This increase can result in an added $3,300 per year, allowing you to afford necessities like healthy food, health insurance, and child care. Moreover, such a wage helps full-time workers remain above the federal poverty line.
A Succinct Wrap-Up
As you explore in-person employment opportunities, remember to utilize resources like online job boards on websites such as Indeed, LinkedIn Jobs, Google Jobs, and more. These platforms offer a plethora of openings where you can discover roles that pay at least $15 per hour. Make sure to set up job alert notifications, so you receive the most recent listings directly in your email.
Remember to consistently check for updates on these platforms every few days, as this will help you find a job that not only brings satisfaction but also provides a fair hourly wage.