Are you on the lookout for jobs that can bring wealth and success your way? Well, you're not alone! Many individuals seek high-paying careers that can help them achieve their financial goals.
In their pursuit, they often face the challenge of exploring a vast ocean of job options, each with its unique set of commitments, requirements, and earning potential. To make things a little easier, we've compiled a list of 11 jobs that can make you rich. As you read through this article, you will gain insights into the annual income, job outlook, and common careers among millionaires for each profession.
Key Takeaways
11 lucrative jobs are showcased, ranging from bloggers to investment bankers.
Annual income and job outlook are covered, providing essential details for each role.
Find out common careers among millionaires and pursue the right path towards wealth.
11 Jobs That Make You Rich
1. Blogger
A blogger creates written content on websites, often in a specific niche like travel or finance. This job suits those who love writing and working on computers. A degree and experience aren't essential, and bloggers can earn a substantial income through affiliate marketing, advertising, sponsorships, and selling products or services. As a business owner, you'll enjoy the flexibility of a blogger's lifestyle.
2. SEO Specialist
SEO specialists work with clients to improve their search engine rankings. With strong demand for skilled SEO professionals, a marketing career like this will grow by 10% by 2031 and offers a median salary of $133,380/year. You can learn everything you need to get started with a course like The Affiliate Lab.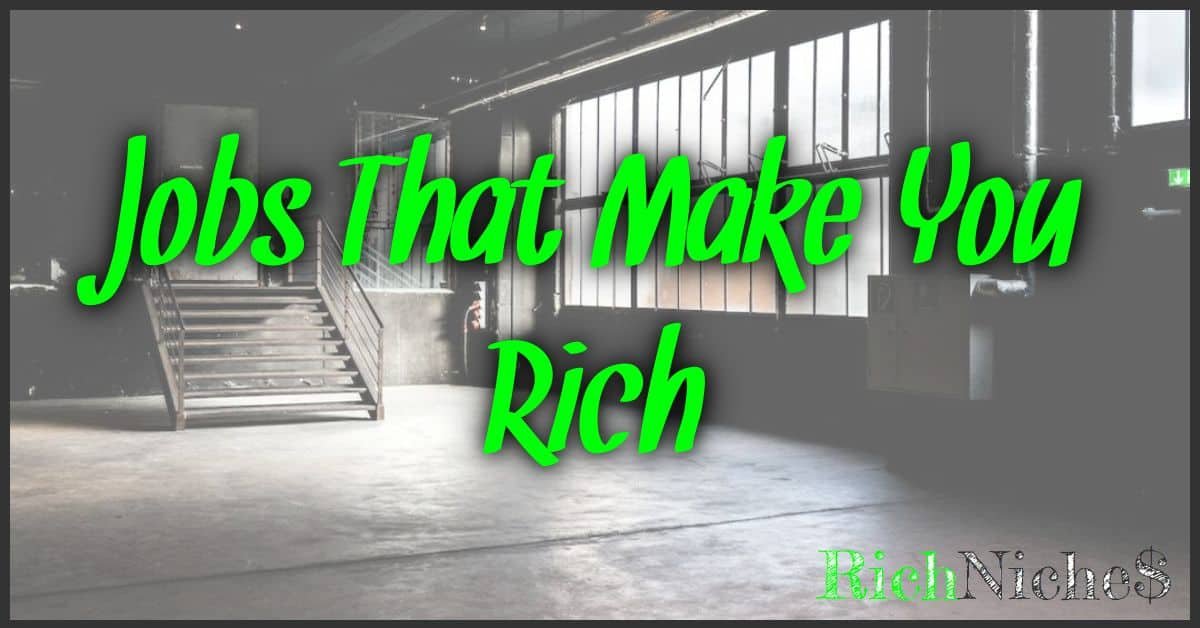 3. Lawyer
Lawyers represent clients in civil and criminal proceedings, with various specialties like divorce, family, or criminal defense law. To practice, you'll need a law degree and to pass the Bar exam. The legal field is expected to grow 10% by 2031, with a median salary of $127,990/year.
4. Doctor
Physicians treat people's illnesses and injuries, specializing in areas like pediatrics or dermatology. Becoming a doctor requires many years of education, but it's rewarding and offers a high median salary of $200,000/year. Job growth for physicians is expected to be 3% by 2031.
5. Entrepreneur
Being an entrepreneur means running your own business in various industries. You don't necessarily need a degree or experience, and the average annual income for entrepreneurs is around $93,000/year.
6. Pro Athlete
Professional athletes earn a living playing sports, with income from league salaries, endorsements, and more. It's a challenging career to enter, but pro athletes can enjoy a median salary of $77,300/year, with job growth of 36% by 2031.
7. Engineer
Engineers design and build structures, with specialties like mechanical, civil, or electrical engineering. Jobs in engineering typically require a bachelor's degree in the field, and the median salary for engineers is around $94,000/year.
8. Actuary
Actuaries use math and statistics to assess risk for financial decisions in insurance, pension plans, and other industries. They need a strong background in mathematics and a bachelor's degree. The median salary for actuaries is around $111,000/year.
9. Investment Banker
Investment bankers advise individuals and companies on investment strategies, such as buying securities or acquiring companies. A bachelor's degree and strong financial skills are necessary, with job growth expected to be 6.2% by 2031. The median salary for investment bankers is around $88,151/year.
10. Teacher
Teaching offers rewarding work, helping students learn and grow. Teachers typically need a bachelor's degree in education, and depending on the position, some may require a master's degree. The median salary for teachers is around $62,000/year.
11. Manager
Managers oversee teams within various industries, with roles such as marketing, sales, or HR managers. A bachelor's degree and experience in the field are typically necessary, and the median salary for managers is around $108,000/year.
What Job Do Most Millionaires Possess?
When exploring professions that could lead to wealth, it's interesting to note the common occupations of millionaires. The top five jobs they often have include:
Engineer (e.g., flight engineer)
Accountant (e.g., forensic accountant)
Teacher (e.g., college professor or elementary school teacher)
Management (e.g., chief executive officer or management consultant)
Attorney (e.g., divorce attorney, criminal defense attorney, etc.)
There are various factors that distinguish millionaires from others, such as their investment strategies or access to generational wealth opportunities. Keep in mind that pursuing these careers doesn't guarantee that you'll become a millionaire. Although high-paying careers can contribute to accumulating wealth, they aren't the only factor in becoming a millionaire.
A Final Word on Jobs That Can Make You Rich
Pursuing high-paying jobs, like the examples mentioned earlier, can certainly put you on the path to becoming a millionaire. However, remember that wealth is not a guaranteed outcome. Take the time to evaluate the pros and cons of these lucrative careers and find one that aligns with your personality and goals.
Keep in mind that a high salary alone won't necessarily bring happiness. Factors such as job satisfaction, opportunities for growth, and stress levels should also play a role in your decision-making process.
To truly get rich, focus on financial literacy, effective budgeting, smart investment choices, and selecting a career you're passionate about. This combination will contribute to long-term wealth and help you pay off any student loans or increase your savings. Reflect on these 11 careers as potential options for achieving financial independence, and think about which high-paying career best suits you.