Are you tired of waiting for your paycheck every two weeks or even monthly? Imagine having the convenience of receiving payment for the work you do daily! With various online job opportunities available nowadays, that dream can become a reality.
From survey sites to virtual assistance and freelance writing, you can explore numerous entry-level online jobs without compromising your comfort and work-life balance. While some of these jobs might require passing a skills test, many of them cater to beginners who want to earn a living from home. Let's dive into the world of daily paid online jobs and find the perfect fit for you.
Key Takeaways
Explore numerous online job opportunities offering daily payment
A variety of jobs are available, including entry-level positions for beginners
Discover daily paid work-from-home options that ensure a comfortable work-life balance
The Best Online Jobs that Pay Daily
1. Survey Sites
Taking part in legit survey sites is an easy online job that pays you daily. Keep in mind that surveys aren't big money makers, but they can be a simple way to earn extra cash. Some popular survey sites include Swagbucks and Survey Junkie.
2. Virtual Assistance
Working as a virtual assistant allows you to perform various tasks for businesses or entrepreneurs and get paid daily or weekly. You can offer your services on platforms like Fancy Hands, Boldly, or work as a freelancer using Fiverr or Upwork.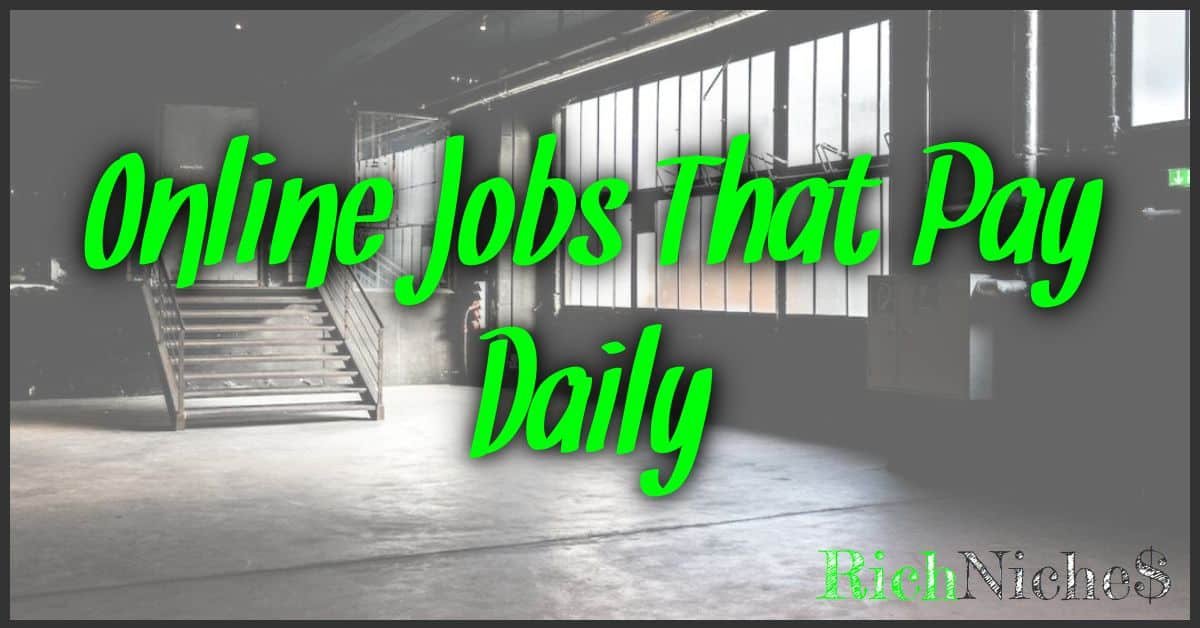 3. Freelance Writing
Freelance writing can be an online job with daily payment, where you can choose projects and working hours. Find beginner freelance writing jobs on websites like ProBlogger, Freelance Writing Jobs, and FlexJobs.
4. Affiliate Marketing
Affiliate marketing allows you to promote products and services to earn a commission on sales. Share affiliate links on your blog or social media, and get paid instantly when someone makes a purchase.
5. Website Testing
Website testing jobs pay for testing websites and providing feedback. Platforms like Userlytics and User Testing offer opportunities for website testers.
6. Proofreading or Editing
Proofreading and editing jobs can pay daily if your grammar and spelling skills are strong. Find editing and proofreading jobs on sites like Wordvice and Scribendi.
7. Transcription Work
Transcription requires listening to audio recordings and typing out their content. Platforms like TranscribeMe offer transcription jobs that can pay on a daily basis.
8. Blogging
Blogging can generate daily income when attracting enough traffic. Monetize your blog through advertising, affiliate marketing, sponsored posts, or selling your products.
9. Amazon FBA
Amazon FBA allows you to outsource inventory management for your e-commerce business. Research the market to find low-cost, high-profit items and use tools like Jungle Scout to identify winning products.
10. Freelance on Fiverr
Offer various services on Fiverr like web design, social media management, and logo creation to earn money daily.
11. Microtask Websites
Microtask websites offer simple tasks like data entry and website searches that pay daily. Check out Clickworker and Amazon mTurk.
12. Online Tutoring
Share your knowledge on subjects like math, science, and English by offering online tutoring sessions. You can find online tutoring jobs on platforms like Tutor.com and Chegg.
13. Data Entry
Data entry jobs can pay daily and involve inputting information into a system. Platforms like Upwork and Freelancer are great places to find data entry jobs.
14. Graphic Designer
Put your design skills to work as a graphic designer. Freelance platforms like Fiverr and Upwork offer ways to find graphic design projects and get paid daily.
15. Etsy Seller
Sell your handmade or vintage items on Etsy and get paid daily when customers purchase your products.
Conclusion: Online Jobs that Pay Daily
Whether you're seeking part-time or full-time opportunities, online jobs like the ones mentioned in this article can provide you with the extra income you need. Remember, if you're interested in fields like freelance writing or graphic design, it's essential to have a portfolio showcasing your skills and competencies.
For those who prefer less demanding tasks, you can still earn money by engaging in market research or data entry jobs. No matter your preference, online job opportunities that pay daily can be an excellent way to make quick cash in your free time or as a full-time pursuit. Keep exploring and applying to various opportunities to find the best fit for your expertise or interests. Good luck on your journey toward daily online earnings!