In this article, we will explore ProWritingAid, a popular writing tool designed to enhance your writing by identifying grammar, spelling mistakes, and other unique features. As you read, you'll find out how it can enhance your writing skills and if it's the right choice for you.
We will discuss the various aspects of ProWritingAid, from its usability, features, pricing plans, and comparisons with alternatives like Grammarly. Our aim is to help you decide if ProWritingAid is the best tool to suit your writing needs, whether you're a student, a blogger, or an author.
Key Takeaways
ProWritingAid is a comprehensive editing tool with a focus on grammar, writing reports, and readability.
The tool caters to different writing needs, such as students, bloggers, and authors, with various pricing plans.
Compare its features and cost to alternative tools like Grammarly to decide if ProWritingAid is the ideal choice for improving your writing skills.
What is ProWritingAid?
ProWritingAid is an advanced editing tool designed to help writers of all types perfect their content. It serves as a grammar checker for both fiction and non-fiction writers, bloggers, and others who create written content. The software provides an intuitive and feature-rich experience aimed to enhance your writing. When you compose text, ProWritingAid highlights any issues – such as spelling, style, grammar, punctuation, and engagement – through easy-to-identify visual cues.
The platform offers an array of features that work collectively to improve your writing. Think of ProWritingAid as a personal English teacher, discreetly guiding you and elevating your writing while you focus on expressing your ideas clearly and confidently.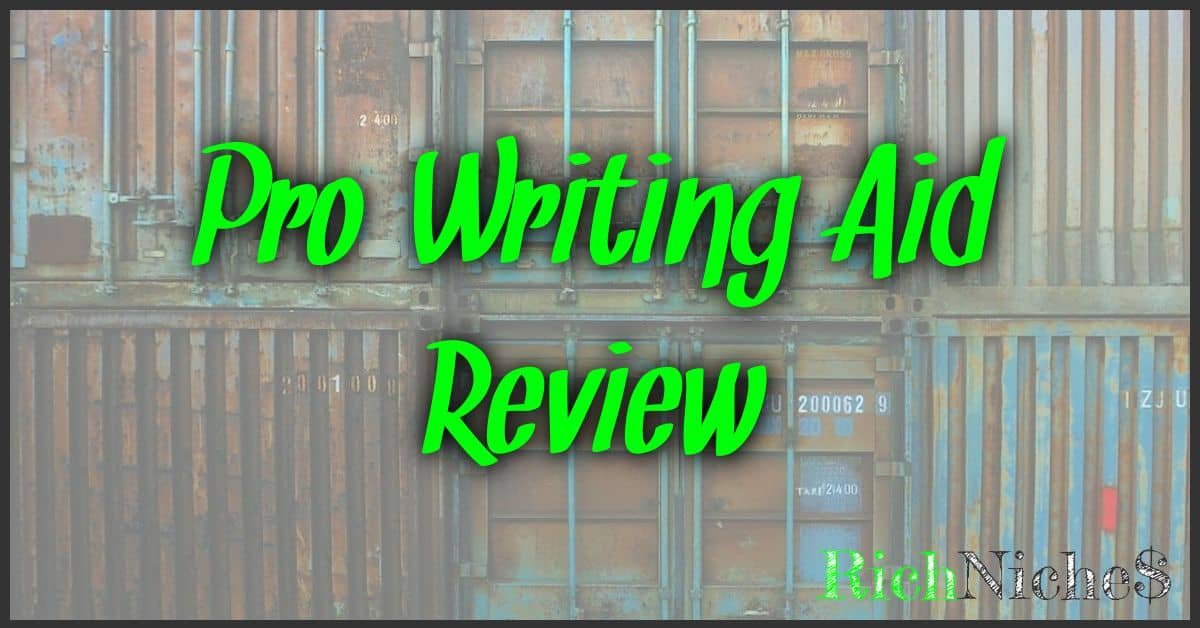 Pro Writing Aid Main Features
Pro Writing Aid Reports
Pro Writing Aid is a comprehensive editing tool with artificial intelligence (AI) that offers a variety of features to help improve your writing. One of the key components of Pro Writing Aid is its ability to generate detailed reports on various aspects of your writing, totaling 20 different reports each month. Some of the essential reports provided by Pro Writing Aid include:
Real-Time Feedback
While using Pro Writing Aid, you'll receive real-time feedback on your writing. This means that as you type or paste your content, the software will immediately identify and display suggestions for improvements or corrections. It underlines grammar errors in blue, spelling mistakes in red, style improvements in yellow, and passive writing in purple.
Summary Report
The summary report offers a comprehensive analysis of your writing by presenting data on various aspects such as writing style, length, sentence structure, grammar, pacing, consistency, sticky sentences, dialogue tags, and repeats. It provides graphs and charts to help you better understand the strengths and weaknesses of your content.
Writing Style Report
This report focuses on the overall quality of your writing style, identifying areas for improvement such as passive voice, weak adjectives, and sentence length issues. By following the suggestions provided by the Writing Style Report, you can enhance the clarity and readability of your content.
Thesaurus
Pro Writing Aid's built-in thesaurus helps you find alternative words and phrases to improve your writing. By suggesting more suitable or descriptive words, the thesaurus helps eliminate wordiness and enhance the overall quality of your content.
Overused Words
The software identifies overused words in your writing, such as "very," "just," and "that." By providing alternative suggestions, Pro Writing Aid helps you create engaging and fresh content while avoiding excessive repetition.
Grammar Report
The Grammar Report detects various errors in your writing, including spelling, grammar, and word misuse. It also explains the reasoning behind its suggestions, facilitating a learning opportunity for you as a writer.
Combo Report
This feature allows you to run multiple reports simultaneously for more comprehensive feedback on your writing. By selecting specific reports, you can tailor the editing process to suit your needs and save time.
Repeated Words and Echoes
Pro Writing Aid identifies repeated words and phrases in your writing that may detract from its overall quality. By addressing these repetitions, you can create a more polished and cohesive piece of content.
With Pro Writing Aid, you can be confident in producing high-quality content by utilizing its powerful features and reports. With its assistance, you will be better equipped to refine your writing skills and create more engaging and well-structured content.
Who Can Benefit from ProWritingAid?
ProWritingAid is an excellent tool for content creators looking to enhance their writing skills. While Microsoft Word offers basic grammar and spelling utilities, they are significantly limited.
ProWritingAid is ideal for fiction writers, as well as professionals composing emails, reports, and letters, who wish to present themselves as knowledgeable and proficient. However, if precise language is not a priority, such as informal communication with friends or when minor errors are not critical, free spell checkers within Microsoft Word and Google Docs may suffice.
Is ProWriting Aid Beneficial for Students?
Indeed, ProWriting Aid serves as a valuable asset for students pursuing English literature, creative writing, or any course requiring polished writing skills. Furthermore, students enjoy a 20% discount on the software, making it an even more appealing and suitable choice.
Is Pro Writing Aid Good For Bloggers?
Yes, Pro Writing Aid can be beneficial for bloggers and content writers. This tool helps enhance your writing quality and maintain consistency in grammar. It's especially useful when targeting a specific country with your articles. For instance, if you're writing for a UK-based audience, Pro Writing Aid aids in avoiding American spelling, ensuring correctness for your readers. Try Pro Writing Aid for free and elevate your blogging skills.
Is Pro Writing Aid Good For Authors?
Pro Writing Aid is an excellent choice for authors as it offers a range of comprehensive writing reports. As a word processor, it suits both fiction and business writers. This tool serves as the ideal alternative to a professional online editor, helping you hone your craft and improve your manuscripts on your own terms.
How Much Does ProWriting Aid Cost?
Let's explore the different pricing options offered by ProWritingAid. The following sections give a brief overview of their free plan, premium version, and team pricing.
Pro Writing Aid Complimentary Plan
With ProWritingAid's complimentary plan, you'll have unlimited access to 'real-time' and 'summary' reports. However, for other reports, there is a 500-word limit. Having these restrictions and not being able to use add-ons might be frustrating, particularly if you frequently use Google Docs.
ProWritingAid Premium Subscriptions
To access more features, you can opt for a premium subscription that starts at $20 per month, or choose a more affordable yearly plan at $79. This equates to around $6.50 per month. For those with a larger budget, lifetime access can be acquired for $399.
A premium plus plan is also available, which grants you 60 plagiarism checks per year at an additional cost per month or year.
Note: As a publisher, it's crucial to check for plagiarism and AI detection. For this, you can consider using OriginalityAI.
Team Pricing
ProWritingAid offers team pricing, which includes additional benefits such as creating customizable style and writing guides, integrating with help desk, chat software, and various other sales engagement apps.
The team license starts at $6 per month, or $24 per month for three users.
Is ProWriting Aid Worth the Investment?
Certainly, considering the yearly plan, it provides a plethora of features and is more affordable than alternatives like Grammarly. Additionally, a free plan is available for those hesitant about premium options.
Is ProWritingAid a Better Option Than Grammarly?
When comparing two popular grammar-checking tools: Grammarly and ProWritingAid, it's important to consider their features and usability within different contexts, such as pricing and integration.
For a free grammar checker, Grammarly has the upper hand. Its Google Docs integration and user-friendly interface make it a solid choice for those looking for a no-cost option.
However, when diving into premium plans, ProWritingAid shines. Although its price point is lower than Grammarly, it offers a more comprehensive feature set. While Grammarly has a sleeker and more responsive design, ProWritingAid provides an in-depth reporting system inside the main software, which users often find valuable.
It is worth noting that both Grammarly and ProWritingAid face occasional functionality issues in Google Docs, but they still achieve their purpose. In the end, your preference will depend on which features best suit your needs.
So, weighing all aspects, if extensive reporting and affordability are primary factors for you, then ProWritingAid may be the better choice in comparison to Grammarly.
Plagiarism Tool
As a user of Pro Writing Aid, you have access to a plagiarism checker tool. This tool starts at $10 for ten checks, with greater options available. Users with a Premium Plus plan get 60 free checks per year, as well as other Premium benefits.
Advantages & Disadvantages of Pro Writing Aid
Advantages
More affordable than competitors like Grammarly
Offers a wide range of writing reports
Multiple integration options, such as Scrivener and Google Docs (with Premium Plan)
Availability of lifetime plans
Helps you learn and improve your writing skills
Disadvantages
Lacks a mobile application
Plagiarism checking feature comes at an additional cost
Limited functionality in the free version
Pro Writing Aid Review: Key Takeaways
As a writer, investing in a grammar tool is essential for refining your work and avoiding common errors. While free options like Grammarly may be useful, Pro Writing Aid offers a comprehensive premium solution perfect for your writing needs.
Pro Writing Aid provides various writing reports, although you might not use all of them on a frequent basis.
These reports are available for those occasional instances when you need extra support and guidance.
The tool's affordable pricing and seamless integration capabilities make it an easy choice for writers at all levels.
You can start by trying Pro Writing Aid for free to see if it meets your writing mentor requirements.
Remember to always apply discernment when using affiliate links and final drafts in your work. With Pro Writing Aid, you'll have a powerful ally to strengthen and polish your writing.