Diving into the world of e-commerce can be both exciting and overwhelming, especially when trying to find the right wholesale items to sell from home. The key to success lies in carefully selecting products based on factors such as consumer demand, supply, and profit ratio. Making a well-informed decision can pave the way to a profitable online business.
In this article, you'll learn the ins and outs of selling wholesale goods from home, including how to identify popular products, find reliable suppliers, and navigate the world of wholesale marketplaces. With a bit of research and dedication, you can be well on your way to making a profit from the comfort of your home.
Key Takeaways
Discover how to find and select profitable wholesale products for your online business.
Learn about sourcing suppliers and navigating wholesale marketplaces effectively.
Explore a list of 29 wholesale items that can be potentially lucrative when sold online.
What are wholesale products?
Wholesale products refer to items purchased from wholesale suppliers by retail stores at wholesale pricing, allowing both wholesalers and retailers to make a profit. These products are manufactured and initially sold to wholesale suppliers, who then resell them to retailers at the wholesale price.
Imagine a manufacturer producing an iPad case at a factory and selling it to a wholesaler. The wholesaler stores these iPad cases, preparing them for resale to retailers. The wholesaler might charge a retailer a wholesale price of $3 per iPad case. Retailers like Walmart would then set a retail price for customers, let's say $5 per case, which is higher than the wholesale price.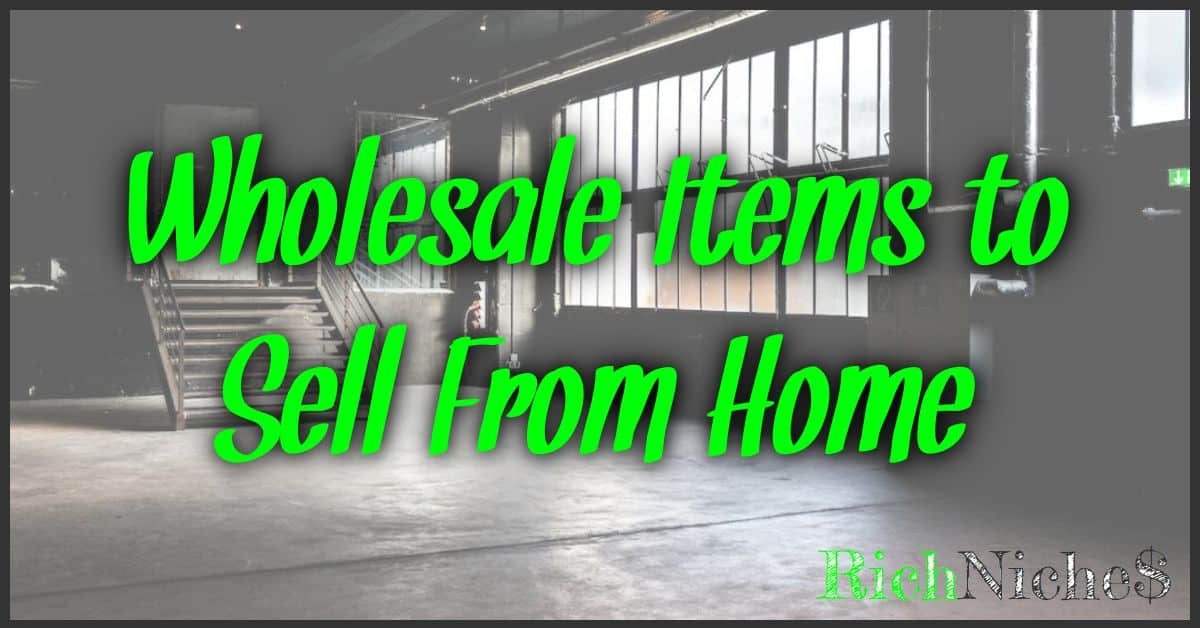 In this scenario, the wholesaler earns a profit of $3 for each iPad case, while the retailer makes a $2 profit after subtracting the $3 wholesale price from the $5 retail price.
To recap, wholesale products are items that are specifically handled and priced for wholesalers and retailers. By engaging in wholesaling, they can benefit from bulk purchases, discounts, and significant profit margins, allowing both parties to offer a variety of products to their customers.
Benefits of Selling Wholesale Items from Home
Selling wholesale items from home has several advantages that can make it an appealing business model for you. Let's look at some of the key benefits:
Bulk sales: As a wholesaler, you have the opportunity to sell products in bulk to consumers, reducing the time and effort needed for individual sales transactions.
Reduced handling time and costs: When you handle fewer individual orders, you save on the time and effort needed to manage many customer orders, focusing instead on larger wholesale orders.
Save on warehouse costs: By operating from home, you eliminate the need for an off-site storage facility. You can use your garage, spare room, or attic to store products, helping you save on rent and other expenses.
Lower overhead costs: Selling from home also means lowered utility, electricity, and equipment costs. These savings contribute to higher profit margins for your business.
Cost-effective startup: Starting a wholesale business from home can be more affordable than other business models, as it usually requires a lower initial investment.
By embracing the wholesale business model and operating from home, you can take advantage of increased profits and reduced expenses. With proper marketing and a keen eye on consumer demand and competition, your business has the potential to grow and provide you with a consistently profitable income source. Happy selling!
How to Establish an Online Business Selling Wholesale Products
3.1. Determine Your Wholesale Product Offerings
The first thing to do is to decide which wholesale products you'll be offering. You have a wide variety of options, from building materials and electronics to children's shoes and home decor items. A helpful starting point could be exploring our list of 29 wholesale products that can be sold from home.
3.2. Select a Business Name and Structure
Once you've chosen the type of products you want to sell, decide on a fitting business name and select a suitable business structure. Some common business structures are:
Sole proprietorship
Limited Liability Company (LLC)
Partnership
Corporation
Ensure you pick a business structure that caters to your specific needs before moving on to the next step.
3.3. Create Your Business Plan
Your business plan is vital for outlining the direction of your company. You can write it on your own, buy a template, or even consult a professional. An effective business plan should include:
A company overview
Vision statement
Short-term and long-term objectives
Marketing strategies
Inventory management
Selection of manufacturers
Market analysis
3.4. Obtain Necessary Wholesale Permits and Licenses
Before starting your wholesale business, you'll need to acquire the required permits and licenses. These vary depending on your location and may be referred to as resale licenses, operating permits, or wholesale reseller permits. Consult your Secretary of State's website to determine the specific requirements for your area.
3.5. Register for an Employer Identification Number (EIN)
An EIN, or Employer Identification Number, serves as your business's unique identifier for tax and other purposes. Not all business structures need an EIN, so make sure you've chosen your business structure beforehand. This will help you determine whether or not you need to register for an EIN.
3.6. Plan Your Wholesale Operations
The final step is planning out the logistical aspects of your wholesale business, including:
Selecting manufacturers
Organizing warehouse space
Deciding on a shipping model
Hiring staff, if necessary
Think about the overarching goals of your business:
Will you run the business alone or with employees?
Do you need business insurance?
Should you consult with an attorney to review your business plan and operations?
Considering these factors will ensure a successful launch of your online wholesale business.
How to Find Suppliers
1. Explore Supplier Directories
By using a supplier directory, you can conveniently access a collection of high-quality products from various suppliers to find the perfect items to sell online. This saves time and effort, as it greatly simplifies the research process, providing you with a list of potential suppliers to review and purchase from. Some popular supplier directories include:
SaleHoo: A global directory of dropshippers and wholesale companies
Worldwide Brands: An online directory featuring retailer-friendly wholesale companies and dropshippers
Wholesale Central: A platform offering sourcing tools to find wholesale suppliers and products
2. Discover Online Wholesale Marketplaces
Online wholesale marketplaces offer an excellent opportunity to find and purchase wholesale goods from the comfort of your own home. These platforms have rapidly grown in popularity, as evidenced by the e-commerce industry's over 14% growth in 2021. As retailers no longer need to visit trade shows or factories to buy products, online marketplaces offer quick and easy access to wholesale goods. Some popular online wholesale marketplaces are:
3. Reach Out to Manufacturers Directly
Lastly, try contacting manufacturers directly through email or phone calls. This quick and direct method can help you learn about buying, minimum order quantities (MOQ), shipping policies, and more. By reaching out to manufacturers directly, you may also gain access to exclusive information, such as discounts and dropshipping options, which might not be publicly available online.
How to Purchase from an Online Wholesale Marketplace
Purchasing from an online wholesale marketplace is simpler than it might initially seem. Although each marketplace may have slight variations in their process, the general steps to follow include:
Explore wholesale marketplaces: Conduct a comprehensive online search to create a list of suitable wholesale marketplace websites. Some popular options include AliExpress and others. After identifying potential marketplaces, proceed to register with them.
Sign up with the marketplace: The registration process is typically quite straightforward on most wholesale marketplace websites. You'll need to provide your personal and business information, and in some cases, a copy of your business license or permit. This step helps the marketplace verify that you are an actual business.
Obtain approval to make purchases: The time taken for approval can vary—some may grant instant access, while others may require a waiting period. Once approved, you're all set to begin buying wholesale products at discounted prices and grow your business.
Places to Research Wholesale Goods
To find the perfect wholesale goods for your business, start by browsing through search engines like Google and participating in forums where business vendors and owners gather. Don't hesitate to explore community-based sites such as Facebook business groups, Reddit, and other similar platforms.
Make sure to utilize social media as it offers an excellent opportunity to gather information on wholesale goods. Keep an eye out for Discord chat threads and Telegram groups focused on the wholesale industry. These communities can introduce you to the best wholesale vendors, marketplace sites, and valuable tips on how to succeed in the world of wholesale. Remember, a few friendly conversations can open the door to profitable opportunities!
29 Wholesale Products to Sell Online
You'll find a variety of wholesale products to sell from home in this list to inspire your online venture. Remember to apply formatting like tables, bullet points, and bold text when necessary to engage your readers. Keep it concise and friendly.
1. Clothing
Clothing is an evergreen product category that caters to diverse needs of women, men, and children. Delving into the clothing business, it's essential to research thoroughly, considering the existing market saturation. You may want to focus on niche clothing items or cater to specific segments such as petite, plus size, or big and tall categories. For instance, explore effective strategies for selling t-shirts online and capitalize on your target audience's needs.
2. Jewelry
Jewelry offers a low-cost, wholesale opportunity for you to sell from home, especially when it comes to fashion jewelry. By purchasing jewelry in bulk lots, you can acquire items like necklaces, bracelets, earrings, and rings at minimal costs per piece.
In addition to jewelry, you might also consider exploring the wholesale footwear market. With various categories such as sneakers, sandals, boots, and specialty footwear, you can cater to adults, kids, and babies, offering a wide range of styles tailored to your preferences. Looking for more guidance on reselling shoes? There are resources available to help you along. Remember to keep a friendly tone and maintain a second-person perspective while sharing this information in English.
4. Toys
You'll find an array of kids' products, with evergreen demand in the market. Some popular categories include board games, bath toys, and arts and crafts toys. Add charm to your toy collection with these enjoyable items.
5. Baby Gear/Goods
You'll find a strong demand for baby gear and goods, similar to toys, driven by devoted parents. They are the ones nurturing this market segment and ensuring its continuous growth.
6. Electronics Accessories
You'll enjoy a variety of gadgets, such as:
Phone attachments
Wrist rests for mice
Typing boards
Portable power storage
Automobile charging devices
With the ever-growing electronics field, your demand for these add-ons will only thrive.
7. Electronics
In the world of electronics, items such as computers, cameras, and headphones offer impressive profit potential. As these gadgets keep evolving, your customers will naturally seek regular upgrades, ensuring a steady revenue stream for your business.
8. Outdoor Hobby Supplies/Equipment
In this category, you'll find various items such as camping gear, beach supplies, and swim gear. Embrace this niche market as it offers less competition. However, remember that demand may be seasonal. In addition, consider exploring yoga products to enhance your outdoor experiences.
9. Seasonal Products
As a retailer, you should be aware that seasonal products typically experience ups and downs in sales throughout the year. For example, outdoor equipment or goods are likely to sell more during warmer months, like spring and summer. While this product category can be quite profitable during peak seasons, remember to plan and prepare for slower sales periods that are bound to occur.
10. Recreational Goods
Recreational goods offer a variety of gaming products, sporting goods, and accessories for your enjoyment. This category includes:
Billiards equipment and accessories
Hunting gear
Camping essentials
Water sports items
While some of these products could be seasonal or specifically for outdoor use, recreational goods generally provide entertainment year-round, both indoors and outdoors. Enjoy these items at your leisure!
11. Lifestyle Goods
In the realm of lifestyle goods, you'll find an assortment of home and beauty products to suit your interests. Your selection could include items like fitness gear and accessories, cozy home essentials such as blankets and linens, and even beauty must-haves, like cosmetics. The lifestyle niche covers a vast spectrum, allowing you to truly personalize your offerings. For inspiration, delve into the best fitness affiliate programs and explore the potential in this diverse sector while considering products like candles for your selection.
12. Home Goods
Spruce up your living space with home decor items such as curtains, blankets, and pillows. Add practical touches with towels, furniture, and rugs to create a cozy atmosphere in your home.
13. Automotive Parts and Accessories
As a car or motorcycle enthusiast, you'll find joy in the world of automotive parts and accessories. This niche offers exciting opportunities for recurring purchases, as new features are constantly emerging. The ever-evolving nature of the automotive industry means there's always something new to discover and upgrade for your vehicle. So, go ahead and dive into this dynamic hobby market—you'll appreciate the enhancements these parts and accessories bring to your ride.
14. Sports Equipment/Supplies
As you venture into sports equipment, you'll encounter products like tennis rackets, basketballs, and gear for various hobby sports. Keep in mind that there might be some seasonality in this category.
15. Educational Materials
In the realm of education, you'll find various materials like books, learning tools, and school supplies. Although the demand for these items is mostly steady throughout the year, it might slow down a bit during summer breaks. Enjoy providing valuable resources to learners in different stages of life.
16. B2B Goods
As a seller of B2B goods, you provide valuable products to other businesses, such as manufacturing materials, apparel, or semiconductor parts. Engaging in this market offers potential for stable, revolving cash flow due to the likelihood of repeat purchases from satisfied customers.
17. Furniture
Furniture is a high-demand category with diverse items such as couches, kitchen table sets, dining room sets, and bedroom furniture. Since these items can be pricey, you don't need to sell in large quantities to make a substantial profit.
18. Kitchen Goods
Your home will always need the latest and most efficient kitchen items. Consider updating and refreshing essentials such as:
Cutlery
Flatware
Small appliances like coffee makers, blenders, and hand mixers
Keep your kitchen lively and user-friendly with these additions.
19. Health/Wellness Products
Discover an assortment of health and wellness products, encompassing beauty, nutrition, and fitness. You may even find subscription boxes perfect for your needs! Don't forget to explore top health and wellness programs for inspiration. Make your well-being a priority.
20. Pet Supplies
You can find success in the world of pet supplies, as there's always a demand for products to keep pets happy and healthy. In this market, you'll discover a diverse range of items such as pet furniture, pet toys, cozy dog beds, and nourishing pet food. By catering to pet lovers, you're tapping into a consumer base that will keep coming back for their furry friends' needs.
21. Party Supplies
When it comes to wholesale selling, you can't go wrong with affordable party supplies like streamers, ribbons, tableware, and balloons. These items can be sourced at a low cost, allowing you to stretch your budget and create a friendly atmosphere for any occasion.
22. Gift Items
In the gift market, you have the choice to either specialize in a niche or offer a wide variety of items across different subcategories. As a seller, you can explore product opportunities like:
Holiday-themed products
Daily lifestyle accessories
Home decorations
Fragrances, such as cologne or perfume (consider reselling from websites like FragranceNet)
By entering this market, you can create a unique gift selection tailored to your customers' preferences.
23. Food/beverage products
You can find a variety of food products in the wholesale market, such as:
Meat
Dairy
Cereal
Condiments
Gourmet items
24. Organization/Storage Goods
Staying organized and maintaining a neat living space can truly enhance your overall well-being. By utilizing storage solutions like shelves or storage containers, you can experience a myriad of perks, including reduced stress, improved sleep, and even healthier eating habits. Moreover, organization can also boost your productivity levels by minimizing distractions. So go ahead and invest in some storage goods—it's a great addition to your self-care journey!
25. Self-care Products
The self-care industry is on a growth trajectory, projected to hit $13 billion by 2026. As more individuals embrace self-care routines, the demand for beauty products increases. Popular items in this thriving market encompass:
Candles
Self massagers
Aromatherapy products
Journals
Bath and body products
Incorporate these into your self-care ritual to elevate your relaxation and well-being.
26. Home Appliances
When dealing with home appliances like washers, dryers, and refrigerators, consider the space you have for storage. These items are bulky and might require a garage or storage shed. With enough room, venturing into this domain could be profitable for you.
27. Clothing Accessories
In this category, you'll find items such as scarves, gloves, hats, and more. Although it's highly competitive, focusing on a niche can help you stand out among the competition. So, explore unique accessory options to enhance your wardrobe!
28. Books
As a friendly reminder, you can make a profit by selling wholesale books. With the rise of book flipping, led by experts like Jarry Lew, this venture has gained popularity. You can consider reselling textbooks, fiction books, and nonfiction books to diversify your offerings. Happy selling!
29. Computers
In the world of electronics, computers hold a unique position. With various types, like desktop computers, gaming computers, laptops, and netbooks, you have plenty of choices. Although a higher-priced category, it offers ample profit opportunities for you.
Best Wholesale Items to Sell from Home: Key Factors
Assess Your Storage Space
When choosing the best wholesale products to sell from your home, consider the space you have for storing these goods. Your storage space may be a garage, basement, attic, or a spare room. Evaluate the size and storage capacity of the area to help you determine which types of products you can easily manage.
For instance, if you opt to sell living room furniture, you might only be able to store a few sets at a time, limiting your sales potential. On the other hand, using the same space for selling electronic products like computers could allow you to store and sell hundreds of items at once. So, considering your storage space is crucial in selecting the best wholesale items for your home-based business.
Evaluate Your Initial Investment
Another critical factor to consider when choosing the best wholesale items to sell from home is your available capital. High-cost products, such as computers, electronics, appliances, and furniture, require more significant investments.
If you're working with limited capital, you might want to opt for more affordable items like party supplies or food and grocery items. By examining your initial investment and storage space, you can better narrow down your options and choose the right wholesale product categories for your business.
Recommended Wholesale Items to Sell
Taking into consideration the factors above, the following wholesale items are ideal for selling from home:
Books
Electronics
Toys
Brand name apparel
Party supplies
These items are generally smaller, making them easier to store within limited space, and they can have a lower price point, which makes them more accessible for a wide range of budgets. Additionally, the demand for these products is high, and they are not affected by seasonal fluctuations, allowing for continuous sales throughout the year.
By carefully assessing your storage space and available capital, you can find the best wholesale items to sell from your home, maximize your profits, and successfully run your home-based wholesale business.
What are the top affordable wholesale products to purchase?
When on the lookout for budget-friendly wholesale items, focus on smaller products such as:
Fashion jewelry
Beauty products
Kitchen goods and accessories
Electronics accessories
Pet goods
To save even more, consider buying from categories or places without minimum order quantities, allowing you to invest less in higher-priced products. Websites like Aliexpress offer wholesale products without minimum order requirements.
Furthermore, utilize tools like Jungle Scout or Helium 10 to discover items for wholesale selling on Amazon and boost your profits.
Are There Specific Requirements for Purchasing Wholesale?
Can You Sell Wholesale Products from Home?
Indeed, special requirements exist for buying wholesale items. Typically, you need to provide a copy of your business permit/license or documentation proving your business operation.
As you follow the necessary steps to set up your wholesale business, you should have the required documents when purchasing your first inventory.
When selling wholesale items at home, your only limitation is space. Apart from that, there are usually no issues with storing goods in your home, depending on the items. Remember to consider any tax implications relevant to your business.
The Bottom Line on Finding Wholesale Items to Sell from Home
Embarking on an online store journey selling wholesale items from home might seem daunting, but with a solid plan, you can thrive as a supplier. In this guide, we've explored 29 remarkable wholesale products to consider selling from home. We've discussed essential aspects of being a wholesaler, such as:
Starting an online store focused on wholesale
Advantages of offering wholesale products
Discovering reliable wholesale suppliers
Identifying the finest wholesale items to purchase and resell
Mastering the art of buying wholesale
In a nutshell, if you're aiming to find wholesale products to sell from home, it's achievable. Hopefully, this guide has given you a concise understanding of the steps required to get started.
So, what wholesale products will you be selling? Don't forget to explore additional success stories, like Spencer's exceptional Amazon FBA case study, to stay inspired and informed.