Cider, a popular clothing brand, has piqued the interest of many fashion enthusiasts through its advertisements on social media platforms like TikTok and Instagram. While it may appear to be just another fast-fashion label, this article aims to delve deeper into Cider's story, offerings, and the general consensus about its legitimacy.
Before you decide to purchase Cider's clothing, it's essential to gather information about the brand, its ethical practices, and how well-received it is by customers. This article will explore the ins and outs of Cider, providing you with the necessary information to make an informed decision on whether or not to buy Cider clothing.
Key Takeaways
Cider's reputation as a legitimate brand and the factors that led to its rise in popularity
The quality and source of Cider's clothing products
How the brand's customer service and ethical stances compare to other alternatives
What Exactly is Cider?
Cider is a rapidly growing online fast-fashion brand that offers trendy clothing for Gen Z women. With 2 million downloads in the US, the Cider app gained popularity in the first half of 2022. The founder and owner, Michael Wang, has established an e-commerce store featuring women's wear and accessories, such as tops, shorts, jeans, and the eye-catching orange sweater.
For convenience, Cider accepts various payment methods including Visa, Mastercard, Maestro, American Express, Discover, Diners Club, and PayPal. Standard delivery takes 15-20 days, and if you're unsatisfied with your purchase, they offer returns within 14 days along with refunds processed after seven days of return. Cider Holding Limited's head office is located at 245-251 Hennessy Road, Hong Kong.
Overview of Cider
Cider is an e-commerce fashion company that utilizes AI forecasting techniques to produce small, wisely-made batches of clothing. With a strong internet and social media presence, this online store has risen in popularity and offers a wide array of stylish garments. As you explore Cider's eclectic range of products, you may come across the history of this on-trend retailer and their Black Friday promotions. When it comes to determining the legitimacy of Cider, rest assured that it is indeed a genuine fashion brand.
Is Cider Legitimate?
Yes, Cider is a legitimate company that ensures your money and deliveries are safe. They provide a variety of on-trend collections catering to different styles and preferences without compromising product quality.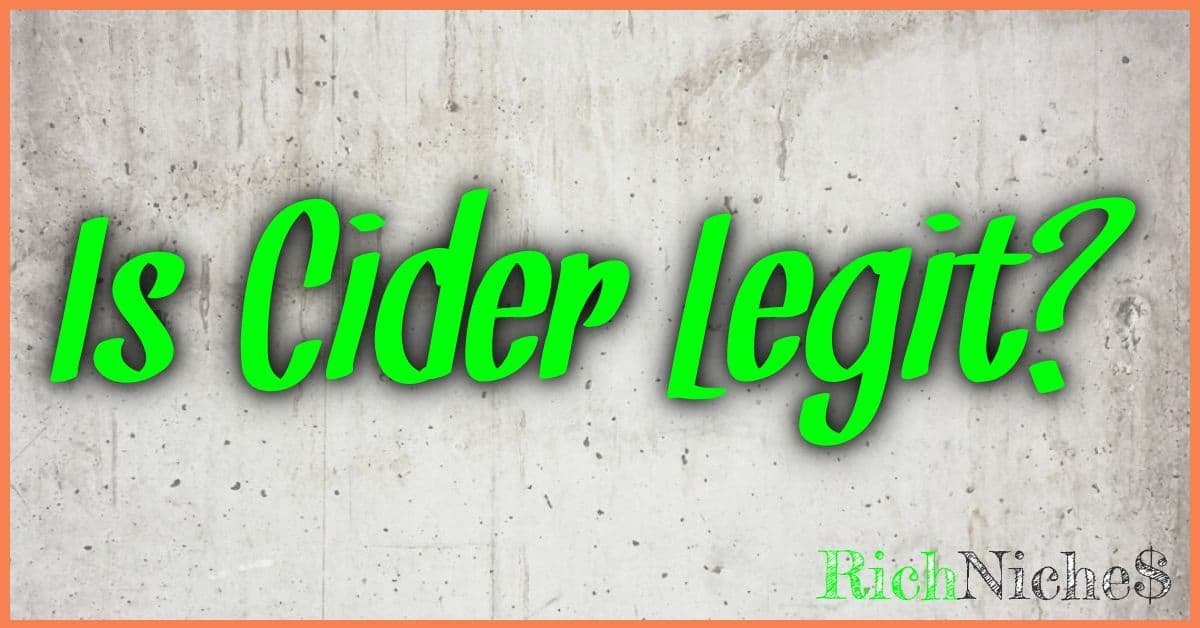 Who is Cider Best Suited For?
Why Did Cider Become So Popular?
In October 2020, Cider went viral when Christa Allen, known for her role in 13 Going on 30, recreated a scene from the movie on TikTok, wearing a version of the famous Versace striped dress. Affordable imitations of the dress rapidly filled the market, prompting Gen Z shoppers to flock to low-cost yet trendy brands like Cider.
Cider excels at offering fashionable pieces at low prices, capitalizing on its "pre-order" approach, which allows for smaller production batches and reduced waste. This strategy has resonated with its primary audience – Gen Z fashion enthusiasts who desire unique styles at accessible price points.
Social Media's Perception of Cider
Cider has rapidly gained a following on social media platforms, amassing 2.4 million followers on Instagram within 15 months – a feat that took Shein 14 years to achieve. Cider's Pinterest-inspired aesthetics on Instagram and TikTok helped it appeal to the Gen Z audience.
Despite receiving hundreds of views on each TikTok video and boasting close to 700,000 followers, videos rarely garner more than 100 likes and a dozen comments. Interestingly, negative feedback is almost non-existent on Cider's social media pages, with comments typically praising their trendy offerings.
However, a quick visit to Twitter reveals a different story. Users express dissatisfaction with late shipments, incorrect orders, and product quality issues. As a result, it's essential to approach Cider's fashion offerings with these concerns in mind, particularly if you value prompt shipping and high-quality garments.
Cider is best suited for fashion-forward Gen Z shoppers who seek distinctive, budget-friendly styles available through a user-friendly online platform. While the brand has attracted a significant following on social media, it's crucial to weigh the possible drawbacks before committing to a purchase.
Is Cider Clothing Worth Considering?
Returns
Although Cider clothing offers trendy and size-inclusive options at affordable prices, customer reviews suggest mixed feelings regarding the overall quality and fit of their products. Some customers have experienced issues such as poor durability, unpleasant smells, and delayed shipping.
It's essential to consider the return policy when purchasing from Cider, especially for non-US customers. While many fast fashion brands offer free return shipping, Cider requires international customers to cover the return shipping cost. Given that the cost of shipping back items can sometimes exceed the price of the purchased clothing, many customers choose to keep the items, despite dissatisfaction with their purchase.
Where Does Cider Clothing Originate?
Is Cider an Ethical and Sustainable Brand?
Cider Clothing produces its apparel in Guangzhou and cooperates with partner companies throughout China. However, the brand hasn't disclosed much information on the factories they collaborate with. It's unclear whether their production facilities hold any sustainability certifications or maintain adequate worker protection measures.
When it comes to the ethical aspect of Cider Clothing, there isn't enough data to confidently assess its sustainability, labor conditions, or environmental impact. Furthermore, inquiries about their ethical practices tend to receive promotional responses rather than factual information.
Cider Customer Service
To receive assistance, visit Cider's support FAQ or email their team for guidance on issues such as shipping, payment, and reviews.
Where to Purchase Cider Clothing
Visit the exclusive Cider online store at shopcider.com for all your shopping needs.
Alternative Options to Cider
Quince: Affordable Luxury Clothing
Quince is a brand focused on providing high-quality, luxurious clothing at reasonable prices. They use sustainable materials like organic cotton, linen, Mulberry silk, and cashmere in their products. Quince is transparent about their partner factories, ensuring ethical pay and working conditions for their workers.
For Days: Sustainable and Recyclable Clothes
For Days offers 100% recyclable clothing, designed with zero-waste principles. They have a closed-loop system, where customers can return clothing once they are done wearing it. Their products are made using fabrics like organic cotton, twill, and recycled terry. For Days caters to diverse wardrobe needs, from casual adult clothing to cozy children's loungewear.
Girlfriend Collective: Inclusive and Eco-Friendly Activewear
Girlfriend Collective is known for its inclusive, eco-friendly, and affordable activewear. They offer bras, shorts, leggings, and more in sizes XXS to 6XL, made from recycled materials like old fishing nets and water bottles. Produced in Vietnamese factories, the brand ensures safe working conditions, fair pay, and reasonable work hours for their employees. They also introduced the ReGirlfriend program to recycle used items.
Everlane: Transparency and Sustainability in Fashion
Everlane is famous for its dedication to transparency and sustainability. They feature modern, simple designs and high-quality clothing. With Everlane, you can find information about the production facilities for each product, ensuring ethical practices. The brand has replaced 90% of new plastics in its supply chain with recycled or alternative materials.
Final Thoughts: Is Cider Legit?
Yes, Cider is considered legitimate, but it's essential to be aware of the potential issues tied to imitating small fashion designers' work and unethical, unsustainable production practices. With its stylish and reasonably priced clothing, Cider has gained significant popularity, especially among Gen Z.
As an affiliate marketer in the fashion industry, you might want to explore various clothing affiliate programs. Additionally, if you're interested in promotion, looking into creating viral videos on TikTok could help you reach a larger audience. Stay aware of the potential concerns and make informed decisions while shopping or promoting this popular brand.