Have you ever had a brilliant idea strike you while going about your daily life and dismissed it, thinking it had no real potential? Well, you might be surprised to learn that there are companies eager to pay for innovative ideas just like yours. These businesses are constantly on the lookout for creative concepts that can streamline processes, solve problems, or enhance user experiences.
Before you go pitch your idea to these companies, it's crucial to take certain steps to protect your ingenious creation. Conduct research to ensure your idea is unique and has potential, consider obtaining a patent, and read up on the regulations of the companies interested in buying ideas. Now, you're ready to explore the various companies willing to pay for your ideas, which span industries such as tech, household goods, and sports equipment.
Key Takeaways
Companies are actively seeking innovative ideas and are willing to pay for them
Protect your idea by researching, obtaining patents, and understanding company regulations
Numerous industries, from tech to household goods, have companies interested in buying ideas
What to Do Before Seeking Companies That Pay for Ideas
Conduct Thorough Research
Ensure your innovative idea isn't already being implemented. Examine both local and global markets to confirm the idea's uniqueness.
Apply for a Patent
Acquiring a patent is beneficial for the following reasons:
Confirms your idea's originality, as a duplicate idea cannot be patented
Protects your intellectual property, preventing unauthorized implementation
Many companies require patented inventions for idea submissions. Consult the US Patent and Trademark Office to verify if the idea is already owned.
Utilize an NDA
When a company shows interest in your idea, have them sign a Non-Disclosure Agreement (NDA). Some companies may sign one, while others might not. Prioritize those willing to sign an NDA. However, depending on your idea's nature, submitting without an NDA may sometimes be necessary.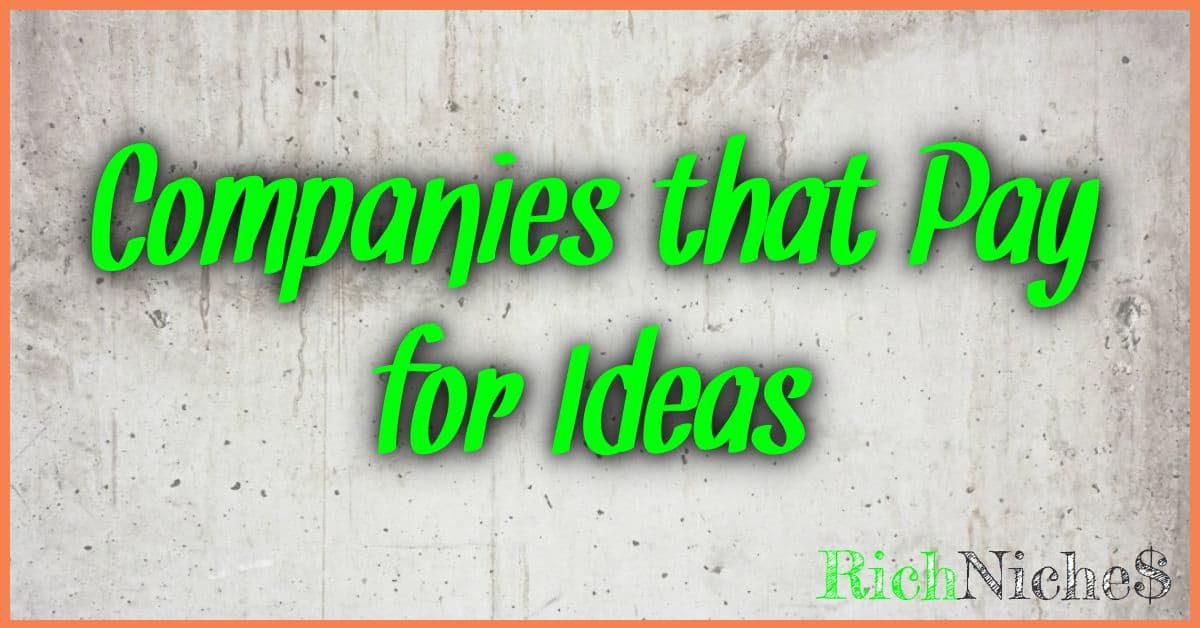 Enlist Professional Help
Seek the assistance of an attorney or an intellectual property expert. They can provide valuable insight into company policies and suggest the best course of action based on your idea.
Understand and Evaluate Company Policies
Don't overlook Terms and Conditions. Thoroughly read the fine print of each company, and with professional help, select the one most fitting for your idea.
Contemplate Launching a Business
Before submitting your invention, consider starting your own business. Though funding can be a challenge, explore resources such as friends, crowdfunding, angel investors, or accelerators.
If your idea is an app, consider hiring developers, graphic designers, or virtual assistants from platforms like Fiverr or Upwork. However, be cautious, as scams are possible on these sites.
Analyze all available options, as owning a company could sometimes be more profitable than selling your idea.
Companies That Pay for Ideas
1. 3M
3M, a renowned brand in adhesive technologies and office supplies, is open to receiving patent-protected product ideas. Ensure the idea is well-researched and presented before submitting it to the company.
2. Sharper Image
Have a knack for gadgets and innovation? Sharper Image is always on the hunt for the next big gadget in its wide range of home appliances and toys. Send your idea with a detailed product description and images to their design team.
3. Bosch
As a leading multinational engineering and technology company, Bosch is interested in innovative ideas for their products, including home appliances, IoT, automotive, and more. Submit your ideas and they'll review and get back to you.
4. All Star Innovations
Submit your ideas to All Star Innovations, a company with over 20 years of experience in launching successful products like Debbie Meyer Green Bags, Snuggie, and Vanity Planet. They accept ideas in more than 25 categories.
5. Hyde Tools
If you have innovative ideas for industrial, home, or trade tools, submit them to Hyde Tools. They're always interested in ideas that make their tools work better and easier to use.
6. Jokari Home Solutions
Jokari Home Solutions is interested in inventions for home products, from themed Fizz Keepers to storage solutions and home gadgets. Submit your idea and they'll promptly respond.
7. BD
Healthcare innovators can submit their ideas to BD, a leader in the healthcare sector committed to improving overall healthcare through innovative partnerships.
8. Wilson Sporting Goods
Sports enthusiasts can pitch their innovation ideas in the sporting niche to Wilson Sporting Goods. They have a dedicated team that pays for ideas to improve and advance the sports industry.
9. Procter & Gamble
Submit your ideas, from new business models to innovative packaging methods, to Proctor & Gamble, one of the biggest consumer goods brands worldwide.
10. Invention City
Invention City offers both licensing deals and royalties for approved ideas across various categories. Submit your invention and pay a $95 fee for a thorough review.
11. Coleman
Outdoor enthusiasts can submit their ideas to Coleman to improve their outdoor experiences, including camping and hiking.
12-37. Other Companies
Many other companies reward innovative ideas for their products and services, such as Escalade, Unilever, Coca-Cola, Play With a Purpose, Henkel, FastCap, Mustang Survival, Mobile App Fund, Eco-Products, Under Armour, RICO, Dorman Products, Spin Master, Cal-Van Tools, New Soda, Coastal Pet Products, Quirky, Flippa, Lear, Architec Brands, Hog Wild, Thames & Kosmos, Planetary Design, General Mills, SwimWays, and King. Do your research and submit your ideas to these companies according to their field of interest.
Invention Companies FAQ
Do you know that some companies pay for ideas to stay ahead of the competition and save money on innovation? They value the creativity of inventors like you, who come up with unique ideas that help them develop successful products.
Curious about how much you can earn for your idea? Well, it depends on the company's payment structure and your licensing agreement. You may be paid a one-time fee or through royalty basis. For example, if a company offers a 3% royalty and sells your product for $100, you'll receive $3 for each product sold.
When sharing your invention ideas, make sure to carefully examine the fine print of each company's policy, consider their key areas of interest like adhesive technologies, beauty care, or fasteners, and research their websites to get a better understanding of their requirements. The opportunities are endless, so keep the innovative ideas coming and make the most out of them!
Best Companies That Pay For Invention Ideas
Earning extra cash or passive income from your innovative concepts is possible through various companies. When inspiration strikes, jot down your thoughts in a notebook or digitally, ensuring you don't forget your potential million-dollar idea. Keep in mind that different businesses offer different terms, so before submitting your invention to a product development team, evaluate your options. You may even consider launching your product independently and pursuing joint venture funding. Stay confident, knowledgeable, and clear while presenting your ideas, and make the most of your creative genius.