Starting a blog on Instagram may be the perfect solution for those who find traditional website blogging intimidating. With Instagram, there's no need to worry about web design, hosting services, or lengthy processes; you can begin your successful and profitable blogging journey in under an hour.
This article will not only guide you through the process of setting up your Instagram blog, but also provide you with five effective monetization methods to help your content flourish. Instagram blogging offers unique opportunities and allows you to engage with your audience in new and exciting ways. So, get ready to start your blog on Instagram and venture on a successful and rewarding experience.
Key Takeaways
Instagram blogging provides a simplified and efficient alternative to traditional website blogging
Ensure to optimize your profile for SEO, engage with your audience, and connect with other Instagram bloggers
Monetize your content with techniques such as affiliate marketing, sponsored posts, and selling your own products or services
How Instagram Blogging Differs from Traditional Blogging
Reasons Behind Instagram's Blogging Popularity
Instagram has become a popular blogging platform because it is easy to use, provides near-immediate engagement from the target audience, and allows for creative expression through photography and video content like Reels.
Opening an Instagram Creator Account
When starting an Instagram blog, it is essential to set up a Creator account as it is specifically designed for influencers and bloggers. This account type provides access to insights, analytics, and the ability to promote and schedule content using Instagram's Creator Studio.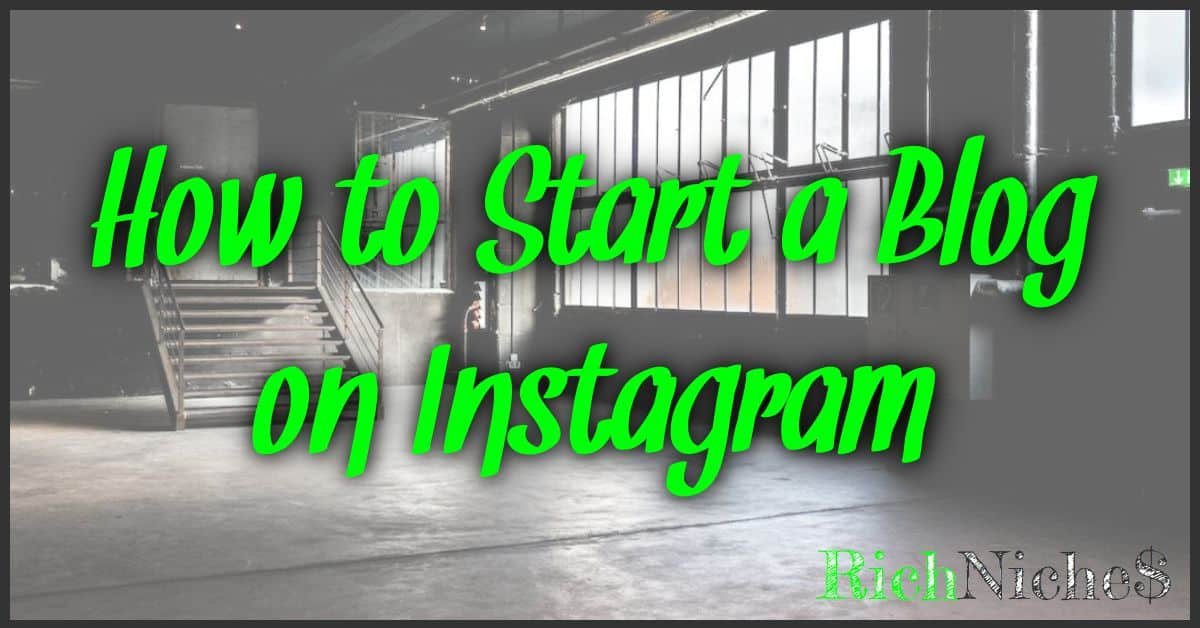 Choosing Your Niche
Selecting a blogging niche is crucial for growing your Instagram following and collaborating with brands. Your niche should be based on your passion, the value you can bring to your audience, and potential brand partnerships.
Enhancing Profile SEO
Optimizing your Instagram profile for SEO involves including niche-related keywords in your bio and name. This improves searchability and makes it easier for your target audience to discover your content.
Crafting an Engaging Bio and Profile Picture
A captivating bio should give potential followers an insight into the content they can expect from your blog. Your profile picture should be a centered self-portrait, which helps build brand recognition and trust with your audience.
Sourcing Striking Photos
Eye-catching visuals are essential for an Instagram blog. Invest time in capturing or sourcing high-quality photos that resonate with your niche and brand identity.
Planning and Scheduling Content
Consistency is key for Instagram blogging, so plan and schedule your content using tools like Instagram's Creator Studio. This will keep your audience engaged and help maintain a cohesive aesthetic.
Thoughtful Captions as Blog Posts
Instagram captions effectively act as blog posts, with a character limit of 2,200. Get creative with your captions, and convey your message in a concise and compelling manner.
Utilizing Hashtags and Geotagging for Discoverability
Including relevant hashtags and geotagging in your posts will increase their discoverability, helping you reach a broader audience and grow your following.
Engaging with Your Followers
Establish a strong connection with your audience by engaging with their comments, messages, and posts. Genuine interaction will help foster a sense of community and trust.
Connecting with Other Instagram Bloggers
Collaborate and network with fellow Instagram bloggers in your niche to expand your reach, learn from each other, and increase your brand's visibility.
5 Ways to Monetize Your Instagram Blog
Engage in Affiliate Marketing Programs
Affiliate marketing programs allow you to earn a commission by promoting products to your followers. With numerous brands and products available, you will always find something that fits your niche. By sharing products you truly love and encouraging followers to click on your unique affiliate link, you can earn a commission, usually between 2-10% of the total sales.
Collaborate with Brands for Promotional Posts
By partnering with brands, you can create content featuring their products in exchange for money or free merchandise. Your follower count and engagement rate influence how much you can earn from promotional posts, but even with fewer followers, you can still monetize your blog. Instagram bloggers with 2,000 engaged followers can earn around $80-100 per promotional post. As your blog grows, you'll have more opportunities to work with popular brands and increase your rates.
To find brands to collaborate with, you can message them directly with your niche, follower count, and engagement rates. Alternatively, tag brands in existing posts with products you already enjoy. Developing a hashtag strategy can also help brands discover you.
Produce Viral Content
Creating viral Instagram videos can fetch you earnings through in-stream video ads. By monetizing your Instagram content, you allow brands to promote themselves within your videos. Your earnings depend on the number of views your video generates, with Instagram paying you 55% of the ad revenue per view each month.
Offer Your Own Products or Services
Utilize your Instagram blog to advertise and sell your personal products or services. Studies show that 72% of Instagram users make purchase decisions based on the content they see on the app. Monetize your blog by selling products, such as recipe books for food bloggers or online courses for digital marketers, instead of relying solely on brand partnerships.
Become Part of an Agency
Joining an influencer network or agency connects you with people who can help grow and monetize your blog. Agencies facilitate connections between Instagram bloggers and brands for potential partnerships. With an agency, you typically get a manager who will help you handle these partnerships and find brands that match your blogging niche. Some influencer networks worth exploring include Influencer, Insense, and Get Blogged.
Are You Ready to Embark on Your Instagram Blogging Journey?
Maintaining a successful Instagram blog requires proper research, a compelling content strategy, and consistent engagement with your audience. Keep it up, and you'll soon become a thriving blogger in the Instagram realm.