Are you tired of seeing countless opportunities to make money online but always having to pay upfront? Guess what? There are genuine ways to earn money on the internet without investing a penny, and you've come to the right place to discover these options. However, it's essential to note that none of these methods will make you rich overnight. They require time, effort, and commitment, but if you're up for the challenge, get ready to embark on a journey towards financial freedom.
With the internet at your fingertips, you can take control of your financial future. All you need is a desire to learn, a dedication to working hard, and an unwavering motivation to succeed. So, whether you're looking to make an extra income or create an entire online business empire, don't hesitate any longer. Dive in and start exploring the possibilities of making money online without any upfront investment.
Key Takeaways
Discover ways to make money online without upfront investments, but be ready to put in time and effort.
Explore career options like becoming a virtual assistant, freelance writer, or affiliate marketer.
Utilize platforms such as Medium, YouTube, and blogging to generate income and create a lasting online presence.
How to Make Money Online Without Paying Anything: 9 Online Business Ideas
Incredibly, there are myriad ways to make money on the internet. Several side hustles can be done part-time to generate extra income, while others can evolve into large-scale businesses. Here we present nine exciting online business ideas that you can pursue without spending a dime:
Online tutoring: Offer your expertise to teach others online.
Passive income apps: Earn money with minimal effort through mobile apps.
Sell digital products: Create and sell eBooks, courses, or designs.
Take paid surveys: Provide your opinions on various survey sites.
Test websites: Register with platforms like UserTesting to evaluate websites.
Microtasks: Perform simple tasks on platforms like TaskRabbit or Microworkers.
Remote work: Provide your services to clients, working from home.
Patreon: Get support for your creative work by setting up a Patreon account.
Side gigs: Consider options like freelance writing or graphic design for additional income.
Choose the ideas that fit your skills and interests, and start building your online revenue stream.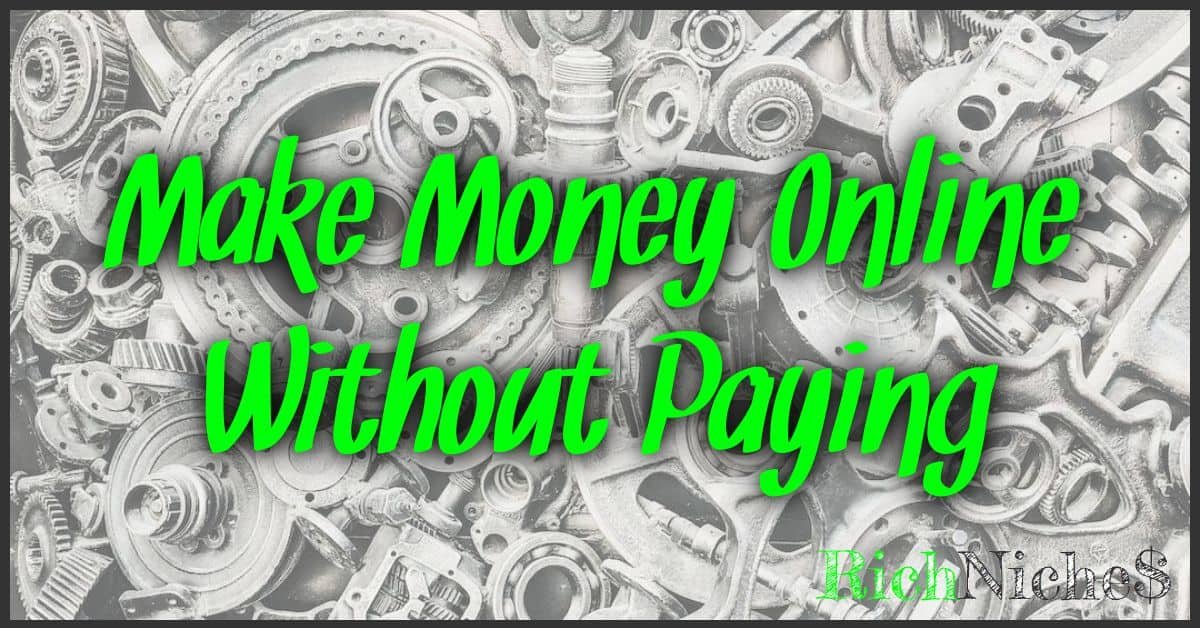 Become a Virtual Assistant
Essential Skills for Virtual Assistants
Becoming a virtual assistant allows you to work online and provide valued support to businesses and clients. To excel in this role, you should leverage your existing abilities. For example, if you have experience in office administration, bookkeeping, or research, your skills are transferable to this online occupation. Some essential skills to have as a virtual assistant include:
Organizational skills
Timekeeping
A professional telephone manner
Good spelling and grammar
Understanding Virtual Assistant Salaries and Important Information
As a freelance virtual assistant, you can expect to charge around $25 per hour for general tasks, and between $45-50 per hour for specialized skills such as graphic design or bookkeeping.
If you opt to work for a virtual assistant company as a remote hourly-paid worker, your hourly rate may be approximately $15 per hour. Although this is lower than the freelance rate, you'll have the advantage of consistent work and not needing to search for clients.
In summary, becoming a virtual assistant offers flexibility, the chance to utilize your skills, and the opportunity to potentially earn a good income. Whether you choose to work freelance or for a company, the increasing demand for virtual assistants ensures an energizing and fulfilling career path.
Become a Freelance Writer
What Do You Need to Start Freelancing as a Writer?
To begin your journey as a freelance writer, you'll need a laptop with a reliable internet connection and a tool like Google Docs. Creating a website as a portfolio can be helpful, but it's not essential.
It's an excellent idea to choose a niche to specialize in, as it allows you to establish yourself as an expert in the field. This will make you more attractive to potential clients and increase your chances of getting hired. As you become familiar with your topic, you'll also become more efficient in producing content, enabling you to earn more in less time. To showcase your skills, write a few sample articles on your chosen topic and publish them on your blog or a platform like Medium.
How to Find Freelance Writing Jobs
Once you have a portfolio of writing samples, it's time to find clients. There are several ways you can do so, including:
Perusing freelance job boards like ProBlogger
Joining freelancing platforms such as Upwork or Fiverr
Directly pitching to clients through LinkedIn or Twitter
Although job boards may sometimes offer lower-paying gigs, they're an excellent starting point for beginners. As you gain experience and confidence, you can raise your rates.
How Much Can Freelance Writers Earn?
Freelance writers can earn anywhere from $0.02 to $2 per word or $20 to $200 per hour, depending on their experience and expertise. While you may start at a lower rate, there is significant potential for growth as you become more skilled and knowledgeable in your field. This makes freelance writing an excellent option for those seeking to generate income online without any initial investment.
Write on Medium
How to Earn Money on Medium
To start making money on Medium, follow these steps:
Create a Medium account and join the Partner Program.
Set up a publication and apply to write for other publications that interest you.
Craft your first article, aiming for 1000+ words to ensure depth.
Publish your article in your publication or submit it to another one.
Earn revenue from the membership fees of paying members who read your story. Submitting to a larger publication can increase your readership and earnings.
The flexibility of writing on Medium allows you to choose your topics, work at your own pace, and not be restricted by deadlines.
Potential Earnings on Medium
Your earnings on Medium can greatly vary depending on factors like the frequency of publishing and the number of readers you attract. Essentially, the more effort you put into your writing, the more you can earn. Medium publishers could make anything from a few cents to thousands of dollars per month.
Affiliate Marketing
Potential Earnings with Affiliate Marketing
Affiliate marketing allows you to promote products or services from another company, and when someone makes a purchase through your affiliate link, you receive a commission. This approach doesn't require an upfront investment, making it an accessible way to earn money online.
The affiliate marketing industry is worth billions, and according to Statista, it's predicted to grow further, reaching over $8 billion in spending in 2022. Anyone can make money through affiliate marketing, and getting started is relatively simple. First, choose a product or service to promote and sign up for its affiliate program. Select a reputable company whose products you're proud to promote on your social media channels. Remember, promoting low-quality products may hurt your credibility and future recommendations.
Once enrolled in an affiliate program, you can begin promoting your links to earn money. Share your affiliate links on your blog, social media, Facebook groups, Pinterest, and more, with no need to invest in a website upfront.
A popular affiliate program is Amazon Associates, which pays commissions on purchases made within 24 hours through your link, even if the buyer didn't choose the product you initially linked. Amazon's widespread reach and ease of use for online shopping make it an ideal platform for affiliate marketing.
So, how much money can you earn with affiliate marketing? There's no definitive answer, as earnings vary significantly. Some affiliate marketers make $100-$200 per month, while others earn over $100,000 per month. The potential income in this niche is immense, and your success depends on the quality of the products you promote and your marketing strategy.
In conclusion, affiliate marketing provides a flexible and potentially lucrative way to make money online without any upfront investment. If you're willing to put in the effort and select high-quality companies and products to promote, you could find great success in this industry.
Start a Blog
How Do Bloggers Earn Money?
Bloggers can make money online using various methods, such as:
Ads (Google Adsense, Ezoic, or Mediavine)
Sponsored content
Affiliate marketing
Offering your services
Selling digital products
Coaching or consulting
Speaking engagements
Steps to Begin Your Blogging Journey
Starting a blog might seem overwhelming, but it's quite simple. Free platforms like WordPress.com allow you to kick off your blogging adventure without spending a dime. Nonetheless, if you're able to invest a small amount (approximately $2.95/month), hosting your own blog is highly recommended. It gives your blog more credibility and expands its growth potential!
For a step-by-step guide on launching your blog, check out this comprehensive resource.
Having a successful blog can do more than just earn you money. It can establish you as an authority in your field and open up additional opportunities and collaborations.
Bloggers' Earnings
The amount of money bloggers make varies based on factors like traffic, the size of their email list, and more. Some bloggers may only earn a few dollars per month, while others rake in six or even seven figures.
Here are some examples of the income bloggers can earn:
SurvivalLife.com generates more than $1 million per month
Pat Flynn from SmartPassiveIncome.com earned $213,212.64 in his last reported income
OwnTheYard.com (Niche site project 4) makes about $3,500 per month
Fork in The Road, a food and travel blog, made over $2,000 last month
About Social Anxiety earned $821.21 last month
One crucial aspect of blogging is consistency. You may not see immediate results, but regularly posting high-quality, engaging content and focusing on solid keyword research and SEO will eventually yield positive outcomes and income.
Start a YouTube Channel
Starting a YouTube channel is an enjoyable and cost-free way to generate income online. All you need to invest is your time and creativity. If you're comfortable being on camera, this could be an ideal opportunity for you.
Earning Potential for YouTubers
Many people wonder how much money YouTubers can make. There are several ways to monetize your YouTube channel:
Become a YouTube partner and earn from ad revenue.
Collaborate with brands for sponsorships.
Utilize affiliate marketing.
License your content to media outlets.
Average Earnings per Views
The amount you earn through ad revenue depends on the number of views you receive. On average, you can earn around $3-$5 per 1,000 views. So, if your goal is to make $2,000 per month, you'll need to generate about 400,000 views per month.
Remember, a smartphone or laptop is sufficient equipment to record content. Start by planning your videos, film them, edit for a more appealing and engaging experience, and then publish your videos. As your channel grows, consider exploring affiliate marketing on YouTube as well. Keep a friendly and relatable tone in your videos, and watch your audience and revenue grow.
Create and Sell an Online Course
Crafting and Marketing Your Online Course
In recent years, online education has seen tremendous growth. As a more affordable and convenient option, people are exploring new ways to gain knowledge and skills. With the high costs of traditional education, online courses present an ideal alternative for many.
You can develop an online course on any subject in which you have expertise. For instance, if you have a talent for watercolor painting, you could create a course to teach beginners how to start with watercolor techniques. As your course gains popularity, you can develop more in-depth and advanced courses for students to progress through!
Platforms to Create and Sell Courses
Platforms like Teachable or Udemy are excellent choices for building your course. Teachable offers a free plan, allowing you to create and sell your course without any upfront fees. They'll simply take a percentage of the course fee when it sells, so you can start making money online without any initial investment.
On the other hand, Udemy offers the advantage of being both a course creation platform and a marketplace. They charge a slightly higher commission than Teachable but handle the promotion of your course within their marketplace. This frees you up to focus solely on creating high-quality content.
Effort and Passive Income
It's important to note that creating a successful online course requires considerable upfront effort. However, once your course is complete and available for purchase, you can generate a passive income for years to come without any additional work. Embrace the initial effort and enjoy the long-term benefits of sharing your knowledge with eager learners.
Dropshipping with Print-on-Demand Products
Understanding Dropshipping
Dropshipping is an online business model that allows you to sell products without having any inventory. In this method, a customer orders a product from your store, and you forward the order to a supplier. The supplier then ships the product directly to the customer, and you keep the difference between the supplier's price and the price you charged the customer as profit.
Exploring Print-on-Demand
Print-on-demand (POD) is an online commerce method in which you create and sell your own designs on various products without storing any inventory. To get started, you sign up on a POD platform, like Printful, and select the products you want to sell. After uploading your designs onto the products and creating mock-ups, your store is ready to receive orders.
Finding Sales Channels for Your Products
There's no need to worry if you don't have a personal website—there are many other avenues for selling your products and making money online:
Etsy: Etsy is an excellent platform where you can sell your products to its existing user base. Creating a store on Etsy is free, and there's just a $0.20 fee per listing, which means you can list five products for only a dollar.
Facebook: Setting up a business Facebook page is free and allows you to create a shop within the page for users to purchase your products.
Amazon: A basic seller account on Amazon is free, and there are no listing fees for your products. When your product sells, you only pay a $0.99 fee plus a commission. With Amazon's enormous user base, your products have a high chance of reaching a wide audience.
There's a vast array of products you can design and sell, such as mugs, t-shirts, and more, making it an ideal opportunity for artists to generate income online.
Bonus Tip: Amazon offers its own print-on-demand service called Merch by Amazon, in which they handle the production, shipping, and customer service for your designed products. This service allows you to receive a royalty fee for each product you sell without any upfront costs. This way, you can focus solely on your creativity and designs, while Amazon takes care of the rest.
Write and Publish an eBook
Earning Potential of eBooks
Publishing an eBook can be a lucrative endeavor with no upfront costs. You have the freedom to set the price, ranging from $0.99 to $9.99 or even higher depending on the topic. This allows you to control your profits from each book sold.
Crafting and Launching Your Own eBook
Select a subject: Choose a topic you're passionate about and possess adequate knowledge in.
Plan the chapters: Outline the content and structure of each chapter in your book.
Write the content: Engage your readers with compelling, well-researched material.
Incorporate visual elements: Add images and adjust the layout if necessary.
Design a captivating cover: Utilize free tools like Canva to create an eye-catching front cover.
Save in the appropriate format: Save your eBook as a PDF, EPUB, or MOBI file.
Publish and distribute: Upload your eBook to Amazon using Kindle Direct Publishing or make it available for download through your website or social media platforms with tools like Sendowl.
The beauty of publishing an eBook is that you invest your time and effort initially, and then enjoy a passive income stream, potentially earning money for years to come. Once your eBook is uploaded and available, the sales process becomes automated, allowing you to reap the benefits without further effort.
Summing it up…
By now, you've discovered that it's possible to make money online without any upfront investments. Whether you're seeking additional cash or aiming to replace your full-time income, these ideas can guide you on the right path.
Keep in mind that investing your time and effort is essential to achieve your financial goals online. With online research and persistence, you'll gradually see the fruits of your labor.
Tackling the online world for income may require patience and the ability to navigate short-term hurdles, such as competition. But remember, consistency is key! If starting a blog piques your interest, there are plenty of in-depth guides to help you embark on your journey. Happy earning!