In today's fast-paced digital world, teenagers have countless opportunities to explore their entrepreneurial side and develop valuable skills for the future. From starting a side business to utilizing online platforms for various gigs, teens can earn extra cash to support their interests and education. Instead of defaulting to traditional part-time jobs such as flipping burgers or working at a local grocery store, teenagers can navigate the vast options available, paving the way for both financial gains and personal growth.
It's important to remember that the keyword for success is "hustle." With persistence and creativity, teenagers can turn their side hustles into legitimate businesses. Many options allow making money online without the need for a traditional brick-and-mortar establishment. Each side hustle has its merits, but finding the perfect match will depend on individual skills and interests.
Key Takeaways
Teenagers have numerous opportunities for side hustles and businesses to earn extra money in creative ways.
Determining the best side hustle depends on personal interests and skill sets.
Persistence and hustle are crucial factors for success in the dynamic world of side hustles.
The Best Side Hustles for Teens
Teens can make extra money with side hustles that suit their skills and interests. Here are some ideas for side hustles that teenagers can try:
Sell clothes online: Source clothes from your wardrobe or thrift stores and sell them on eBay or Facebook Marketplace.
Walk dogs: Start with your neighborhood and expand as your client base grows.
Freelance writing: Write for clients on platforms like Upwork, Fiverr, or Textbroker.
Youth sports coaching: Work with younger children in soccer, baseball, gymnastics, or dance.
Standing in lines: Look for opportunities on Craigslist or TaskRabbit.
Complete online surveys: Platforms like Swagbucks offer rewards for taking surveys and playing games if you are over 13 years old.
Advertise on your car: With parental permission, find companies willing to pay for advertising space on your vehicle.
Affiliate marketing: Promote other people's products on your social media or website. Check out beginner's guides for more information.
Teens can also consider the following side hustles:
Running errands
Teaching group fitness classes for youth
Selling handmade crafts on Etsy
Charging scooters for Bird or other electric scooter companies (availability depends on your city)
Providing mobile oil change services or pool cleaning services
Selling products on Amazon FBA (investment required)
Human billboards: Twirl signs for a local business or wear advertisement boards
Cleaning service businesses for family and friends
Offering gigs on Fiverr
Officiating local youth sports games
Having a garage sale (with parental permission)
Freelancing on Upwork (graphics design, virtual assistance, etc.)
Social media influencing
Working part-time jobs when all else fails
Selling stock photos online
Pet sitting or caretaking for friends and neighbors' animals
Buying and selling used books (consider using TexTrader for flipping textbooks)
Selling your graphic designs on CafePress
Managing social media accounts for local businesses
Picking up trash in the neighborhood
Becoming an Amazon Associate (earn commissions by referring people to Amazon)
Offering junk hauling services (requires a truck for transportation)
Start an Amazon Merch store (upload your designs for t-shirts or mugs; Amazon handles printing and shipping)
Remember that it is essential to choose a side hustle that aligns with your interests and goals. With a bit of effort and creativity, you can earn money while working around your school schedule.
Which is the Right One for You to Pursue?
In choosing your best fit side hustle, ask yourself whether you're looking for a part-time job with fixed hours or if you're up for starting a small business. Remember, a small business may require more initial effort, but could ultimately have bigger rewards.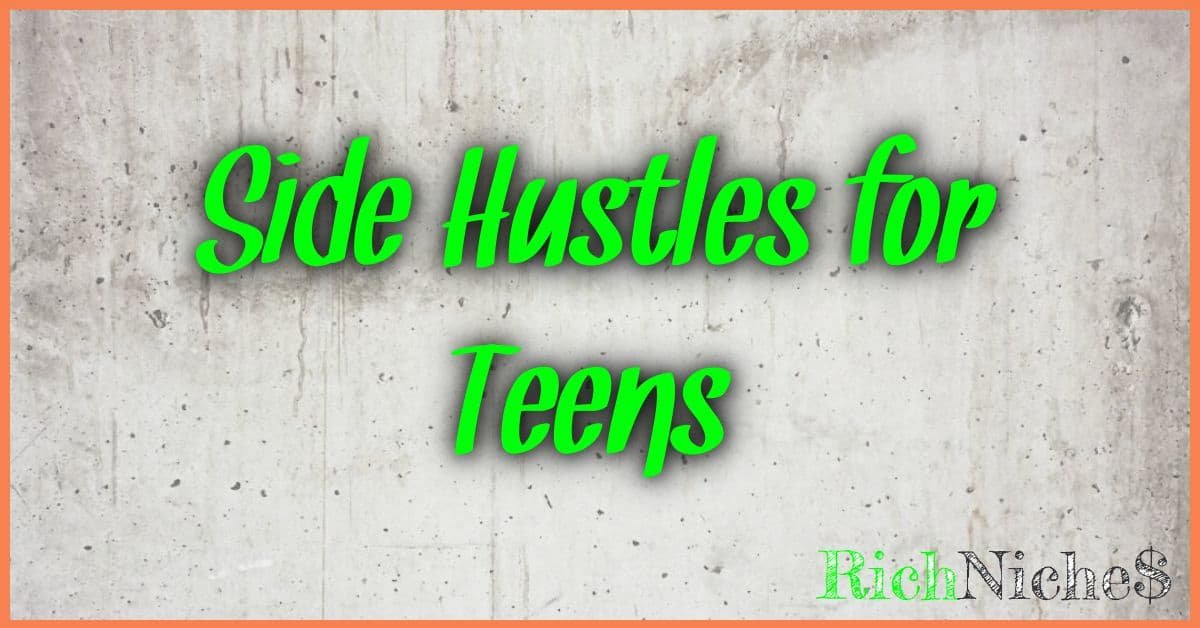 If you're interested in earning some extra cash during your spare time, consider online surveys. Platforms like SwagBucks allow you to make money by completing surveys or watching videos.
As a teenager, it's wise to look for high-paying opportunities with lower long-term effort. While minimum wage jobs provide work experience, side hustles like dog walking or tutoring can potentially pay more and add valuable skills to your resume. Here are a few factors to consider as you choose your side hustle:
Skills and passions: Identify your abilities and interests, as these will help you enjoy your side hustle and excel at it.
Social media: Consider leveraging your social media presence to promote your services or find side hustle opportunities.
Tools and resources: Make sure you have the necessary resources to start your chosen side hustle (e.g., a computer for online work, or adequate transportation for in-person services).
Time commitment: Assess the time you can reasonably dedicate to your side hustle without sacrificing school and other obligations.
Monetization: Research potential earnings for your chosen side hustle.
If you're still unsure, sign up for newsletters and follow blogs that share strategies and success stories from others pursuing side gigs. This way, you can learn from their experiences and gain valuable insights to help you choose the best hustle for your specific goals and interests.